The Weekend Edition is pulled from the daily Stansberry Digest. The Digest comes free with a subscription to any of our premium products.
Longtime readers know Steve Sjuggerud is a true contrarian…
Steve has made a career of recommending cheap, hated assets that most investors have no interest in owning… And he has a long track record of winners to show for it (including the best-performing recommendation in Stansberry Research history).
But in last month's issue of his True Wealth Systems service, Steve made what could be the most contrarian recommendation of his career so far. From the issue…
What is the most contrarian bet you've ever made? Have you ever bet against the Yankees? Or on the Cubs? How about in the financial markets? Have you ever bet against gold?
Today, if you follow our advice, you will set a new personal best… You will make the most contrarian bet of your life.
The story is simple. The numbers don't lie. It's time for us to make a trade betting on LOWER interest rates.
As Steve explained at the time, practically NO ONE believes interest rates can go lower today. Instead, speculators are making record bets that rates will go even higher…
Bets on higher interest rates have hit an all-time extreme, based on one of our favorite sentiment measures – the Commitment of Traders (COT) report.
If you're a longtime reader or follow our weekly Review of Market Extremes, then you're likely familiar with the COT report. It shows the real-money bets of futures traders in dozens of markets. Like most sentiment measures, the COT report tends to be "wrong at the extremes and right in between."
This means that futures traders get it right most of the time. But they also usually aren't making extreme bets one way or another. And when they do, they're usually wrong. They tend to pile into a trade at the worst possible time.
Of course, the opposite side of their trade – the smart money – tends to get it right.
Recently, the smart-money bets on the benchmark 10-year Treasury bond in the futures markets hit never-before-seen levels. Take a look: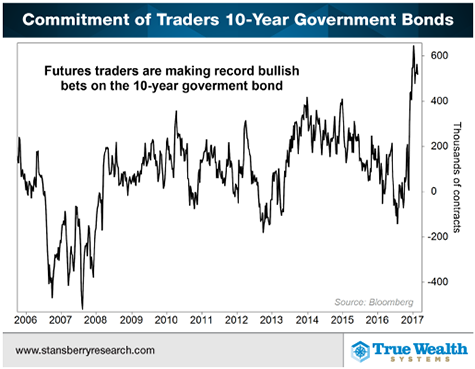 Yet, while smart-money traders were as bullish as they'd ever been, Steve noted the trend in rates had already quietly turned down…
Interest rates peaked at 2.6% in December, and today, we are closer to 2.4%. Take a look: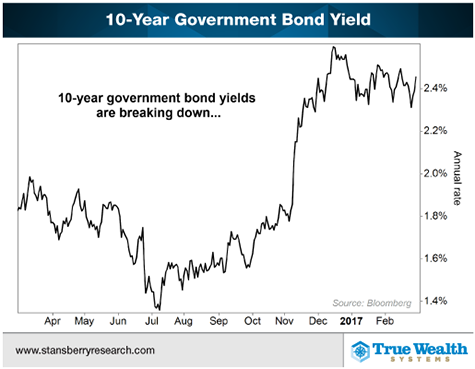 As Steve noted, this was a perfect setup for a big short-term move lower in rates…
Here's the deal…
1. We are seeing an all-time extreme in the number of bets on higher interest rates, while…
2. The trend of interest rates has just started to move lower.
This is a big deal. This is what I love to see. This is the exact moment to make this trade…
This should be the most contrarian trade you have ever made. Nobody is betting on lower rates. And that's exactly why right now is the perfect time.
Interest rates peaked just days after Steve's recommendation and have been moving lower since. The yield on the benchmark 10-year Treasury bond has fallen to around 2.3% today.
But Steve isn't the only notable analyst who believes rates could be headed even lower from here…
"Bond God" Jeffrey Gundlach now agrees…
Regular readers know Gundlach – CEO of investment firm DoubleLine Capital – called the bottom in long-term interest rates last summer when virtually everyone thought rates could only go lower. As we noted in the July 13 Digest…
Gundlach doesn't just believe bonds are forming a near-term top… He thinks the entire, decades-long bull market in bond prices is ending. And while he doesn't think yields will soar higher immediately, he doesn't believe rates will go much lower.
He agrees that sentiment has become extreme. He says he has fielded more investor questions about buying Treasurys recently than at any other point in his career. He also noted that no one he talks to thinks interest rates can go higher today… and said it's often when most people say something "can't happen" that it's most likely to occur.
He was exactly right… 10-year rates bottomed at 1.35% in early July and soared to 2.6% by year-end.
Gundlach still believes the long bull market in bonds is over, and rates are headed higher over the long term…
But today, like Steve, he says rates could fall much further before the rally resumes.
Gundlach expects the 10-year Treasury yield to drop below 2.25% "at a minimum," but he wouldn't be surprised to see it fall below 2% before moving higher again.
Gundlach also believes the post-election "reflation trade" has peaked for now, and he no longer thinks we'll see 10-year rates break above his critical 3% level this year. As he told news service Reuters…
With inflation falling in the months ahead, pressure for higher yields is reduced. The bear case [for bonds] will need another narrative because [the consumer price index] will be back below 2%.
Gundlach could be correct…
The fate of the so-called "Trump Trade" – the big rally in the U.S. dollar, stocks, and interest rates driven by expectations on higher growth and inflation – will likely depend on what happens over the next few months.
If Trump and the Republican Congress can deliver on his "big three" policy proposals – tax reform, regulatory reform, and infrastructure spending – we could see a new era of growth (and potentially a lot of inflation).
If they fail, we could slide back into a serious recession (or worse).
We believe tax reform could be the most critical of the three… This coming debate could determine the future of the U.S. economy for the next few decades.
That's why we held an exclusive event earlier this week in which we interviewed the "Metropolitan Man" about all the ramifications. We shared everything we know about what likely comes next… and what it means for the country, the economy, and your money.
But don't worry if you missed this week's event… You're not too late. For a limited time, you can gain access to a replay of the briefing.
Click here for all the details
.
Regards,
Justin Brill
Editor's note
: If President Trump's tax agenda unfolds the way we expect, you could make hundreds-of-percent gains by targeting a specific group of winners and losers Porter and his team of analysts have identified.
Learn more here
.
Source:
http://www.stansberryresearch.com/dailywealth/3514/the-most-contrarian-recommendation-of-steve-sjuggerud-s-career