Story Views


Now:
Last Hour:
Last 24 Hours:
Total:
Oh Good. They've forgotten about the 'unspeakable' slaughter in Mosul.
Wednesday, April 5, 2017 22:01
% of readers think this story is Fact. Add your two cents.

I have no illusions about Bashir Assad's ruthlessness, and none about his commitment to regain control of Syria. His success in Aleppo, the recapture of Palmyra and even his quick reaction to the assault by the West's 'friendly' Islamist jihadis on Damascus have all given him the advantage. Meanwhile, the US-led blundering in taking Mosul, with its massive civilian casualties, makes Trump look a dick against Putin's effective siege of Aleppo.
So I don't rule out Assad being responsible for a chemical attack in Idlib that has killed 70. But it's so convenient for the US led side, and such an unnecessary action for Assad, that I cannot rush to the same immediate verdict as the entire Western media seems to have done, at least without evidence. It's just too bloody convenient, particularly in silencing the growing outrage against child and civilian casualties in Mosul, most recently as the 230 (as the Telegraph reported) child and mothers corpses were pulled from the rubble of a single Iraqi / US strike last week.
Whilst the slaughter of seventy in Idlib by poison gas is 'unspeakable', the slaughter of three times that number in Mosul by good, clean US missiles seems to be OK. Good. Glad that's clear.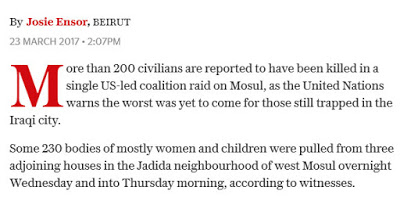 Source:
http://raedwald.blogspot.com/2017/04/oh-good-theyve-forgotten-about.html