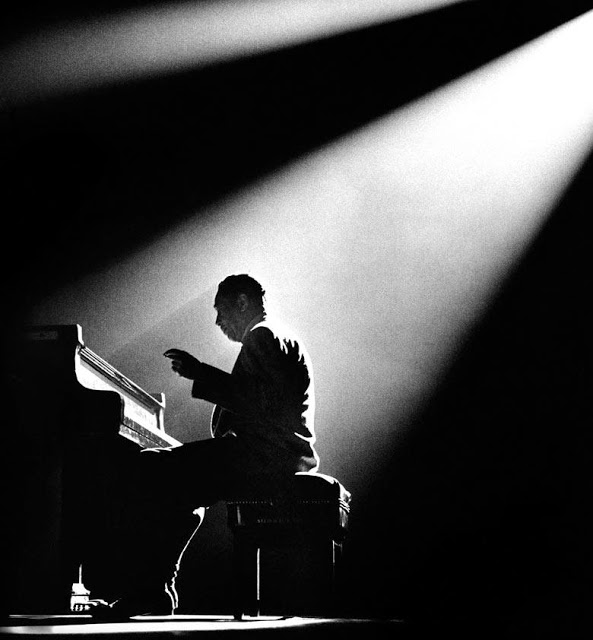 Duke Ellington
With the start of be bop jazz went in only one direction for a while, where Bud Powell took it Thelonious Monk and others carried the flame forward. Monk of course had a separate article so I will not refer here to him in music terms, only by inference.
Lennie Tristano arrived on the scene in the mid to late forties bringing with him an expanded bop ethic incorporating classical harmonic themes from contemporary classical music.
Tristano was stricken permanently blind as a child, and studied music through his mother who played piano and was an opera singer; maybe this was the time that subconscious implanting of the classical harmonics happened ? He went to the Chicago school for the blind and learnt music theory and also played several wind instruments, then to a bachelor's degree in '43 from the Chicago American Conservatory of Music. From an early stage Tristano taught as well as played and he did this right up until his death in '78.
He also invented "free jazz" in '49 when his sextet including saxophonist Lee Konitz produced two albums with no pre set tempo meter or chord progression – this was ten years before the term "free jazz" was coined.
This is him playing "Tangerine" in 1965 whilst in Copenhagen.
From that there is that link to cool jazz, very refined and laid back and the travelling bass line very apparent. And here an earlier piano solo "Requiem" from '55, this piece was played at Charlie Parker's funeral.
Bill Evans became one of the most celebrated musicians in jazz on any instrument, another who was classically trained and whose inventive use of harmony, interpretation, his melodic lines and the use of block chording had a profound influence on pianists then and now.
In 1955 he moved to NY and met up with and worked with George Russell the bandleader. In '56 he joined Miles Davis and his sextet where his influence was such that the album they produced "Kind of Blue" became the biggest selling jazz album of all time – who indeed doesn't own it?
He left Davis in '59 and set up his trio, a format that stayed with him and also the trio had the bassist Scott La Faro. La Faro died in a car accident in '61 after the trio had recorded "Sunday at the Village Vanguard", an album that contained Evans' best known number "Waltz for Debby" which became a jazz standard. Some of his later work on solo albums involved overdubbing Like Lennie Tristano before him who used overlaid tracks, similar it was new ground.
Evans' own influences on the piano were Earl Hines, George Shearing and Nat Cole then Bud Powell, not obvious associations until you listen to his music.
The dark side of Evans was never far away, from his alcoholic father through struggling to get over the loss of La Faro he turned as so many did at that time to drugs, heroin, and his association with his girlfriend Ellaine who was also an addict saw his playing affected though they both went away and evidently kicked the habit, but in 1970 he turned to cocaine, his health suffered and when his brother committed suicide in '78 , he was a schizophrenic, his sister in law said he would not last long and his friend Gene Lees said it was the longest suicide in history , referring to his struggle with drugs. He died in hospital from multiple ailments in 1979.
His legacy is a volume of work that is important regards the jazz piano and always worth listening to. His album "Everybody Loves Bill Evans" was one of my first jazz record buys.
"Waltz For Debby", with Scott La Faro on bass and Paul Motian drums:
and this solo performance from his album "Alone" "A Time for Love" – everything he did was beautiful:
Oscar Peterson is one of those names almost everyone has heard at some time in their life. The son of West Indian parents who emigrated to Canada, he learnt first trumpet and piano but a bout of TB stopped the trumpet playing.
He was a prodigious performer both live and in the studio: there are over two hundred recordings to his credit and a world wide audience for whom he toured endlessly. Over sixty years of performing is good going in anyone's book.
Taught by his sister and then trained by a classical pianist, he was another with that classical background, it seems more prevalent with pianists than any other instrument in jazz, and Peterson would often throw in harmonisations and quotations from classical works. Of all the influences Art Tatum was the biggest and indeed Peterson was often likened to Tatum later in his career.
He worked with various outfits and even played as backing piano (if you can call him that) with Ella Fitzgerald, but it was his trio that defined him in most people's eyes; the one containing Ray Brown on bass and Herb Ellis on guitar is considered his best even by the man himself.
Various formats followed after the fifties.
He suffered ill health from childhood when arthritis formed and an increase in weight later did not help even after a replacement hip; in'93 he had a serious stroke that kept him out of action for two years and his performing after that was somewhat limited. In 2007 his health deteriorated rapidly and he canceled a concert and went home; he died of kidney failure at the end of that year.
His best known album is probably Night Train; his solo albums came somewhat later.
If Peterson had a weakness it was what some would call a lack of advancement: he stuck with what he knew and was another for whom TV beckoned, which meant you always got what you expected – nothing wrong in that.
"It Ain't Necessarily So":
It Ain't Necessarily So – Oscar Peterson from JB – Jazz & Blues House on Vimeo.
and "Moten Swing" from the Night Train album.
Concert by the Sea is an album that was an enormous success for Errol Garner. One of the most distinctive pianists, his style and sound were instantly recognisable. Self taught, he could play the piano at the age of three, but never learnt to read music – an ear player all his life, with an amazing memory that helped counteract his lack of reading music.
At seven he was appearing with a group on local radio and by eleven playing on riverboats.
Only 5ft 2″, he played sitting on telephone directories; his style was such that comparisons and influences are not easy to define though Earl Hines is mentioned along with Fats Waller.
The Concert by the Sea album was the biggest selling album in its day and followed ten years of recording starting in '44. The same album was re released in 2015 by Sony in a 3 CD set with eleven previously unheard tracks, a legacy of his late manager's estate which also released much previously unheard material to add to a large existent catalogue; there are apparently in an agreement in 2016 between two music companies several master discs discovered that have never been published.
He was another who toured for most of his active career and was in demand world wide, appearing on Jazz 625 with Steve Race (for those old enough to remember) in '64, he died in '77 at the age of 53 after a cardiac arrest believed to be bought on by emphysema.
Here he plays Misty, his own composition and a jazz standard that is much played and was featured in the film starring Clint Eastwood (who is a jazz fan) "Play Misty for Me".
And the unforgettable version of "I'll Remember April" from the 'Sea album:
Source:
http://theylaughedatnoah.blogspot.com/2017/04/sunday-music-jazz-piano-2-by-wiggia.html