This post A New "Shale Smackdown" Crushes Crude appeared first on Daily Reckoning.
The price of oil is edging higher this morning.
But the damage is done.
The price of oil plummeted suddenly earlier this week after U.S. inventories rose by more than 8 million barrels. The surprise inventory boost was the largest in history.
The announcement of this unprecedented crude glut panicked traders. Everyone smashed the sell button, crashing the price of oil by more than 5%. As of this morning, crude is hanging out below $50 for the first time in 2017, giving back most of its gains from the early December "OPEC rally" spurred by promises from the cartel to cut production.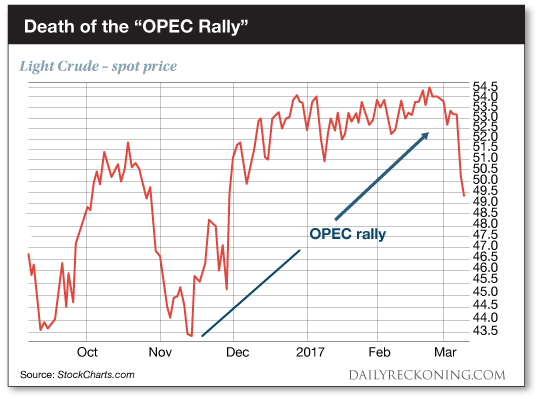 You'll recall an eleventh-hour OPEC deal back in late November that led to OPEC cutting supply by 1.4 million barrels per day. Saudi Arabia, Iran and Iraq squashed whatever beef was holding up the process and agreed to reduce supply for the first time since 2008.
The surprise announcement shot crude higher by as much as 8%, almost instantly erasing weeks of losses.
The move saved OPEC – at least for a hot second. Without a production cut late last year, experts saw oil prices heading toward $30 in a matter of months. Of course, crude rolling over again spells big trouble for Saudi Arabia. And the last year's cuts were considered by many folks to be make-or-break for the Saudis.
Now, just a few months removed from OPEC's last-second save, there's more trouble on the horizon for the cartel's biggest bully…
"Harold Hamm, the billionaire shale oilman, said the U.S. industry could 'kill' the oil market if it embarks into another spending binge, a rare warning in a business focused on fast growth to compete with OPEC," Bloomberg reports.
The world is drowning in oil. But shale producers are opening their wallets and increasing production. That will probably lead to domestic oil output exceeding the record high set in 1970, Bloomberg says. Shale producers are ramping up the biggest surge in drilling since 2012, "with the number of oil rigs rising to more than 600 this month, nearly double the level of June."
With crude now sitting near three month lows, any hope for a sustainable rally is lost.
Last year, oil was consistently victimized by whipsaw market action. In June, oil prices quickly jumped above $50 a barrel for the first time in nearly a year. U.S. stockpiles were down and China demand came in stronger than anticipated. Both factors helped push oil over the hump. Crude even managed to top $51.
But these gains were short lived. As it turns out, the oil bears were just taking a quick nap. After topping out, oil prices fell for six straight days. It was the longest bearish run for oil since early 2016 when prices plummeted below $30 a barrel.
With production ramping up and record inventories piling higher, we could be looking at another sustained move lower for the oil price in the weeks ahead. The energy sector has been the biggest drag on market performance this year by a long shot. The Energy Select Sector SPDR (NYSE:XLE) is off by more than 12% year-to-date. For comparison, the second worst performing sector is utilities—and they're off just 1.6% this year.
OPEC vs. American shale is turning into a race to the bottom for the price of oil. Any shot at a sustained oil rally is now on hold indefinitely…
Sincerely,
Greg Guenthner
for The Daily Reckoning
The post A New "Shale Smackdown" Crushes Crude appeared first on Daily Reckoning.
This story originally appeared in the Daily Reckoning . The Daily Reckoning, offers a uniquely refreshing, perspective on the global economy, investing, gold, stocks and today's markets. Its been called "the most entertaining read of the day.
Source:
https://dailyreckoning.com/new-shale-smackdown-crushes-crude/