This post Changing the Status Quo…For Big Profits appeared first on Daily Reckoning.
If there's one statement that holds true, it's that biotech stocks have been on a roller coaster this past year.
And with Trump in office, it probably won't die down anytime soon.
Just this week, Trump's tweet on drug prices sent pharma shares into a tailspin. The high and escalating prices pharma companies charge for their products continue to draw the attention and ire of powerful politicos.
One of the hardest-hit stocks was Mylan.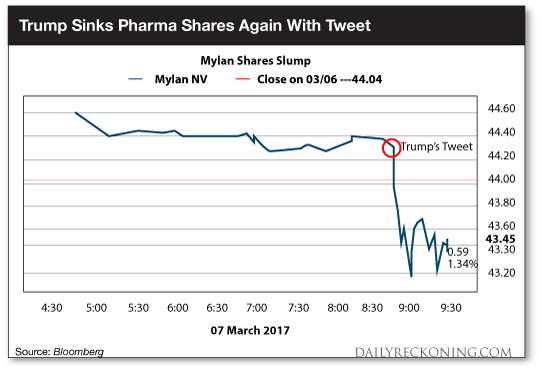 You'll probably remember Mylan's EpiPen controversy from last year.
The EpiPen is an auto-injector used to deliver an emergency dose of epinephrine in cases of anaphylaxis… a serious rapid-onset allergic reaction that can kill.
Price hikes, along with a congressional mandate for stocking epinephrine auto-injectors in schools four years ago, have turned this business into one worth over $1 billion a year for Mylan.
But we know that Trump wants to change the status quo.
Trump wants to open the market to competition. He wants to make it easier for the FDA to approve new products. He also wants the regulator to clear a backlog of some 4,000 generic drug applications. Clearing this backlog will introduce new competition and lower prices.
In other words, he's got a big to-do list for his new FDA chief.
A few names have been thrown around as possible appointees to head up the FDA. But rumors are swirling today that former deputy commissioner of the FDA, Scott Gottlieb, is a front-runner to take on the role.
Gottlieb wants to lower the price of prescription drugs by speeding up the FDA approval process.
The FDA is one of the most powerful regulatory agencies on the planet. It regulates the largest health care system in the world — a health care system worth over $3 trillion per year.
Having Scott Gottlieb at the helm could open up this huge market for highly profitable disruption.
It comes down to making it easier for innovators to innovate.
If the FDA can loosen the drug approval process, biotechs could market their drugs after demonstrating safety alone, not both safety and efficacy. Post marketing, companies can then produce efficacy data.
This would reduce the amount of time lifesaving new drugs need to get to market. It would also reduce the prices of new drugs, since it would make pre-commercial development less expensive.
Furthermore, it would reduce healthcare costs. New drugs are only a small part of total health care spending, and new drugs help reduce healthcare costs elsewhere.
And there is the potential for "dinosaur" Big Pharma companies to repatriate some of their offshore profits on a tax-free or low-tax basis under the Trump administration. This will make it easier to buy small biotech companies in the U.S. — still the world's nexus of biotechnology innovation.
Buying talent will help Big Pharma stay in the innovation game — and create new opportunities for quick gains in biotechs that get acquired for a premium over their share price.
And let's not ignore the fact that new drugs often save money even if they are expensive — a powerful new pharmaceutical can eliminate the need for surgery or around-the-clock care.
And what price can we put on helping a child with a rare disease live a more normal life… or saving a life that would have been lost?
So while the biotech industry has been up and down within the last 12 months, it's clear that there is a lot to look forward to. Things are bright for this sector in 2017. So hang on tight.
To a bright future,
Ray Blanco
for The Daily Reckoning
The post Changing the Status Quo…For Big Profits appeared first on Daily Reckoning.
This story originally appeared in the Daily Reckoning . The Daily Reckoning, offers a uniquely refreshing, perspective on the global economy, investing, gold, stocks and today's markets. Its been called "the most entertaining read of the day.
Source:
https://dailyreckoning.com/changing-status-quo-big-profits/