This post MISSING: $1 Trillion "Kidnapped" From American Retirees… appeared first on Daily Reckoning.
You'll have to forgive my tone today… Frankly, I'm pissed off (please excuse my language).
I'm angry because of the war being waged against savers…
A war that has left retirees collectively 1 trillion dollars poorer. And a war that has placed retirees in harm's way, vulnerable to a pullback in today's inflated stock market.
The war on savers made the front page of the Wall Street Journal this week. The article showcased just how hard it has become for responsible savers to set aside enough money to cover retirement.
Check out $1 trillion figure below…
That's money that has been taken away from retirees thanks to the paltry interest rates savers are receiving on their deposits…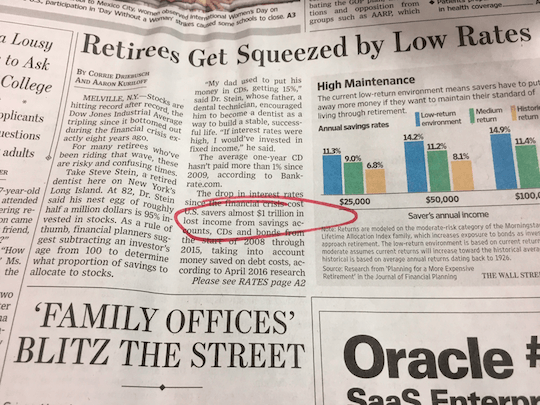 So how exactly has this money been taken away from retirees?
Well it all goes back to the Fed's experiment with a zero (or near-zero) interest rate policy.
We all know that the Fed lowered interest rates in an attempt to stimulate the economy and bail out the big banks. (Mostly to bail out the big banks).
But that was nearly 10 years ago!
And since that time, there have only been two tiny interest rate hikes. Which means savers are earning next to nothing from the money they worked so hard to set aside.
The WSJ article cites a Swiss Re research report showing that savers have lost $1 trillion in potential interest income thanks to these lower rates.
But the damage is actually much worse!
That's because the study offsets retirees' losses by the benefit of lower interest rates on debt balances. (In other words, if you're carrying a large amount of debt, you'll supposedly pay less in interest expense.)
But that makes absolutely no sense for retirees. Because if you're a responsible saver and you've set aside money for retirement, chances are good that you'll have very little debt to pay interest on.
So retirees get virtually no benefit from lower interest expenses, and all of the pain from lower interest on savings. So the problem is actually bigger than the $1 trillion headline number stated!
Retirees Are Getting Desperate
One of the ways retirees are "fighting back" against this low interest rate policy is by investing in speculative stocks.
The idea here is that as long as the market continues to trade higher, these speculative stocks will offer big gains. And those big gains will hopefully offset the $1 trillion of interest the Fed has stolen.
Sounds good, right?
But what happens when the market trades lower?
We know from history that eventually the market will decline. Stocks don't simply go up indefinitely in a straight line.
Unfortunately, the ebb and flow of the market will hit retirees especially hard. That's because retirees need cash flow today to cover life expenses. As a retiree (or future retiree), you may not have years and years to wait for the market to rebound.
You need income to be able to eat — and to enjoy your retirement years — today!
But unfortunately, the Fed's zero interest rate policy has pushed retirees out on a limb — a limb that is dangerously close to snapping.
Wall Street's Financial "Advisors" Are No Help
Has your financial advisor told you about the "rule of 100" yet?
Here's how the "rule of 100" works1:
"As a rule of thumb, financial planners suggest subtracting an investor's age from 100 to determine what proportion of savings to allocate to stocks."
So if you're 60 years old, you should have 40% of your savings in stocks. (100 minus age 60 equals 40 percent). And if you're 80 years old, you should allocate 20% of your income to stocks.
Are you kidding me??
All the Harvard MBA's, the Yale post-graduate degrees, and Stanford University business alumni in the industry… And all they could come up with is a formula that my second-grade twins could knock out without even using their fingers? (No offense to second grade students).
The financial advisor industry is a joke!
These guys are no help when it comes to finding creative ways to generate income… or when it comes to protecting your wealth.
All they're concerned about is getting more of your money under their management so they can charge bigger fees. They can hardly be troubled to run a second grade calculation and toss your hard-earned money into Wall Street's rigged casino — I mean stock market.
Don't Leave Your Retirement to Chance
You've worked hard to set aside money for retirement.
You've made sacrifices along the way, in the name of being responsible and planning ahead. And now, the Fed is slowly stealing your wealth by holding interest rates down and limiting your income.
Today, I want to encourage you to take matters into your own hands.
Don't trust your money with that financial "advisor" counting his fingers and using the "rule of 100." Don't invest in speculative stocks that could lose half their value in the next market pullback. And don't let your money sit idly by in a bank account earning next to nothing.
Instead, take a balanced approach to investing.
Place a portion of your savings in solid dividend-paying stocks with stable businesses. Invest in high-yield bonds that give you legally guaranteed income (and trade separately from the stock market's swings). And consider using a non-traditional income-generating strategy to pull instant cash payments from the market.
(You can find out more about this conservative income strategy here.)
In short, it's time to take control of your retirement and fight back against the trillion-dollar war on savers. And I'm making it my mission to help uncover new ways for you to build and protect your retirement in these turbulent times.
Here's to growing and protecting your wealth!
Zach Scheidt
Editor, The Daily Edge
[email protected]
1 Stocks Have Tripled Since Crisis, but Low Rates Are Still Squeezing Savers, Corrie Driebusch and Aaron Kuriloff, The Wall Street Journal
The post MISSING: $1 Trillion "Kidnapped" From American Retirees… appeared first on Daily Reckoning.
This story originally appeared in the Daily Reckoning . The Daily Reckoning, offers a uniquely refreshing, perspective on the global economy, investing, gold, stocks and today's markets. Its been called "the most entertaining read of the day.
Source:
https://dailyreckoning.com/missing-1-trillion-kidnapped-american-retirees/