Good morning!
As it's a busy day for results, both Graham amp; I are working today, and both running late – our apologies! Graham's report is taking shape here.
Tracsis interview
It was a busy day yesterday. As well as writing a report here, I also recorded an interview with the CEO amp; CFO of Tracsis (LON:TRCS) . You can listen to that if you wish, here. I managed to ask all your questions, and thanks for submitting them.
Tracsis are presenting at tonight's ShareSoc seminar in Leeds. Click here for more details on that. Management at Tracsis are refreshingly open amp; straightforward. They've asked me to pass on the fact that they welcome contact from shareholders. So if there is anything you would like to clarify, or a question to ask, then please feel welcome to contact management yourself, directly.
---
Tasty
(LON:TAST)
Share price: 74p (down 35% today)
No. shares: 59.8m
Market cap: £44.3m
(at the time of writing, I hold a long position in this share)
Preliminary results – for the 53 weeks ended 1 Jan 2017 – note the extra week, which will give a boost to the profits.
The company is an expanding restaurant chain. So a roll out – my favourite hunting ground for investments. The company opened 13 new sites in 2016, mainly trading as "Wildwood". It currently has 63 restaurants, of which 56 trade as Wildwood, and the balance of 7 are a different format called "Dim T".
This page on the company's website shows a lot of the interiors of the sites, which seem to have quite pleasant, modern interiors. The menu looks rather boring amp; predictable – burgers, pizza amp; pasta basically. Very similar to numerous other chains. So it's not clear to me how this chain differentiates itself from the competition?
The first 5 bullet points in the highlights section look good, but then the final bullet point drops a bombshell – a profit warning for the current year: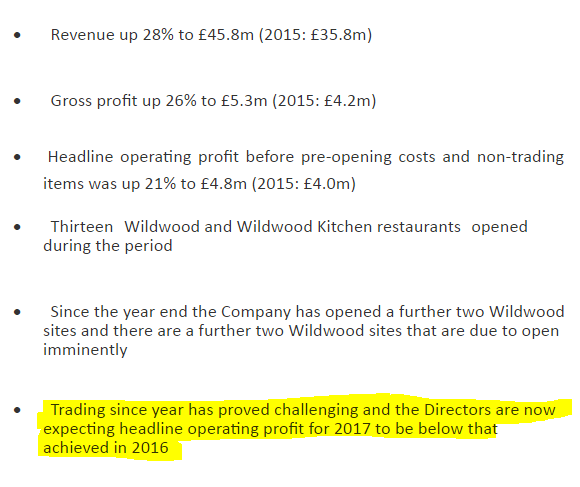 Worse still, it's what I think of as an open-ended profit warning – i.e. it just says below, but with no indication of how much below. No wonder the share price has dropped 32% today.
Outlook – it doesn't really explain what has gone wrong in the current year;
Post year end trade has been below expectations and the Directors believe that the trading environment for the coming 12 months will remain challenging.

As a result, the Group has revised down the planned number of openings for the current year from 15 to 7 and expects that headline operating profit will be below that achieved in 2016.

The Group is undertaking a full review of the estate and operational structure and is implementing a number of strategies to improve performance.

The Directors believe the Group's core 'Wildwood' brand remains attractive to customers and the Group is taking positive action to address the expected financial performance and ensure growth in the future.
I find this an unsatisfactory explanation. It's no explanation at all really, just saying that something has gone wrong, and they're trying to correct it.
At the moment, I don't have any updated broker notes, but am trying to locate any updates. I'll edit this section if anything useful surfaces.
The fact that the aggressive roll out is now being curtailed, is not a good sign at all. To me, that suggests they've got into a bit of a muddle – perhaps from over-rapid expansion? Opening 13 news sites in 2016 was very ambitious, going from 48 sites at end Dec 2015, to 61 at end Dec 2016 – an increase in store numbers of 27%. Compare that with say, the 10% store expansion rate of the more measured pace being done by Revolution Bars (LON:RBG) (in which I also hold a long position).
The narrative mentions challenges related to rapid expansion, e.g.
In the previous period the Group identified a number of structural improvements that needed to be made in response to the growing number of sites being operated.

Structural changes are still ongoing and are set to be completed in H1 of 2017…

…In order to meet the increasing challenges of maintaining brand values as the geographical footprint of the Group grows, an extensive management training programme has been designed and implemented.  Focussed on the store management team, the 4 week programme has had a very positive response from staff and is one of a number of strategies that the Group is using to increase staff engagement and reduce employee turnover. 
This is interesting, as it very much coincides with my recollection of doing a roll out in the 1990s. What we found, is that you can run a chain very efficiently, with a small management amp; head office team, up to about 40 sites. Beyond that, you have to start really beefing up the head office amp; mobile teams. So new departments have to be created (e.g. HR, training, mobile amp; area managers), whereas in smaller chains these roles tend to be covered by a handful of key people, multi-tasking. That isn't possible beyond about 40 sites. Decision-making also becomes slower, and decisions are more difficult to implement amp; police, in a larger chain.
So I reckon that's where Tasty has got to – bumps in the road, from rapid expansion, and having to beef up its central functions. If I'm right, then these problems are fixable, if management are up to the job.
Bear in mind that Tasty is a Kaye family company – there are 3 Kayes on the gt;3% shareholder list, and Sam Kaye is the joint CEO. The Kaye family have been behind a number of successful restaurant formats (e.g. Prezzo), so they know what they're doing. Therefore, to my mind, the problems here should be fixable.
Balance sheet – net assets are £30.2m, which is dominated by £34.2m in fixed assets – i.e. the restaurant fit-outs, which look very expensive. The company spent £11.3m on capex in 2016. Assuming that this is likely to be mainly new site openings, then that works out at an average of £869k per site. That's a very expensive fit-out. The bulk of it is leasehold improvements too – i.e. stuff that is a permanent fixture, like floors, toilets, bars, shopfronts, and other building works. I tend to see that as rather wasteful, particularly if the company doesn't really have any particular differentiator from the competition. It's just another pasta/pizza/burger chain, in a sector which is over-run with similar competition. Over-capacity is a real issue for restaurant chains, in my view.
£7m was drawn down on a bank facility of £12m, at year end. Plus the company held £5.0m in cash, so net debt of £2.0m, is insignificant. Although with new store openings in 2017, and reduced profitability, this is likely to deteriorate in future, so needs to be monitored.
Overall then, the financial position looks strong for the time being.
Cashflow – looks fairly healthy. The company generated £4.8m in post-tax cashflow in 2016. It then spent £11.7m on capex (new sites). So it's not self-funding. The funding shortfall was made up with an equity fundraising, bringing in £8.6m of fresh money at 145p per share, only 4 months ago, in Nov 2016. The investors in that placing must be really hacked off, to see the share price now only half that level.
My opinion – to a certain extent I'm having to guess at what has gone wrong here, because the narrative today is so lacking in concrete facts.
Overall, I'm prepared to give the company the benefit of the doubt, because management are such experienced restaurateurs. Therefore, I feel problems are likely to be fixed, given time. Possibly they've expanded too fast, and need time to consolidate, and tighten management controls, and standards?
So as regards my personal holding, I've satisfied myself that I'm happy to continue holding, and have speculatively added to my position today, although it's still a fairly small position in my portfolio. So breaking all the rules – catching the falling knife, etc.
Although I can also see merit in a more bearish view – that the future is now uncertain, so some people may just want to ditch the share, and move on. I respect that approach too.
As you can see from the 2 year chart below, the share price has lost about 2/3rds of its value from the peak, and is hitting new lows today. So it's a brave or foolish purchase at these levels! That said, there's plenty of upside if management get things back on track, so we'll have to see what happens.

---
Severfield
(LON:SFR)
Share price: 82p (up 3.1% today)
No. shares: 298.9m
Market cap: £245.1m
Trading update – for the year about to end on 31 Mar 2017.
Things are clearly going well at this structural steel company;
Trading during the second half of the financial year has been strong, with the Group's performance for the year ending 31 March 2017 now expected to be ahead of expectations.

Cashflow performance in the second half has been similarly strong with net funds at the year end also expected to be ahead of expectations.
This mirrors upbeat results amp; outlook from much smaller competitor Billington Holdings (LON:BILN) which I reported on last week, here.
Outlook comments sound upbeat, and the objective to double profits by 2020 is certainly eye-catching:
With a good order book, continued strong operational performance and our ability to work across a wide range of sectors, including infrastructure, the UK business is well-placed to deliver further growth towards our objective of doubling profits by 2020.

The Indian business continues to perform in a stable manner with the economic backdrop continuing to show signs of improvement following the government's demonetisation programme.
My opinion – not really the sort of business I invest in these days, but it looks potentially interesting, if you think infrastructure spending is likely to continue at buoyant levels. Being a cyclical business, it obviously suffers badly in downturns. For the time being though, things are looking positive.
Also note its high StockRank of 94, so worth a closer look maybe?
(work in progress – please update this page later)
Source:
http://www.stockopedia.com/content/small-cap-value-report-tue-28-mar-2017-part-1-trcs-tast-sfr-card-cto-hsw-frp-178065/