WAR!!! What is it good for?
Well, it's good for a $1 pop in oil – that's for sure! President Trump pulled out the big guns last night and launched 59 Tomahawk Missiles ($120M worth) at Syria in retaliation for the chemical weapons attack Syria claims was a set-up to give Trump an excuse to distract us from his horrific administration's bungling of the rest of his agenda – not to mention the web of intrigue surrounding all those Russian ties.

Buy hey, isn't Syria Russia's ally? Well, then attacking them "proves" Trump isn't working with Russia so case closed – call off the investigations…

Of course, it's a little strange that 59 of these missiles reportedly only destroyed 6 planes and killed 5 people and left the runway intact at the base when a single Tomahawk missile destroys a building but that's something for the military experts to contemplate – we should be more concerned about the impact on the markets.
Well, for one thing, we took the opportunity to add more oil shorts (/CL) this morning at $52.50 because Syria only produces 400,000 barrels of oil per day and this strike did nothing to disrupt their production nor is it likely to expand into something bigger because of some other reason than Trump is Putin's puppet but that's the only one I can think of at the moment. There was a quick $500 per contract gain on the move back to $52 and now we're waiting and seeing but still net behind from our original shorts, now needing $51.25 to break even.
We also took a stab at shorting the Russell at 1,360 (still there) but risky ahead of the Non-Farm Payroll Report, which should be well over 200,000 as ADP was a blowout 263,000 – almost 50% over expectations. Last month we had 235,000 jobs added on March 10th, but the market turned down the following 2 days, from S&P 2,372 to 2,357 but we closed yesterday at 2,357 – back at those lows.
While it's nice to add jobs, strong jobs remind investors the Fed is firmly in a tightening cycle and that inflation is just around the corner and the end of the Free Money Era is dawning. As noted yesterday, we rallied on news that Draghi and the ECB said they are in no hurry to tighten but the EBC is very inflation-driven and will change their tune as soon as it hits 2%, no matter what Draghi says.
8:30 Update: Only 98,000 jobs were added in March, more than a 50% miss and MILES below the ADP Report. Not only that but they revised February down 38,000 so now that's below 200,000 as well. That sent oil and the indexes plunging despite the Dollar diving back to 100.50 (less jobs = less demand for Dollars). Nonetheless, Unemployment dropped to 4.5% and that's a VERY INFLATIONARY STATISTIC as it means we're running out of employees, which means they will be able to demand better wages.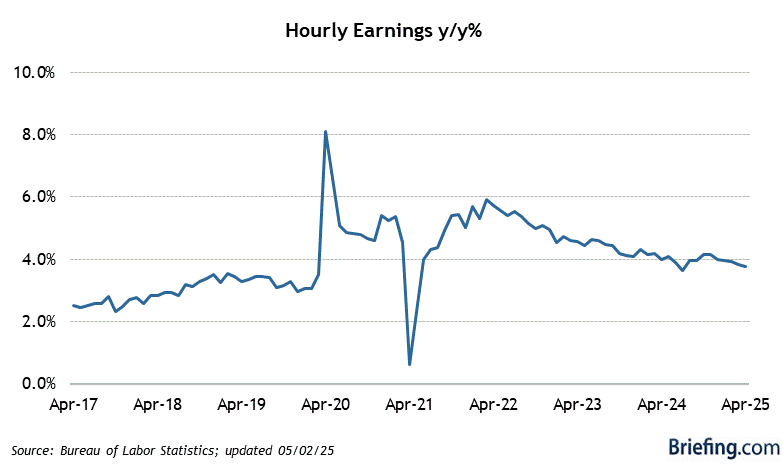 This will put a bit of a squeeze on labor-intensive sectors like Services, Transportation and Consumer Discretionary, who all tend to hover at about $300,000 in revenues per employee vs Financials, who generate $500,000 per employee or Energy Companies, who generate $1.2M per employee. At the moment, Average Hourly Earnings seem contained at 0.2% for March but, as you can see from the chart – we're clearly in a cyclical uptrend in labor costs – not to mention the rising minimum wages – unless Trump rolls those back too.
Wow, oil (/CL) just plowed down to $51.50 – good for a $1,000 gain since I sent out this post (in progress) to our PSW Report Subscribers. I guess I earned my $3 today, right? My call in our Live Member Chat Room was made way back at 6:16, when I said:
I'm going to DD on my oil shorts at $52.50 and HOPE it calms down but will reduce into the weekend regardless. My average is about $51.50 now and I'd be thrilled just to get back to $52 to mitigate the damage.
So we're far more than thrilled and able to reduce back to a reasonable number of shorts and now looking at possible PROFITS into the weekend, of call things. Keep an eye on Brent (/BZ) Futures at $55 – over that line is a stop on /CL but we can play that line all day long as a great directional indicator.
Have a peaceful weekend,
– Phil
Provided courtesy of Phil's Stock World.
Would you like to read up-to-date articles on the day they are posted? Click here to become a part of our growing community and learn how to stop gambling with your investments. We will teach you to BE THE HOUSE – Not the Gambler!
Source:
http://www.philstockworld.com/2017/04/07/freaky-friday-trump-beats-up-assad-world-very-impressed/?utm_source=beforeitsnews&utm_medium=feed&utm_campaign=psw-feeds&utm_content=article-link