This post My Son Registers For the Draft appeared first on Daily Reckoning.
This summer, my son will register for Selective Service. So by October he will be eligible to be drafted into the military.
The thought of David serving his country got a lot more serious this past week after the U.S. hit Syria with a volley of tomahawk missiles. As a father, I'm concerned about the possibility of my son fighting in World War III…
Over the weekend, I had a chat with my Dad about the prospect of a foreign war. Dad was very close to being drafted during the Vietnam War.
Military service has been in our family for several generations. My nephew just finished a deployment in the army. My brother had a career in the Army, serving several tours in Iraq, Afghanistan and Korea. And my Grandpa fought his way through Europe in World War II.
Last spring, Grandpa turned 95 and we celebrated by taking him to New Orleans to visit the WWII museum there. What an amazing experience to hear him share stories about fighting through the Alps and protecting our freedom.
Here's a picture of our time with my Grandpa at that museum.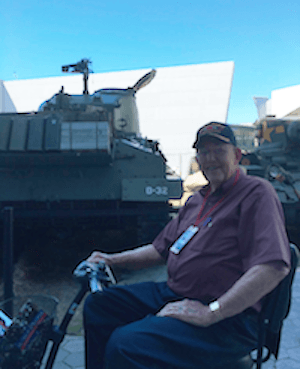 I pray that my son David won't have to experience war like my Grandpa did. But after last week's developments, the prospect of war is certainly growing.
Surveying the Defense Sector as "WWIII" Tensions Heat Up
As investors, it's important to be able to assess the political landscape and adjust to new opportunities and risks. After all, you're going to need to have enough capital to retire on, regardless of whether we're living in wartime or a peaceful environment.
Clearly, these new tensions between the U.S and Syria raise the level of economic risk. As Russia moves to protect its own interests in the Middle East, the threat of both physical and economic conflict increases.
And while the situation in the Middle East is dynamic, here's what we DO know…
With increased military presence from both the U.S. and Russia we can expect to see a substantial short-term buildout or "arms race" in the region.
Simply put, whether we may see more missiles fly or a complete standoff… it costs a lot of money, manpower and machinery to get the war machine up and running.
With President Trump in office, we're already seeing the gears turn.
Over the last few months, defense stocks have already traded materially higher, thanks in part to Trump's military spending plans.
But even at higher prices, these stocks still have room to run — especially if we're entering a period of heightened global tensions.
Investors have had years to adjust to a liberal political environment which placed a low priority on defense spending. Today, the Trump administration coupled with a republican congress should steadily increase defense spending — which is great news for established defense stocks with existing government contracts.
And when it comes to defense stocks I know exactly where to look.
Remember, I've been in the industry for 17 years, and I used to manage a $130 million hedge fund, so when opportunities for a MASSIVE defense build-out arise, I know exactly where to look!
In an environment of higher spending and political tension, here are my 3 favorite plays for right now. These stocks could trade steadily higher for months (if not years.)
The Boeing Co. (BA) is the world's largest aerospace company with a market cap of $109 billion. The company is well known for its F/A-18 Super Hornet fighter jet, and was just awarded a $2.2 billion contract for a new submarine hunter warplane I especially like BA because of its generous 3.18% dividend yield.1
Another great defense stock for your portfolio is Lockheed Martin Corp (LMT). This defense company is known for its F-35 Lightning combat aircraft. LMT is working to bring prices for its aircraft lower, which should help the company to better compete under Trump's cost-conscious administration. The stock pays a respectable 2.69% dividend yield.
Finally United Technologies (UTX) has a total of 179 different military contracts worth $23.9 billion.2 In addition to its defense business, the company has a thriving commercial business as well. With a 2.34% dividend yield and plenty of growth opportunities, UTX is another great stock for defending your investment portfolio.
I'll be watching the global drama as it unfolds this week, and will let you know what additional moves you should make to protect your hard-earned wealth.
Don't forget to check out our 5 Must Knows for this week below!
Here's to growing and protecting your wealth!
Zach Scheidt
Editor, The Daily Edge
[email protected]
---
1 Boeing awarded $2.2 billion for new P-8A Poseidon submarine hunters, Christopher Diamond, DefenseNews
2 United Technologies Military Defense Contracts, Military-Industrial Complex
The post My Son Registers For the Draft appeared first on Daily Reckoning.
This story originally appeared in the Daily Reckoning . The Daily Reckoning, offers a uniquely refreshing, perspective on the global economy, investing, gold, stocks and today's markets. Its been called "the most entertaining read of the day.
Source:
https://dailyreckoning.com/son-registers-draft/