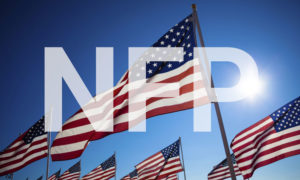 BarroMetrics Views: NFP-Sidelined?
Syria, the meeting with Xi Jinping, the Russian probe (& Rice)….! All vying for our attention. It's easy to forget that there is a piece of news out tonight, 20:30 HK time that may push all of the geopolitical news aside, the NFP.
It's important to bear in mind that the Trump rally has been attributed to a belief that he'll be able to pass legislation that will reinvigorate the US economy. His failure to get consensus on the Ryan Health Bill shows how difficult the passing of tax reform, infrastructure spending, etc. will be.  The more that time passes without signs of progress, the more likely that US stocks will head South.
On top of all that we have seen two vacancies appear in the past few days:
Daniel Trullo (voting member, dove),
Jeffrey Lacker (non-voting, hawk).
Given this background, what sort of impact will today's NFP provide? As always, it needs to be a number outside consensus range. Figure 1 shows the data from Nasdaq's Economic Calendar. I have also included the ADP numbers that were released on Wednesday. Why?
There is an interesting relationship between the ADP and NFP: the NFP tends to follow the ADP progression of a month-to-month comparison. On Wednesday, we saw an ADP number of 263,000 for March down from last month's 298,000 (Jan's was 246,000). The 263,000 was much larger than consensus expectations. For this reason, the pundits are suggesting that we'll see a larger than expected NFP of 175K.
My view is, given the decline this month (from 298k to 263k), we are more likely to see a number below 235K. And, given that the FED is determined to raise rates, we'll see a number closer to 175K. In effect, we'll have a ho-hum number. Ah well, back to the geopolitical factors.
Let's see what tonight brings.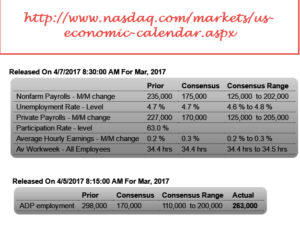 FIGURE 1 NFP Consensus
The post NFP-Sidelined? appeared first on Ray Barros' Blog for Trading Success.
Source:
http://www.tradingsuccess.com/blog/nfp-sidelined-4791.html