Good morning! It's Paul here.
First day of the new tax year. I've already seen some Tweets from sensible private investors that I follow, saying that they're about to deploy their freshly invested cash in ISAs and SIPPs. So perhaps that might provide some support for small caps? (the amounts are probably too small to make any difference to larger caps).
I'm hearing that AIM IHT fund managers are seeing good cash inflows from clients too. So that's also a positive for decent AIM shares, because they'll generally keep buying more of their existing holdings in the market.
Today I shall definitely be reporting on: FreeAgent Holdings (LON:FREE) , Mothercare (LON:MTC) and MySale (LON:MYSL) .
Time-permitting, I also hope to cover some or all of these: Epwin (LON:EPWN) , Motorpoint (LON:MOTR) , Findel (LON:FDL)
---
FreeAgent Holdings
(LON:FREE)
Share price: 121.5p (up 4.3% today, at 09:26)
No. shares: 40.7m
Market cap: £49.5m
(at the time of writing, I hold a long position in this share)
Trading update – for the year ended 31 Mar 2017
This is a recent float, with the shares listing on AIM in Nov 2016.
The company provides cloud-based bookkeeping software, specifically designed for micro businesses. It's important to grasp that this software is very user-friendly, and easy for non-accountants to use. Hence it's ideal for the smallest businesses – often one person bands, like consultants, or self-employed tradespeople.
The closest competitor is probably QuickBooks, which is advertising a similar product on TV at the moment.
Other cloud-based software products like Xero, are not really direct competitors, as they are much more feature-rich, and less user-friendly (I use both Xero amp; FreeAgent personally, for small businesses that I'm involved with).
As part of researching the share, I took a free trial of FreeAgent. After playing with it for an hour or two, I liked it so much that I transferred my limited company accounts onto it permanently. It drastically simplified my tax year-end. So I'm a very happy, paying subscriber. It's a terrific product, which is remarkably easy to set up and use.
I've also asked several firms of accountants what they think of it. The answers were that Xero is best for small businesses, and FreeAgent is best for micro businesses. They really like both products, and find it very efficient to have the clients doing the basic bookkeeping, then the accountant logs in via the cloud, and finishes off the year end, and tax stuff.
So cloud-based software is definitely the way forward for small businesses.
Anyway, back to today's trading update, which says;
For the full year ended 31 March 2017, the Board expects to report both revenue and Annualised Committed Monthly Recurring Revenue ("ACMRR") at the period end in line with market expectations at £8.0 million and £8.6 million respectively.

Both the adjusted EBITDA loss and period end net cash are expected to be comfortably better than current market expectations.  The Group's gross profit margin remained above 80%.
A few comments from me, on the above;
The company has failed to specify what current market expectations actually are. This is a mistake. Other companies are increasingly putting in a footnote to specify precisely what market expectations are. Otherwise the announcement is largely meaningless for the (probably bulk of) investors who don't happen to have market forecasts to hand.
I don't have any forecasts available at the moment, so can't therefore comment any further on the forecast figures. Really annoying. I've put in a request for the latest forecast figures, so will come back amp; edit this section if anything is forthcoming.
The company is still loss-making, but with very sticky revenues, and strong organic growth, it's clearly on the right trajectory towards profitability. That's why the market cap is nearly £50m – because the market is anticipating a future move into profit.
Recurring revenues – a key feature here is high gross margins, and very sticky revenues. It's true that a lot of small businesses go bust. However, as FreeAgent is targeting micro businesses, then even if those businesses do go bust, the same person will usually resume trading straight away via a new limited company, or as a sole trader, and will probably use the same accounting software in the new company.
Cash – good to hear that it's ahead of forecast. Although at the most recent accounts (interims) the balance sheet looked weak, with some borrowings. However, this was fixed at the IPO, with fresh money raised, leaving a £5m net cash balance at IPO. This will have fallen somewhat since though, due to ongoing losses.
Marketing – the trouble with this type of company, is that to acquire new customers costs money, on marketing. This is a major expense. However, bear in mind that FreeAgent recruits customers via firms of accountants, and more recently a deal with RBS, whereby its software is distributed free with new small business bank accounts. That strikes me as an excellent way to recruit new customers. Even if they give away the software in year 1, there is then a lucrative stream of future years' subscriptions to look forward to.
My opinion – I rarely invest in loss-making companies. The only circumstances where I will, is if there are all the following factors in existence;
strong organic growth
high gross margins (giving plenty of operational gearing)
mostly recurring revenues
adequate cash resource to reach breakeven
credible forecasts demonstrating a clear path to profitability inside 2 years
I've formed that checklist from my previous mistakes! (e.g. Synety, now CloudCall, which repeatedly ran out of money, despite the other factors being good)
In my view, FreeAgent ticks all 5 boxes above, therefore I am prepared to hold a few shares (it's not a big conviction position for me, more an entry level, see how it goes, type of position).
Also, I think the valuation might be a bit rich for now, so I don't see any particular immediate upside. There again, we're in a bull market, so anything could happen.
Stockopedia doesn't like it! I always check the StockRank, and am wary of companies with a StockRank this low – it's the algorithms warning me that I might be buying expensive junk. So it certainly pays to stop amp; think again, before pressing the buy button on anything with a very low StockRank.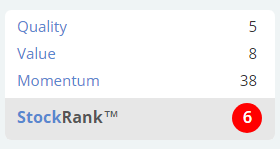 ---
Mothercare
(LON:MTC)
Share price: 117.5p (up 2.8% today, at 10:50)
No. shares: 170.9m
Market cap: £200.8m
Trading statement – this covers Q4, and hence the full financial year to end Mar 2017.
This business is split between UK (problematic, and loss-making at the last interims), and International (which is decently profitable).
To quickly get up to speed with the company, I Iast reported here on 12 Jan 2017, when Mothercare issued an in line Q3 trading update.
Also, I reported here on 24 Nov 2016, on Mothercare's interim results.
I've just re-read both sections, to refresh my memory. The story here is whether the turnaround strategy is working or not.
UK performance – today's update points to a decent uplift in UK LFL sales – which rose an impressive +4.5% in Q4, taking the year's total LFL sales uplift to +1.1% – whether that's enough to recoup cost increases, is not clear.
Online UK sales – it irks me that the company says 41% of UK sales are now online. I don't think that's true, because previously the company has stated that it categorises orders placed in store, via a tablet provided by the company, as online sales. That's ludicrous! If the customer is actually in the store at the time of placing their order, then it's clearly not an online sale. It undermines my confidence in everything else, when companies try to be too clever with this type of thing.
Margin (presumably net?) in the UK is said to be "within our guidance for the full year", whatever that is. I can't see any footnote to indicate what guidance is. So this appears to be yet another trading update which has mainly been written for city brokers to update their models, rather than for private shareholders to better understand the business amp; its performance.
Overall UK performance sounds moderately encouraging, although it's important to remember that this business has seen heavy investment in store refits. Therefore, it really should be generating tons of profit, but isn't. I therefore see the UK business as being marginal, at best.
International - this is the important bit, as it makes the profit.
The announcement today doesn't seem to give LFL sales figures. The most meaningful figures to me are the quarterly % change in sales, in local currency. These show a tough period of trading, but with an improving trend, as follows;
Q4 last year:  -9.7%
Q1 this year:  +3.9%
Q2 this year:  -5.6%
Q3 this year:  -5.9%
Q4 this year:  -1.7%
Total this year:  -2.4%  (for the 52 weeks to 25 Mar 2017)
Overall then, a rather erratic performance, and generally negative (apart from Q1). Q4 performance was still negative, despite having a very soft prior year comparison. So not great, but not disastrous either.
However, note there is a very favourable forex tailwind, so these lacklustre local currency figures translate into much stronger sterling, +10.3% for the year.
Overall profitability – the Directorspeak says this;
"Following a solid final quarter, our overall Group performance remains broadly in line with market expectations for the year.
I can't quite fathom why they're only broadly in line, if Q4 was solid. This suggests that maybe forecasts were too high previously, perhaps?
Valuation - I've just been emailed some info on forecasts, and it seems that the current range for FY17 is between about £18 to 21m. That's probably adjusted profits.
Stockopedia shows an EPS consensus forecast of 9.27p for this year, so if we assume it might be a bit below that, say 9.0p to be prudent, then I make that a PER of about 13.
Note that there's a fairly hefty pension deficit here, to factor into the valuation too.
My opinion – there are some encouraging signs here, of a potential turnaround happening, maybe? There's also interesting narrative about 10 new international websites being launched in the last year, with 21 countries now trading online.
The upside case here is whether the company can demonstrate a geared recovery. At the moment, it's only generating a very small net profit margin. However, if growth can be achieved, then the benefit to the bottom line could be considerable.
There are no divis whilst we wait to see if the turnaround is working though.
The turnaround might work, it might not, I don't know. On balance, I don't think it's clear enough what the future holds, to tempt me into this one.
---
MySale
(LON:MYSL)
Share price: 109p (up 1.9% today, at 12:16)
No. shares: 151.3m
Market cap: £164.9m
(at the time of writing, I hold a long position in this share)
Acquisition – this is an insignificant acquisition in terms of money paid, less than 3m Aussie dollars, or about £1.8m.
The acquisition is called;
Identity Direct, a leading international retailer of personalised products.
The reason I mention it, is that we're starting to see consolidation amongst eCommerce companies. If you recall, Boohoo.Com (LON:BOO) recently bought the brand, and customers list of Nasty Gal, a US online fashion company which went bust.
MySale is also active with acquisitions. It has experienced management. I met the Chairman amp; FD recently, and they outlined their longer term ambitions for MySale – seeing it as becoming a portal for many different brands. Originally MySale was a "flash sales" fashion website – i.e. a clearance site for out of season, or slow-selling stock. They are reduced heavily for a short period, until sold out. This works very well, as MySale doesn't have to actually buy the inventory.
MySale is basically providing a portal for increasing numbers of brands to shift their end of season summer stock in Europe, into Australian amp; other Far Eastern markets, when summer is just beginning. Also, it's developing other business lines.
The Chairman made a remark which very much stuck in my mind, he said;
There are no barriers to entry in online fashion, but there are huge barriers to achieving scale.
That very much ties in with my thinking – lots of people have tried to copy what Asos and BooHoo are doing, but very few have managed to achieve any significant scale. MissGuided, and one or two others have, but not many. The big problem is the enormous marketing spend that is needed to achieve scale.
So I think we're likely to see lots of smaller online fashion companies eventually go bust, when investors tire of their insatiable thirst for marketing spending. Then the successful players, like Boo, and to a lesser extent MySale, are likely to pick up the IP on the cheap, and bolt it onto their existing operations. Which is likely to further boost the winners.
There is more detail given in today's update, on how Identity Direct not only has a valuable customer database which can be cross-sold into, but also how MySale can improve its performance by cost efficiencies (e.g. on shipping costs).
My opinion – this acquisition looks good, and is cheap. I imagine there are likely to be more such deals in future. This all helps drive growth.
Like most online fashion companies, MYSL is very difficult to value. PER doesn't work with valuing growth companies, because it's a measure that's more designed for mature, stable companies. Hence you can get ridiculous results if you try to value online fashion companies by PER – Stockopedia shows it as being a PER of 258 for this company!
The likelihood is that in a few years' time, MYSL should have grown into the valuation, and also increased its margins – since marketing spend can be reduced once this type of company has achieved enough scale, and has enough customers that it can talk to directly. In the meantime though, all these companies look very expensive. It's not as crazy as it looks though, once you understand where this type of company could be in 5 years' time.
(work in progress)
Source:
http://www.stockopedia.com/content/small-cap-value-report-thu-6-apr-2017-free-mtc-mysl-179240/