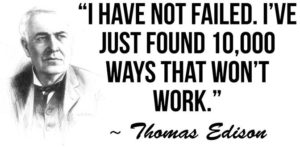 BarroMetrics Views: Why We Fail 2
Without a doubt, failure is a precursor to success. I don't know anyone who has not failed first before succeeding. But, that does not mean we'll succeed just because we fail. If that were true, then the success rate would be over 90% rather than the reverse.
To make failure a part of the success process we need to learn from our failures. And this learning or lack of it is the key ingredient that separates the 90% (unprofitable) from the 10% (profitable).
So, what do we need to have to be willing to learn?
Well, there are three values that are critical:
The commitment to do whatever it takes – time, effort and money. This value necessarily encompasses
The willingness to move outside our comfort zone.
Integrity and honesty with ourselves. By integrity, I mean keeping the promises we make with ourselves; by honesty, I mean not consciously faking reality.
We'd also need some skill sets:
Tomorrow I'll put it all together
The post Why We Fail 2 appeared first on Ray Barros' Blog for Trading Success.