The global human population is expected to reach 9 billion by the year 2050.With a growing middle class and the westernisation of diet in developing countries, agricultural output is already strained. Across East and South East Asia the amount of meat consumed per capita has more than doubled since 1980, while China has seen per capita meat consumption increase by around 400% across the same period. It is thought that global agriculture will need to increase output by as much as 70% over the next 30 years to meet this growing demand for meat.
Insects are likely to be a valuable source of protein for people and livestock in the future. There is rapidly growing interest in farming insects in the UK and around the world. Over 90 researchers, farmers, investors and entrepreneurs will be meeting in London on Tuesday 4 April 2017 to discuss the development of insect farming as part of supply chains in the UK.
Experts will have wide-ranging discussions about the nutritional quality of insects, their environmental impact as farmed animals and the psychology of marketing insect products. The meeting will also be an opportunity for debate about the practical and legal aspects of insect farming.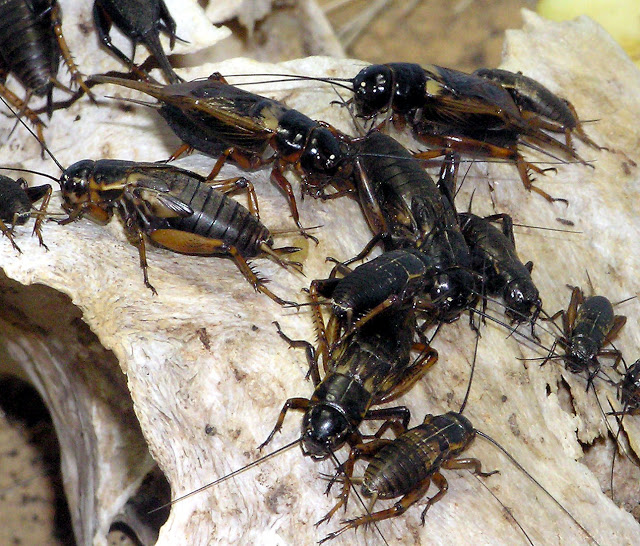 Credit: Wikimedia Commons
"We face a growing world population with 9 billion people expected by 2050 and 11 billion by the end of this century. With global agriculture stretched to its limits, new protein sources are being explored including the consumption of insects. The only way to provide a large and sustainable source of insects is to farm them and we will be asking if this can be achieved in the UK," says Peter Smithers, Honorary Fellow of the Royal Entomological Society and meeting co-organiser.
"This meeting will look to answer important questions about insect farming in this country. Are there waste streams available that could be used as food for insects? Can production be scaled up to meet future demand and offer an affordable product? What new legislation is required to offer proper safeguards to consumers and how will Brexit affect this emerging industry? We will evaluate the prospect of insect farming in the UK and generate a plan for the future of this exciting industry."
The meeting has been jointly organised by Woven Network, The Royal Entomological Society, British Ecological Society and ADAS to bring together expertise and organisations that see a bright future for six-legged livestock.
According to Nick Rosseau, Managing Director at Woven: "Since Woven was set up two years ago we have seen massive growth in interest in the role of insect protein in the food chain. The challenges include setting clear standards to reassure consumers and farming innovation to drive down the cost of insect material. This event will continue to develop an insect farming community and an exciting new element within UK agriculture."
Contacts and sources:
British Ecological Society (BES)