However, as I was only looking to speculate with a small amount of capital I decided to look through those options on the ASX.
I was looking for a company with multibagger potential, the possibility that it could increase multiple fold from it's current share price. Typically this is easiest for those companies with a low market cap, so the bottom half of the list (sorted by market capitlalisation) is where I started. I also wanted a company with a reasonable sized (silver) resource already defined, this narrowed down the selection further knocking the smallest company (Malachite Resources, MAR) off the list. Preferring a company with a primary focus on Australian projects knocked Santana Minerals (SMI) off the consideration list. This left me with Argent Minerals (ARD), White Rock Minerals (WRM) and Moreton Resources (MRV).
The one that caught my eye and resulted in a small purchase (at .004) recently was Moreton Resources (MRV).
Moreton Resources is the smallest market cap of the three at the recent share price of .004 (around $8.5 million). It had around $1.2M in cash at the end of last quarter, which may last them to around the middle of the year.
At present it poses a fairly risky prospect as it is
as it is awaiting a decision by the Administrative Appeals Tribunal (AAT), ruling on whether research and development claims made in past years (2012 – 2014) were legitimate. If found not to be, I expect Moreton Resources to be in the hole around $8 million (or a portion of) to the ATO.
As a company with a market cap around the same size as the potential liability, this decision could make or break the company. That is the risk. However, I found it interesting that in the recent rights issue, when attempting to raise $1.2-$1.5M, one of the Directors (Tony Feitelson) put up $685k. He has had an association with the company since 2013 and became a Non-Executive Director in 2016.
Feitelson and another Director
Valeri Melik-Babakhanov have also recently made on-market purchases (albeit small) at the rights issue price of .004. There is clearly some confidence from management in the veracity of their claims.
I think that at .004 some of the downside to a decision against Moreton Resources would be priced in (if they are able to raise the capital to dig themselves out from under such a large liability). If the AAT decision goes in their favour I think there is a lot of potential upside over the next 12-24 months, including a potential spike in price following the announcement.
It was only last year that Moreton Resources picked up a portfolio of tenements (that include their silver resource) from Alcyone Resources (AYN), referred to as their "Granite Belt Project". The project includes a "Maiden JORC", which was confirmed by the company after a review of the resource model (adjusting for depletion from recent production) late last year.
19 Sep 2016: Twin Hills resource: 13.7 Moz silver @ 51.0 g/t and 21 koz gold @ 0.08 g/t
5 Oct 2016: Mt Gunyan resource: 6.5 Moz silver @ 55.1 g/t and 7 koz gold @ 0.06 g/t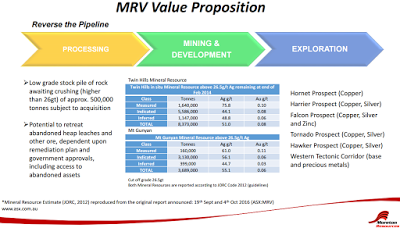 Click Image to Enlarge
Alcyone Resources Limited went into voluntary administration in late 2013, having previously held a market capitalisation of around $150-$160 Million in 2011, although the assets purchased by Moreton Resources do not include the mining lease approvals or plant from the mining operations. The same project was previously owned by Macmin Silver (MMN) who went into administration during 2008, being unable to raise capital during the GFC at a critical time.

Junior silver miner Macmin Silver Ltd has been placed in administration.
The company said its flagship Twin Hills mine in south-east Queensland used more working capital than expected and it could not raise further funds because of the global credit crisis.

Prior to it's troubles I understand that Macmin Silver also had a market cap of more than $100 Million. So this silver project has been a bit of a 'hot potato' so to speak, being passed from one company to the next, being revalued higher by the market as the price of silver rallied and then ultimately leading to the companies demise with a major leg down in the price of silver.

My interest in having a little exposure to such an company and it's project is due to my expectation of a continuing bull market in silver. Should Moreton Resources make it through the short term risks posed by the AAT decision and silver continues to trend higher, there is the potential that this project and the company overseeing it is revalued higher, potentially to the tune of $100 Million (though expect we would see significant dilution to existing shareholders before reaching that sort of market capitalisation). This is also without assigning any value to Moreton Resources other assets such as their coal projects (which are of less interest to me, but could also add substantial future value).

Those interested in the company and project, but who have a low risk tolerance, would do best to wait on the sidelines until a decision is handed down by the AAT (there is currently no fixed time for this decision). However, personally I felt the potential reward outweighed the risks provided position size was kept small. I may buy more if the AAT rules in favour of Moreton Resources in the outstanding matter.