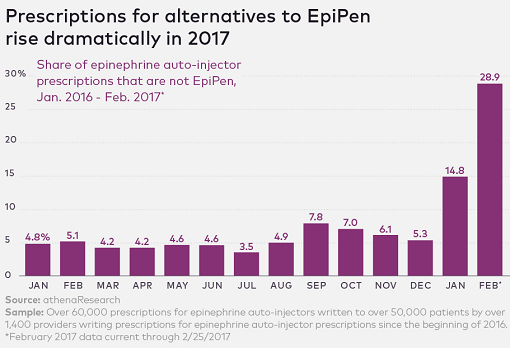 wolfstreet.com / by Wolf Richter /  
Market share collapses from a state of near-monopoly.
Mylan's EpiPen – the center of one of the many blistering scandals on Big Pharma price gouging – is getting hammered in the market, as competitors have burst on the scene, and as health insurers and prescribing physicians have gotten the memo. Its market share plunged from 95% to 71% in just two months!
Mylan had acquired the rights to the decades-old product in 2007. At the time, pharmacies were charged less than $100 for a two-pen set. By 2009, pharmacies were charged $103.50 for a set. Then the annual price hikes set in – "peaking every year in August, when parents of children with severe allergies typically stock up on the life-saving devices for use in schools."
In 2016, the price spike hit $608.61 – an increase of over 500% in a decade. And this finally kicked off the uproar that landed Mylan CEO Heather Bresch on the hot seat before the House oversight committee hearing on EpiPen price increases.
The post Mylan's EpiPen Gets Crushed (by New Competition) appeared first on Silver For The People.
Source:
http://silveristhenew.com/2017/03/07/mylans-epipen-gets-crushed-by-new-competition/