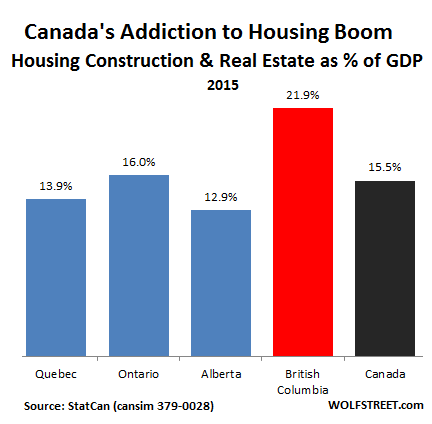 wolfstreet.com / by Wolf Richter / 
Everyone is afraid of breaking the addiction.
Here's another data point on the Canadian housing bubble, how immense it really is, and how utterly crucial wild housing speculation has become to the Canadian economy.
Housing starts surged to 253,720 units in March seasonally adjusted, the highest since September 2007, according to Canada Mortgage & Housing Corp. Of them, 161,000 were multi-family starts of condos and rental units in urban areas. In Toronto, one of the hot beds of Canada's house price bubble, housing starts jumped by 16,600 units, all of them condos and apartments, defying any expectation of a slowdown.
Housing starts are an indication of construction activity, a powerful additive to the local economy with large secondary effects. Housing construction gets fired up by the promise of ever skyrocketing housing prices, and thus big payoffs for developers, lenders, real estate agents, and the entire industry.
The post "Canada: Irrational Exuberance?" Wild Housing Speculation Drives Entire Economy appeared first on Silver For The People.
Source:
http://silveristhenew.com/2017/04/10/canada-irrational-exuberance-wild-housing-speculation-drives-entire-economy/