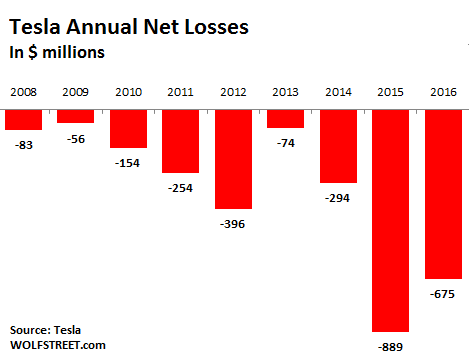 wolfstreet.com / by Wolf Richter •  
In fact, it's not "inexplicable" at all.
Tesla shares rose to $313.38 this morning, giving the company a market capitalization of about $51 billion, surpassing GM for a moment as the most valuable American automaker. This left some industry insiders wondering about tulip bulbs.
"It's either one of the great Ponzi schemes of all time, or it's all going to work out," mused Mike Jackson, CEO of AutoNation, the largest dealer group in the US. He was speaking at a conference hosted by the National Automobile Dealers Association and J.D. Power. "It's totally inexplicable, as far as its valuation," he said.
But he was wrong. It's not "inexplicable" at all. It's very explicable.
Tesla makes some nice cars, as you'd expect from a company that charges an arm and a leg for them. But Jackson's statement wasn't about its cars, their quality, or electric versus internal combustion engines. It was about Tesla's market capitalization of $51 billion.
The post What Tesla's "Inexplicable" "Ponzi Scheme" Valuation Says about the Stock Market appeared first on Silver For The People.