The following is a Guest Post by Sarah of The DIY Hammer:
The first time I was introduced to DIY projects, everything seemed tricky and complex. However, 10 years later, I believe in myself so much, that there is nothing I can't put my mind to and fail. So what led to my change in fortunes? When you start your first DIY project, chances of properly succeeding are minimal. However, with perseverance, dedication, and patience, you slowly learn how to better your every project. Below are some of the small first time projects you could start with.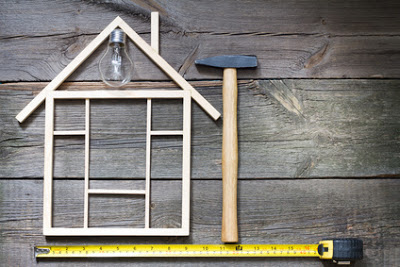 1. Wire Heart Ring
Sometimes, when you want to impress a person with a gift, uniqueness and creativity can go a long way. It's not hard to leave an impression with something new and exciting. A simple wire heart ring can do the trick. Very easy and fun to make, you only need pliers, wire clippers and 2-3 inches of gauge wire.
Proceed to cut the gauge wire into two pieces; one with a length of about 1 inch and the other 1.5-2 inches. Wrap the shorter wire around the pliers to make a heart bump, and a V-bend at the bottom. Then, using your longer piece, wrap it around a cylindrical object to get that ring shape and bend the tips outwards at about the same width as your wire heart. Place the heart at the top and bead the tips outward for a firm grip on the heart wire. Trim off any excess wire, and your wire heart ring is ready to be worn.
2. Make a Bike Rack Using Wooden Pallets
I really love my bike! It is super convenient and doubles up as my gym. However, finding the right place to store my bike in the house was really difficult. It takes up a lot of space and is always in my way when maneuvering around. My wooden pallets DIY project was just an absolute lifesaver!
You need two wooden pallets; one with slots wider than the other. Arrange them so that the pallet with wider slots serves as the base and the other to stand upright and against the wall. Place the base pallet with the board facing up so that the wheels do not roll out of place. Incline the pallet with narrower slots at an angle as it lines on the wall. And your bike rack is ready for use.
3. Firefly Jars Night Lamp
Firefly jars night lamps glow in different colors creating awesome lights that will leave you mesmerized. Making firefly jars is simple, easy, and fun. If you are planning to hold a party at night, then these jars will offer you the perfect party decor. However, in this case, proper planning is highly advisable. Glow sticks last between four to twelve hours. Hence, proper timing is also crucial to ensure they last the entire night.
Medium size glass jars, glow sticks, and glitter are all you need. Thoroughly clean the glass jar making sure no visible specks are left behind. Empty the glow stick into the jar. Then add glitter in small portions. Close the jar tightly and shake to make sure the glitter spreads evenly in the jar. Your firefly jar night lamp is now ready to shine in that dark corner of your house.
Being able to create something unique on your own is a feeling you can never trade. Especially when people really love it! It gives you the push to even do greater things that once seemed far and out of reach. They say that a journey of a thousand miles starts with one step. Have you made your first DIY step yet?
Bio: Sarah is the editor of thediyhammer.com. Inspired to be creative from an early age, she is always coming up with her own DIY projects, big or small, and draws inspiration from other imaginative minds. She is always encouraging others to be more innovative, especially when it comes to home improvement.