DGIST's research team led by Park SangChul and Lee YoungSam identified the mechanism of reversible recovery of aging cells by inducing lysosomal activation
The team opened a new horizon of aging recovery research by changing the irreversibility paradigm of aging.
DGIST announced that Chair Professor Park SangChul, Director of the Well-Aging Research Center, and Professor Lee YoungSam's research team discovered substances that can induce reversible aging*recovery and identified an aging recovery mechanism using these substances.
Aging is a phenomenon in which a cell's ability to divide and grow deteriorates as it gets older, and this causes degradation of the body and senile diseases. The inhibition and recovery of aging is an instinctive desire of humans; thus, it is a task and challenge of biologists to identify substances that control aging and analyze aging mechanisms.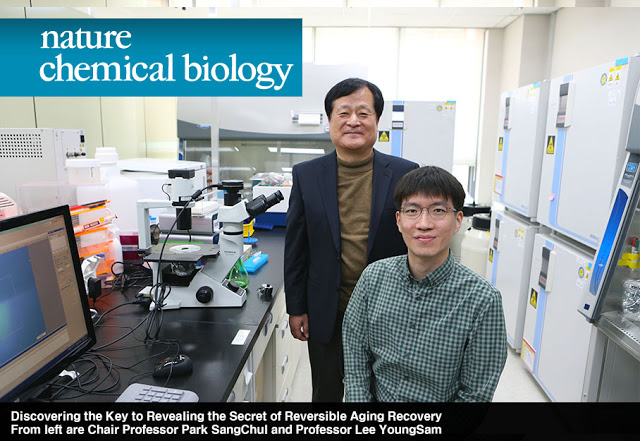 Credit: DGIST
Chair Professor Park SangChul and Professor Lee YoungSam's research team have been conducting research to reverse the aging process by shifting the existing academia's 'irreversibility of aging' paradigm, which means aging cannot be reversed.
To reverse the aging process, the research team searched for factors that could control aging and tried to discover substances that could restore cell division capacity. As a result, it was confirmed that KU-60019, an inhibitor of ATM protein, which is a phosphorylation enzyme, recovers the functions of aging cells through activation of lysosomal functions and induction of cell proliferation.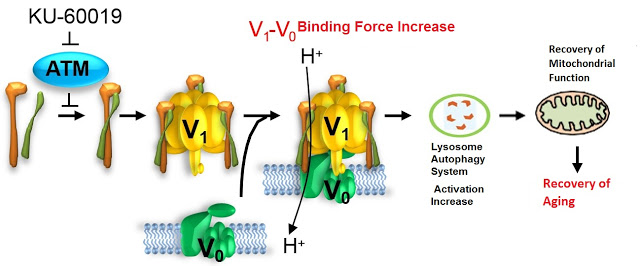 Credit: DGIST
The degradation of lysosomes, which are intracellular organelles responsible for autophagy and decomposition of biopolymers such as proteins and lipids in the cell, leads to cell senescence by accumulating biomolecules that must be removed in cells and causes instability of the metabolism such as removal of dysfunctional mitochondria that do not function.
The research team was the world's first to confirm that as cell aging progresses, the vacuolar ATPase (v-ATPase) protein involved in the lysosomal activity regulation is phosphorylated by the ATM protein, and the binding force between the units constituting the v-ATPase is weakened, so consequently the function of lysosomes deteriorates.
In addition, the team has proven that the reversible recovery of aging is possible through its experiment that shows the regulation of ATM protein activation by KU-60019 substances induces the reduction of phosphorylation of v-ATPase, thereby inducing recovery of mitochondrial function and functional recovery of the lysosome and autophagy system as well as promoting wound healing in aging animal models.
Chair Professor Park SangChul said, "The significance and implication of this study is that it is possible to reverse the recovery of aging cells by inhibiting and restoring the degradation of lysosomal function. In the future, we will continue to conduct studies that extend the life expectancy of human beings by verifying and validating efficacy and safety through aging animal models."
This research outcome was published on March 28, 2017 in the online edition of Nature Chemical Biology, an international journal in the field of chemical biology.
Contacts and sources:
Moonsuk Seon
DGIST (Daegu Gyeongbuk Institute of Science and Technology)
Citation: Young-sam Lee, Sang-chul Park, et al., "Chemical screening identifies ATM as a target for alleviating senescence," Nature Chemical Biology 2017.