Translated by Otis B Fly-Wheel for Borderland Beat from an Informador.Mx article
Subject Matter: El Chapo Guzman, incarceration conditions
Recommendation: No prior subject matter knowledge required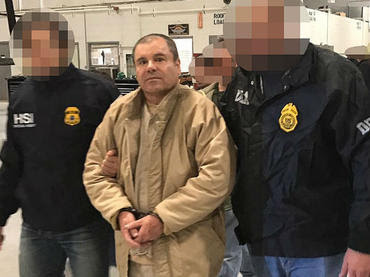 The Lawyers of Joaquin El Chapo Guzman officially solicited, this Monday to Judge Brian Cogan that the "finish or modify immediately the imprisonment conditions in which the capo lives since he was extradited to the USA on the 19th of January.
In a 24 page letter to which we had access, the defence solicited that they finish that severe isolation in which the ex leader of the Sinaloa Cartel lives, without outside contact to anyone other than his three Lawyers and a translator, with only one hour outside his cell, Monday to Friday.
"We solicit the Court to free Mr Guzman and put him in the general prison population. As an alternative, the Court might modify certain sections and dispositions of the special administration applied to Guzman Loera because of his dangerousness and history that his defence lawyers consider unconstitutional, specially communication restrictions.
As a primary measure we solicit that he is permitted to talk to his wife, Emma Coronel Aispuro, in person or by telephone, so that he may convey his wishes in order to have private counsel for his defence, his current lawyers are public state of New York, as well as to determine which of his assets to use for that purpose. The authorities refuse to do so to "prevent committing, soliciting or conspiring to commit additional criminal activities." The only time he has seen them since the extradition was at a hearing on February the 3rd, when Coronel Aispuro went to witness it.
According to his defence, the prison situation of Guzman Loera violates the rights of the first amendment of the US Constitution, freedom of expression, the fifth, a right to a fair trial, and the sixth, right to an effective defence.
According to his Lawyers this is a day in the life of Guzman Loera
The capo is confined in a small cell with no windows
23 hours a day he is alone
An hour a day he is let out to exercise
Exercise is not allowed on weekends
The only occasion that he briefly sees the light of day is through a small window on the way to visit his Lawyers or the exercise room
Food is served through a slot in the door
The cell lights are always on and the air conditioning is always running
His clock was confiscated without reason which was bought in the jail, taking away from him the ability to discern night from day.
Original article in Spanish at Informador.Mx
Source:
http://www.borderlandbeat.com/2017/03/el-chapo-does-not-see-light-of-sun.html