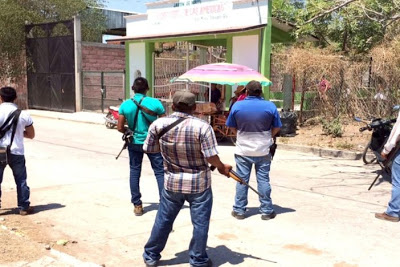 Translated by Valor for Borderland Beat
Guerrero— Protected by autodefensas, students from San Miguel Totolapan returned to school on Monday, March 20, after schools at different educational levels (preschool, primary, secondary, and upper secondary) closed for three months because of the presence of the criminal group "Los Tequileros".
According to information from the newspaper El Sur, autodefensa members known as "Movimiento de La Paz" are responsible for protecting students.
Federal and state authorities have been ignorant of the problem of violence and insecurity experienced by the inhabitants of the municipality, so that neither members of the different state police units nor the Mexican Army have been present to provide protection in the area.
In the municipal seat, there are three kindergartens, three primary schools, two secondary and upper secondary schools, some of which have closed their doors since January for fear of Los Tequileros.
And this criminal group is the main perpetrator of the kidnappings, extortions, and homicides that have been registered during the last three years in the Tierra Caliente region in Guerrero.
Therefore, autodefensa members have been responsible for providing protection not only to the students, but also to the teachers and workers of these institutions.
El Sur reports that through three trucks, which are used as patrols, they travel the streets of San Miguel Totolapan and have procedures to pass constantly through the schools, in order to see if there is anything new.
Meanwhile, as other members stand guard outside of the campuses, there are others as well that care for the little ones to cross the roads, acting as crossing guards.
Source:
http://www.borderlandbeat.com/2017/03/protected-by-autodefensas-students.html