ibankcoin.com / Dr. Fly / Wed Mar 29, 2017 9:36am EST
This doesn't feel right. At what point in our evolution as a species does the relegation of our species to be nothing more than builders of robots to eventually take our place begin to take on an overt anti human flavor? Where do we draw the line?
Clearly, a pizza delivery boy is not a very expensive proposition for $DPZ, but they felt it was necessary to eliminate that expense altogether by working with Starship Technologies to supplant them.
Coming soon to people who love horrible pizza in Germany and the Netherlands, Dominoes will begin utilizing robotic, self driving, robots to deliver their provisions.
Pizzas will now be delivered by way of robot to select European customers who live within 1 mile of their local Dominoes shoppe.
"Dependent on size, we can carry up to eight pizzas on a delivery or a variety of combinations of pizzas, sides and cold drinks or dessert products," the company said.
Starship was founded by the former founders of Skype, naturally.
Aside from the Starship robots, Dominoes is testing drones in New Zealand.
"With our growth plans over the next five to 10 years, we simply won't have enough delivery drivers if we do not look to add to our fleet through initiatives such as this," Domino's Pizza Enterprises Chief Executive Officer Don Meij said in a statement.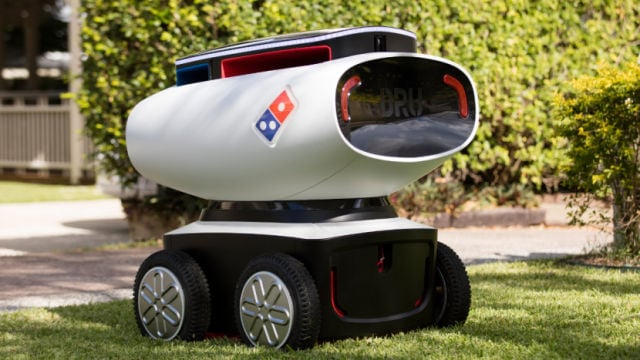 The post Dominoes Pizza Sets to Launch Robot Delivery Service in Europe appeared first on Silver For The People.
Source: