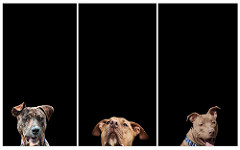 When Jennifer Frost and her family moved to Sioux City, Iowa, in October 2015, they had no idea that their dog Jake would not be welcomed. Then one morning the following spring, Jake got loose. Frost soon got a call from her microchip company saying that he was with Sioux City Animal Control.
"We called and they said you can't have him back because he's a Staffordshire Bull Terrier," Frost said.
She describes the 35-pound dog as a good pet with a lot of personality, and says he was never aggressive or physically intimidating. Fortunately, animal control gave Jake back, but only on the condition that he be moved out of town. For now, he lives with relatives in New York, an arrangement that Frost's children are struggling to adjust to.
"With four kids that ranged from age 1 to age 7 at the time, this was a pretty big deal for them," Frost says. She describes her 4-year-old crying at night, saying, "I want Jake back" and "Where's Jake?"
Frost and her family had run afoul of a breed-specific law (BSL)—municipal legislation that typically prohibits the ownership of certain types of dogs or place stringent requirements on their owners, including but not limited to requiring sterilization, micro-chipping, muzzling, specific enclosures, special leashes, and licensing.
These requirements are common, with around 581 breed-specific laws in effect across the country, according to the Animal Farm Foundation's BSL map. This type of legislation gained popularity in the 1980s and '90s after a few highly publicized dog attacks sparked calls for action. One of the earliest BSLs passed in Hollywood, Florida, in 1980. It required pit bull owners to purchase liability insurance and register their dogs with the city. In 1989, Denver, Colorado, passed a bill outlawing the ownership of pit bulls completely, becoming one of the first major U.S. cities to do so. The ban is still in effect today.
These laws are typically rooted in a belief that certain breeds are inherently dangerous and that the only way to prevent dog attacks is by banning those particular animals. But the high cost of enforcement and the difficulties associated with accurately identifying the breeds in question—not to mention the anguish families experience when pets who haven't hurt anyone are taken away—mean these laws do more harm than help.
Breed Specific Legislation is Expensive and Ineffective
Despite not being a recognized breed by the American Kennel Club, put bulls are often the target of breed-specific legislation. Pit bull, a catch-all term, usually refers to the American Pit Bull Terrier, the American Staffordshire Terrier, the American Bulldog, and the Staffordshire Bull Terrier.
BSLs do not come cheap. In 2012, the Best Friends Animal Society commissioned John Dunham and Associates to conduct a fiscal impact study. By estimating the number of total dogs and the number of pit bull–type dogs in the country, the firm found that enacting breed-specific legislation at the national level would cost $476,973,320 annually in enforcement, kenneling and veterinary care, euthanizing and disposal, litigation costs, and DNA testing.
Using this data, the Best Friends Animal Society released a fiscal impact calculator that can figure the estimated cost of BSLs in a variety of communities. For example, it suggests that Denver, Colorado, spends around $937,937 annually on its pit bull ban.
BSLs, even when they don't prohibit ownership, can serve as de facto bans when the costs of adhering to the rules are high enough. Not everyone can afford to build and maintain a kennel that complies with mandated standards or to purchase liability insurance. In the end, many people are faced with the decision to move or surrender their pet. A third option is to keep the dog in hiding, a choice that probably involves denying it necessary veterinary care, outdoor enrichment, and/or socialization with other dogs and people.
Meanwhile, there is no evidence that the laws have any substantial impact on the incidence of serious dog attacks. A study on the effectiveness of BSLs published in the Journal of the American Veterinarian Medical Association found that in order for a community to successfully prevent just one serious dog bite, 100,000 dogs of a specific breed would have to be removed. This is in large part because serious dog attacks are rare, despite the abundance of media attention that would suggest otherwise. The CDC reports that there are around 4.5 million dog bites every year. The National Canine Research Council, in sourcing the CDC, reported that 40 people were killed by dogs in a year. While those number might seem high, keep in mind that the American Society for the Prevention of Cruelty to Animals estimates that there are around 78 million dogs owned as pets in the United States.
Another reason BSLs are so ineffective is that they rely on visual identification. This is often unreliable, because physical characteristics are not always enough to determine a dog's breed. Since pit bulls aren't a single breed, for example, it can be a judgment call as to whether a dog counts. They're often described as having a muscular body, short hair, a flat, broad head, and short ears—a description that could also match the Presa Canario, the Cane Corso, the Boxer, the Dogo Argentino, and the Bullmastiff, none of which are generally indicated by the term. And then what do you do with mixed breeds who may or may not share prominent pit bull–like characteristics? How much pit bull blood is enough to ban a dog?
People don't always agree on what breed a dog is based on physical appearance alone, either, explains Janis Bradley, the director of communications and publications at the National Canine Research Council. "Even people who deal with dogs every day, even people who deal with dogs as their profession, can't even agree on the physical characteristics," she says. "There's been studies done where people in different shelters had been asked to decide whether or not a group of dogs could be labeled as pit bull or pit bull mixes, and not only did their results not agree with any sort of reasonable match regarding DNA results, they didn't agree with each other." And DNA testing only drives up the cost.
But even if visual identification were a reliable practice, BSLs would still be a misguided way of reducing dog attacks—because breed is not a significant indicator in what makes a dog dangerous. "I think people imagined that if dogs looked similar to each other, if dogs shared a common appearance, that they were likely to behave in similar ways, and it turns out it just isn't so for a whole variety of reasons," Bradley says.
The American Veterinary Medical Association Animal Welfare Division argues that there are many more accurate predictors of how likely a dog is to bite, including whether it has been spayed or neutered, the kind of environment it was raised in, and how it was trained by its owner. Other factors that can make a big difference to outcome (but have nothing to do with the breed) are whether the dog was provoked into attacking and whether the victim was a stranger or a small child.
"People become afraid and then want a simple answer," Bradley says. "They want to say, 'Okay if we just get rid of this group of dogs, whatever it is, even though we can't define it, that won't happen anymore.' And so that can make people feel better, but it's not something that you do if you are serious about actually making people safer. All it can possibly do is give people a false sense of security."
A Brighter Future
Bradley, like many experts, argues that legislation should focus on the owner's behavior, not the dog's breed. "Making it as easy as possible for people to behave responsibly, so having leash laws and enforcing them," she says. "Things that make it worthwhile to people to participate in a positive community of guardianship, of dog ownership and then also to hold the owners responsible when there really is a problem that they should have been able to prevent."
The National Canine Research Council thinks the focus should be on educating the public on how to be responsible pet owners, to include ensuring children are not left unsupervised around dogs, and understanding what actions can cause a dog to feel threatened. The American Kennel Club, the American Bar Association, the National Animal Control Association, American Veterinary Medical Association, and the American Veterinary Society of Animal Behavior all condemn BSLs as well.
"If someone has a dog that they allowed injure someone and you remove that dog, it makes no difference," Bradley says. "That person goes out and gets another dog, and treats that dog in the same way and therefore that dog becomes higher risk too because the owner isn't exercising humane care and control of the dog."
Fortunately, she explains, government bodies are starting to realize that BSLs are not the best solution. Far more communities "are either rescinding or refusing to enact [a BSL] than are enacting it," she says. "It's on the wane because people more and more are realizing that it is just a strategy that's not productive."
Illinois enacted breed-neutral legislation in 2003 that aims to hold owners accountable for their dogs, while at the same time prohibiting municipalities in the state from passing breed-specific ordinances. The Ryan Armstrong Act, which was implemented after a 7-year-old was attacked (non-fatally) by a Rottweiler, requires the owner of a vicious or dangerous dog to take measures to keep the public safe. Anyone who knowingly owns a vicious dog and fails to take these precautions is held liable—by a misdemeanor or felony depending on certain circumstances—if the dog attacks someone unprovoked and severely harms him or her.
Several other states, including Rhode Island, Utah, and Illinois, have also put laws in place that forbid municipalities from passing breed specific ordinances. And counties such as DeKalb County, Georgia, and cities such as Cincinnati, Ohio, and Florissant, Missouri, have all removed previous pit bull bans.
"The very most important thing is that each dog is an individual," Bradley says, "and the only way you can determine anything meaningful about how a dog is likely to behave is to see what he does and see how he actually does behave. There simply is no shortcut."
That's how Jennifer Frost and her family see Jake. "He's been our family pet, never had any incidents, has been raised with four kids," the mom says, "but simply because of his breed he is put in the vicious dog room at animal control," Frost said. "He has to leave [our family] simply because of his breed."
Frosts is fighting the ordinance in Sioux City. As of August 2016, she is part of a lawsuit with another dog owner. They're attempting to get the BSL deemed unconstitutional by contending it violates their due process rights. If successful they could be compensated by the city, but Frost emphasized that it's not about money. It's about getting justice.
"When we legislate out of fear, nothing good comes of it," Frost says. "It is a fear-based law, it's a discriminatory law, and it's not based on evidence."