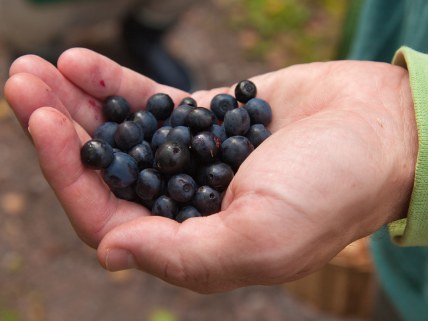 When I was a young kid, and I'd hop my neighbor's fence to pluck a handful of Concord grapes that grew on a vine in their yard, I knew three things to be true.
First, the grapes tasted fantastic. They were much more plump and earthy than what passes for grapes at the grocery—and their seeds made for the perfect projectile to spit at friends. Second, I wasn't doing any harm at all to the neighbor's grapevine by picking a few ripe grapes. Third, I was trespassing—and in a manner that differed markedly from the occasional going to retrieve a foul ball sort of trespass. I was trespassing and—because I never asked my neighbor's permission, at least until I was older—I was also stealing their grapes.
I don't think I was a particularly perceptive child, but what a kid who spat grape seeds at his friends knew in the early 1980s still seems like a pretty good rule. Taking food from other people's property—just like taking their lawn gnome, ladder, or chainsaw—is theft.
As I later learned, the right to exclude others from one's property is a fundamental feature of property ownership and a central concept within property law. You'd think the law would embrace this common-sense thinking. But it doesn't always. And the issue isn't as cut-and-dried as my 7-year-old mind made it out to be, as a current controversy makes clear.
In Maine, a proposed law would require foragers—those looking to harvest blueberries, mushrooms, and other wild foods—to obtain permission from the property owner before collecting the food.
The bill, An Act To Prohibit Foraging on Private Land without Permission, would amend an existing law that serves primarily to prohibit people from going onto private property to chop down and transport Christmas trees. Under the proposed law, three convictions in a 10-year period would brand the violator a felon.
One camp—the one that proposed the bill—echoes my own younger beliefs about foraging on private property.
"This, to me, is a no-brainer," State Sen. Thomas Saviello told the Bangor Daily News. "If you own the land, it's not my right to go onto your property and take something that belongs to you." State Sen. Saviello proposed the bill after a pair of constituents complained to him that they'd gone to harvest wild foods on their property but found they'd been beaten to the punch.
Opponents of the bill argue the rules are overreaching, and would put an end to a Maine way of life. In 2013, when Maine lawmakers floated a similar bill to require hunters and foragers to obtain permission to hunt and forage on private land, the outrage was palpable.
"All of the untouched, seemingly forgotten woods of Maine will instantly become off limits until all private landowners are identified, contacted, and hassled for their permission on a slip of paper," wrote Sam Hill, in an op-ed. "Seeking unposted land will no longer be enough for the law-abiding hunter; the local sportsman will have to do pre-season office work, collecting and consolidating the dozens of documents he will have to have in his possession in order to avoid becoming a criminal in the upcoming season. Does this sound like Maine?"
Hill argues instead for continuing the status quo: giving property owners the option to post conspicuous signs on their property boundaries warning that they do not permit foraging or hunting. Posting allows people to "easily access unposted private property with the informal permission of the landowner. Among the beneficiaries of this tradition—not always adhered to in other parts of the country—are snowmobilers, hunters, canoers, fishermen, cross-country skiers and hikers."
Posting places an affirmative burden on landowners to exclude hunters and foragers from their land, rather than on the latter. Ultimately, the question Maine seeks to answer is who should bear the burden.
Notably, while I could find no similar survey of state foraging laws, just 22 states require hunters to obtain affirmative permission of property owners before hunting on private property. The general rules for seeking permission to hunt on private land aren't complicated.
But hunting isn't foraging. It differs greatly in its potential danger to the property owner. A person picking mushrooms on a property seems far less likely to accidentally shoot a homeowner than is a hunter. And the wild animals that may wander onto a property owner's land aren't his property. The mushrooms or berries growing on a landowners property? Like my neighbor's grapes, I'd say they are his property.
I'm a forager, and have written about laws targeting foraging on public land here and, at length, in my book, Biting the Hands that Feed Us: How Fewer, Smarter Laws Would Make Our Food System More Sustainable.
Michael Girard, a friend, outdoorsman, hunter, and homeowner in Maine, told me by email this week that he found the proposed Maine law to be "absurd."
"We're the only state in the union that gets more wild every year," Girard tells me, also referencing the state's embrace of "permissive trespass" for hunters. "People should just be proper stewards of the land—both private and public. I'm happy to share what's on mine and there's been only one exception where I have had an issue and that had nothing to do with foragers."
At last check, State Sen. Saviello's bill seems in trouble.
"Saviello is working on walking back his bill," the Associated Press reported last week.