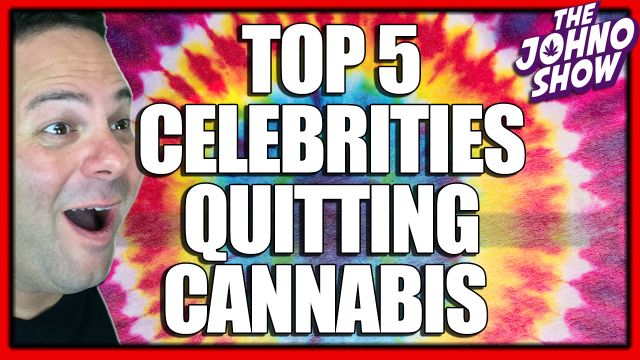 Hey Stoners Welcome to The Johno Show I'm your weedtuber host Jonathan and there is a weird trend taking place in Hollywood. Well known stoner actors, comedians and musicians are hitting a rather very long pause button on their cannabis consumption just as it's being legalized in many states. Let's take a look at this trend and talk about the top 5 celebrities that are dropping out of the cannabis culture. Yeah!
There are far more than just five Hollywood stoners who've stopped using over the years. Natalie Portman admitted using cannabis almost every day during college but has since quit because she feels she's too old and isn't cool anymore.
Hey Natalie, I wasn't even cool when I was smoking in my 20's and I am certainly not cool now. But I still smoke!!
Famous 60's rocker Neil Young had been smoking for nearly 40 years but after suffering a stroke in 2005, he quit drinking and smoking altogether.
And still these guys aren't even in our Top 5. So let's see who is:
Celebrity Number 1: Saturday Night Live's Pete Davidson
Pete Davidson from Saturday Night Live was up until recently a vocal cannabis supporter. In fact, he's quoted as saying "I need weed in order to do SNL".
But he took some time off from the show in order to sober up including stopping all cannabis intake. In an open note on Instagram, he wrote, "I quit drugs and am happy and sober for the first time in eight years."
What's most surprising about Davidson's decision to stop taking cannabis is that he was using it for medical and not recreational reasons. Pete Davidson was using weed to cope with Crohn's disease, which he was diagnosed with at age 18.
Celebrity Number 2: Paul McCartney
Paul McCartney recently revealed he has given up smoking marijuana after using the drug on and off for around four decades. The 72-year-old said he made the decision because he didn't want to set a bad example for his five children and eight grandchildren. The Beatles star said these days he prefers a glass of wine or a 'nice margarita'.
McCartney's history with the drug is interesting. He was fined for cannabis possession in Sweden in 1972 and was charged with 'illegal cultivation' after police discovered the plant at his Scottish farm early the following year. In 1980 he spent 10 days in jail in Japan after officials found marijuana in his luggage.
McCartney is quoted as saying 'I smoked my share. When you're bringing up a youngster, your sense of responsibility does kick in, if you're lucky, at some point. Enough's enough.'
Celebrity Number 3: Mark Wahlberg
Just like Sir Paul McCartney; Mark Wahlberg also stopped smoking weed because of his family. Wahlberg's daughter once asked what cannabis smells like. Wahlberg replied that it smells like skunk, and she said back to him "Sometimes Daddy smells like that!" That's when Wahlberg decided smoking weed around his daughter wasn't the right thing to do.
He's quoted as saying "I stopped smoking weed for my kids, one day, we were driving and you could smell it from somewhere. My daughter asked what the smell was so I told her it was a skunk. Then she said, 'Sometimes Daddy smells like that!'
Celebrity Number 4: Lady Gaga
Lady Gaga injured her hip during the Born This Way Tour in 2012 but due to the rigorous schedule and physical demands of touring it only exacerbated the situation. In order to cope she allegedly smoked up to 15 joints on a nightly basis to deal with the pain. After the tour ended and she had hip surgery, she quit her cannabis habit.
Celebrity Number 5: Woody Harrelson
Probably the most shocking of all Hollywood stoners to quit is Woody Harrelson. During an interview with Vulture magazine he explained that after 30 years of using cannabis, he decided he wanted to be more moderate and stop the partying. He told the magazine he hasn't smoked pot in nearly a year.
What's so surprising is that Harrelson is one of the most outspoken advocates for marijuana. In Hollywood he is a well-known marijuana enthusiasts.
Fortunately, he's not turning his back on the community completely. He has nothing bad to say about marijuana and even calls it a great drug.
AUDIENCE QUESTION:
So here's my question to all of you watching; Have you ever taken a tolerance break or decided to quit cannabis altogether? What inspired your decision?