Madley, UK. 11 April 2017: ETL Systems, a global designer and manufacturer of RF distribution equipment for satellite communications, is set to showcase its range of solutions for Broadcast at NAB 2017, including the 64×64 Hurricane matrix router and the 128×128 Harrier 10U matrix – which will make its NAB debut.
Both technologies provide similar benefits including the ability to customise the router with input modules that match the customer's specific RF signal requirements, depending on the satellite feed. Each input can be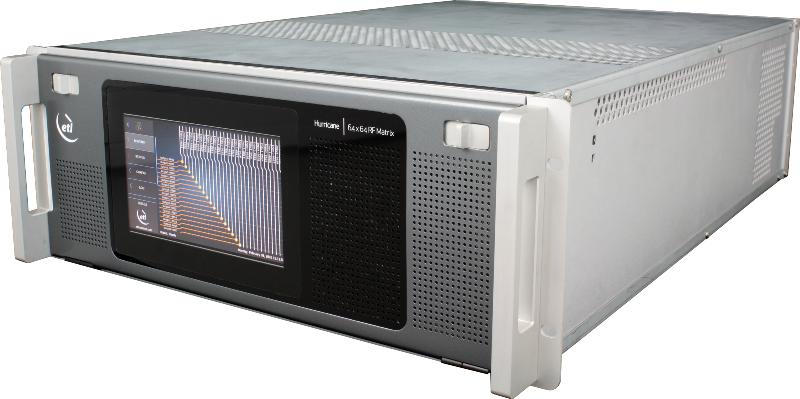 tailored with different features including fibre connector inputs, LNB powering, variable gain and variable slope compensation to balance signal levels. These features make the products ideal for broadcast applications including TVRO applications for playout centres or news gathering and live sports events requiring rapid changing of occasional use services.
Also on show at ETL's Booth at the event, which runs from April 24th to April 27th, will be ETL's StingRay RF over Fibre range. As the most compact fibre chassis on the market and the first product of its kind to introduce hot-swap power supply units (PSU) in a 1U RF over Fibre chassis, StingRay addresses the growing number of satellite teleports requiring reliable fibre links. It also features local, as well as remote control and monitoring facilities.
For flexible and resilient L-band signal management, ETL will also be displaying the Dextra series of high performance L-band splitters and combiners as well as the compact 4U high modular system; which can hold up to 16 RF modules, including a mix of splitters, combiners, switches and amplifiers.
"We are very much looking forward to showcasing our technology solutions at NAB as it is one of the biggest events on our calendar where broadcast professionals and clients have the opportunity to get an insight into what we do," said Susan Saadat, ETL's Vice President of Americas. "We are especially excited to showcase our Harrier matrix which was not seen at last year's event."
ETL Systems is recognised internationally for its innovation and professional service and benefits from dedicated in-house RF and test engineers, with custom-made solutions a particular speciality.
The company's presence at NAB comes after a significant order was placed by network communications service provider O3b, which is launching an additional eight satellites and placed an order with ETL to provide a full matrix expansion to all of its gateway stations to handle its expected increase in traffic. ETL also assisted in testing and installing the first gateway for O3b.
NAB visitors can find ETL at booth SU7823.
For more information, please visit: http://www.etlsystems.com/.