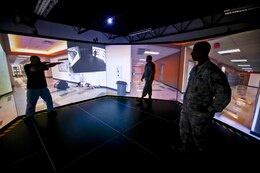 By Tech Sgt. Matt Hecht | 108th Wing | December 21, 2015
LAWRENCEVILLE, N.J. – It was a day like any other – blue sky, tranquil breeze, when suddenly the unexpected happened: gunshots rang out. Swiftly responding, Security Forces Airmen made their way through numerous rooms, past injured people, and neutralized the threat.
Luckily, this was all part of their training.
On Dec. 12, these New Jersey Air National Guard members got some highly technical virtual reality training at the U.S. Marshals training site in Lawrenceville, New Jersey.
The V-300 VirTra firearms training simulator offered an unprecedented 300 degree view of interactive screens lit by five high-definition projectors and a sound system that would fit into any major movie theater. A box, strapped to the cops' belts, shocked them when they were struck by enemy fire.
The U.S. Marshals instructors quipped, "These can be a real motivator."
The Airmen got to go through several scenarios, including a high-risk traffic stop they did as individuals, and an active-shooter scenario where they got to work with a partner.
"Remember to keep watching, and to keep communicating," said one of the instructors from the Marshals office. "Keep your head on a swivel."
One of the event's organizers, Tech. Sgt. Heather Perez, from the 108th Security Forces training section, had nothing but praise for the day's training, a first of its kind for the 108th and the Marshals.
"This is great hands-on training," Perez said. "The Airmen get to see how they react to these various events individually, as well as with a partner. The technology is amazing."
Perez also noted that this would hopefully be the first of many joint training ventures with the U.S. Marshals, and that the younger tech-savvy Airmen loved the virtual reality aspect.
"This training is very interesting and fun for the young Airmen, this kind of technology is hopefully keeping them motivated to stay in Security Forces," said Perez.
Source:
http://military-online.blogspot.com/2015/12/air-national-guard-security-teams-use.html