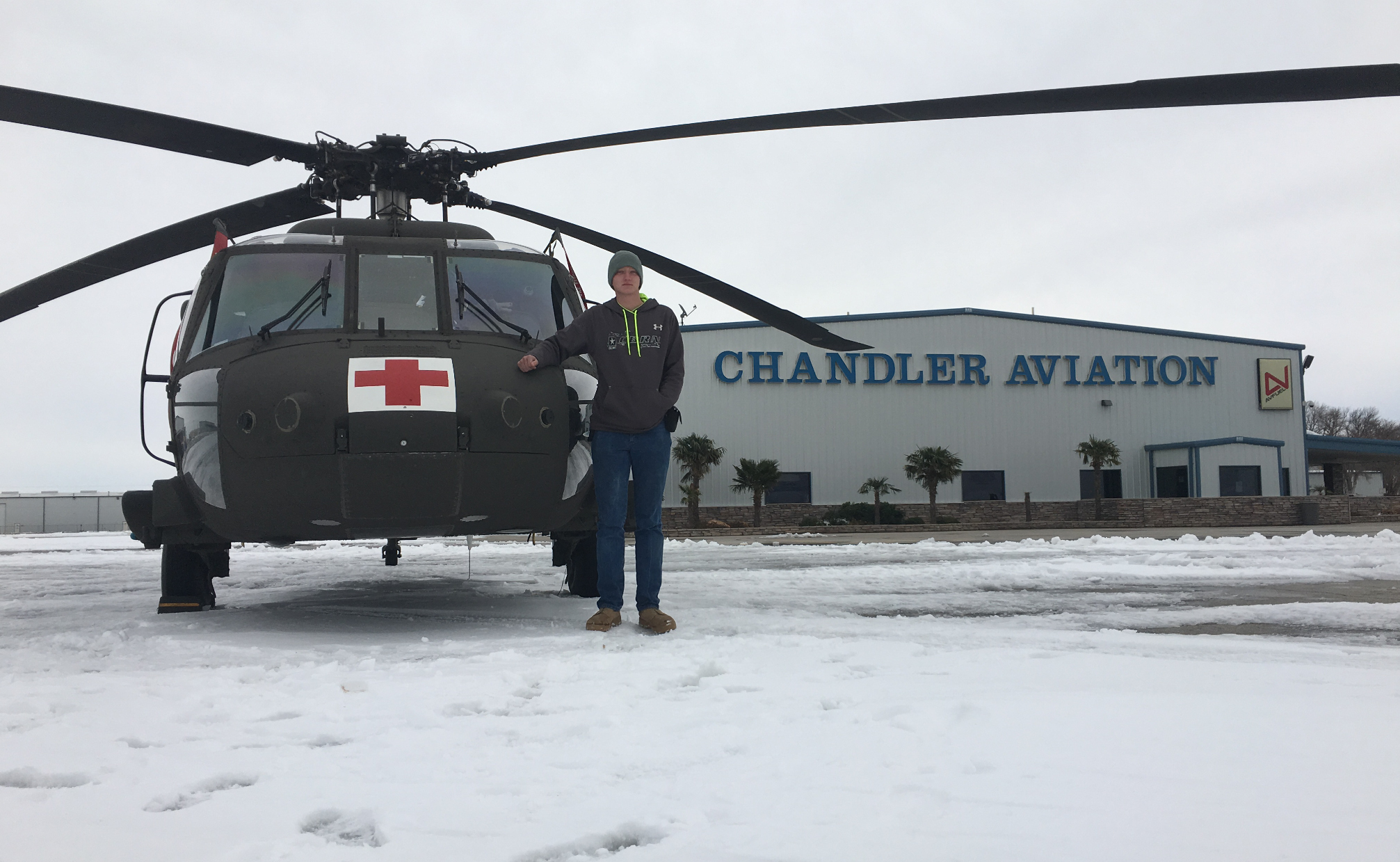 By Army Sgt. 1st Class Anna Doo, New Mexico Army National Guard DoD News, Defense Media Activity
CARLSBAD, N.M., January 4, 2016 — While many of his fellow National Guard soldiers were called to state active duty in response to recent blizzards here, Army Pfc. David Mathews went to work in his civilian job — refueling the medical evacuation helicopters called in to help.
The New Mexico National Guard was activated when a winter storm hit the southeastern section of the state Dec. 26. Soldiers have since been busy finding and helping stranded motorists, providing transportation to and from medical care, and assisting state authorities with clearing roadways.
Mathews, who's assigned to Headquarters and Headquarters Company, 717th Brigade Support Battalion, is employed with Chandler Aviation in Carlsbad, New Mexico. He said he was one of the only employees who could get to the airport due to the snow drifts covering most of the roadways. He said he mostly helped take care of the aviation crews of New Mexico Army National Guard's Charlie Company, 1st Battalion, 171st Aviation Regiment.
"The runways were completely iced over — couldn't use them. The only type of aircraft able to come in and out was helicopters," he said.
Army Capt. Kevin Doo, the flight operations officer for the guard's aviation support facility, arrived with his crew Dec. 30 and said the pilots and crew chiefs already there had nothing but praise for Mathews.
"When I landed, the aircrew lauded this volunteering soldier who's been critical to our medevac coverage," he said. "We wouldn't have been able to sustain medevac operations here if this soldier didn't come in to work on his own time.
"The airport has been closed for days, and Pfc. Mathews was supposed to be off," Doo added. "But he has come in to ensure we have access to jet fuel, a comfortable space, a place to secure our sensitive electronics, facilities, and the use of the company's courtesy vehicle. He's been staying all day with the aircrew to provide any assistance when needed."
Even though Mathews was not activated with his fellow soldiers, he said he is simply doing his part. "Still being able to help inspires me," he said. "One of the reasons why I enlisted was to help soldiers and civilians."
Source:
http://military-online.blogspot.com/2016/01/face-of-defense-citizen-soldier.html