Apache Wendsler Nosie extended a welcome to European supporters to come to Oak Flat, as the resistance to corporate oppression spreads worldwide. Above, Nosie's granddaughter Naelyn Pike, 16, describes the essence of sacred land at Oak Flat.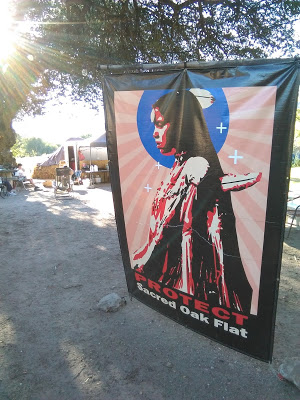 Oak Flat photo Brenda Norrell
By Brenda Norrell
Censored News Exclusive
English and Dutch

Dutch translation by Alice Holemans, NAIS at:
http://www.denaisgazet.be/nieuws/natives-reageren-hillary-clinton-probeert-stemmen-te-ronselen-met-kxl
Chi'Chil'Bilda'Goteel (Oak Flat) — Apache Wendsler Nosie invited European supporters to come to Oak Flat in mid-March and join forces in this global resistance that is not only protecting Oak Flat from Resolution Copper, but is becoming the catalyst to unify Native people against the aggression of corporate oppressors who seek to destroy their lands around the world.
Standing in the heart of the resistance camp here, Nosie sent a special invitation to supporters in Europe to gather here in mid-March 2016.
Nosie also sent a message of solidarity to Mauna Kea in Hawaii where Native people are resisting telescope construction on their sacred mountain. Nosie himself was arrested and jailed here in Arizona, by the University of Arizona, as he prayed on Mount Graham during the long years of resistance to protect Mount Graham from massive telescope construction.
A special invitation is being extended to Bolivia President Evo Morales to come to the global resistance gathering here in March of 2016.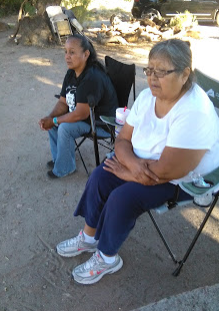 Lillian Bread and Tina Anderson, San Carlos Apache,
occupying sacred Oak Flat on Thursday.
Photo Brenda Norrell
Nosie's granddaugther, Naelyn Pike, 16, shared the essence of what this sacred land means for Apaches.
"This is my way of being as an Apache girl," she said, standing on this sacred ground.
She described seeing the trees, and the acorns fall off, along with going to the springs and petroglyphs.
Although many of the mainstream society speak of Indians as if they are a thing of the past, she said, "We are still here, we are still breathing, the blood goes through our veins."
Speaking on becoming a woman, she said to be a woman is to bear children and this is the connection of women to Mother Earth.
Referring to birthing and renewing, she said, "That is what Mother Earth does. This is our direct connection to her."
She said Apache girls have their ceremony here when they are transforming into a woman.
"That is who I cam. As people we came from our Mother."
Surrounded by the memories of her childhood and ceremonies here, she said, "This is who we are."
"All things are sacred," she said, and added, "Man's greed brings destruction."
Naelyn said Resolution Copper is owned by Rio Tinto, an Australian corporation.
"They want to destroy this place for mining."
"They want to come here and destroy this for mining. If that happens, I can't come here."
She said if this happens, if this sacred land is destroyed for copper mining, then she will not be able to bring her own children here someday, to pick the acorns and pick the berries.
"There are so many things that the United States has done to our people."
"My ancestors fought for me to live. That is why we have people here to occupy."
Naelyn points out the unifying force that the struggle at Oak Flat has brought.
"Many tribes are unifying. The resistance is here. We are going to show the truth."
Naelyn also points out a fact that the Zapatistas in the south have said from the beginning: "Enough is Enough!"
Naelyn said, "We are tired and done with being discriminated against."
She said the Apache young people come here in order to know who they are. The girls becoming women come here for ceremonies.
There are sweats for the young boys to learn their songs.
Reflecting her grandfather Wendlser's words, that this struggle is not just about Oak Flat, she adds, "There are so many places in this world we are fighting for."
"Corporations think this is theirs, it is not, it is Mother Earth's."
People are coming here from throughout the world, she said, and they see the future is hope.
"My children will come here — if we are willing to fight."
She said Mother Earth can renew herself, regardless of what people do.
Of Resolution Copper, she said their intent is genocide.
"They have tried to destroy my people."
"I see all of us coming together."
She told Resolution Copper, "Leave or we will keep fighting! Tribes are unifying to fight!"
"We are going to keep this place sacred."
Referring to the United States long war of genocide targeting Apaches, she said, "The United States tried to strip our identity away."
She said the United States' attempt to destroy the Apache failed.
She recalled how her ancestors fought for her survival.
"I still wear my camp dress. I still wear my moccasins. I am Apache. We are coming together. I am going to fight for what is right."
"If we don't keep fighting for who we are, we are nothing."
She said one thing this struggle has shown her is how strong her people are.
"We are a family. We are going to fight and we are going to keep this place sacred."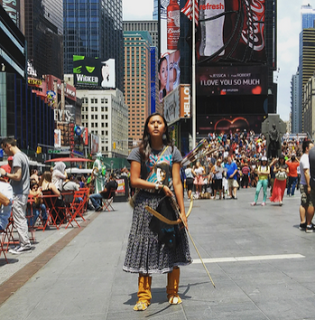 Naelyn Pike, New York, Photo by Sun Fox
As sunset falls in the camp, Nosie remembers his granddaughter in New York during the recent caravan to Washington to demand repeal of the land exchange that resulted in Oak Flat land being targeted for Resolution Copper mining.
He shared Naelyn's words of how when she shot an arrow into the sky, she prayed that it would become as stars and this message would be carried to the whole world.

Seated nearby are Lillian Bread and Tina Anderson, San Carlos Apache grandmothers who are here occupying, being present to protect this sacred land.
Tina Anderson was recently in Washington with the grassroots delegation seeking repeal of the Resolution Copper land exchange that Sen. John McCain and other Arizona Congressmen sneaked through in the defense bill.
Anderson recalls visiting Arizona Rep. Paul Gosar and the events that led up to the now-famous headline: "Gosar calls cops on Apache Grandmothers."
When Apache grandmothers went to speak with Rep. Gosar in his Congressional office, he pretended not to be there. However, it turns out that Gosar was hiding in an another room, which became a known fact after other visitors left the office and told Apaches, "He's in there."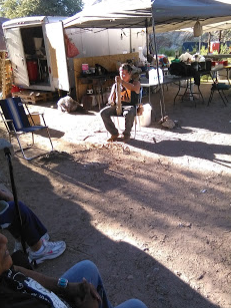 James Ybarra at Oak Flat camp
Photo Brenda Norrell
When Apache grandmothers said they are constituents and wanted to talk with him, Gosar called the cops. When US Capitol Security arrived, they told Apache grandmothers that either they leave or they would be arrested.
"Well, that's a stupid thing for a politician to do," I add.
Nosie's invitation to Europeans comes as Christine and Theo Prat of France were interviewing Nosie and Naelyn at Oak Flat. Christine is also the French translator for Censored News.
Meanwhile, the Mohawks continue to be in the forefront of resistance.
When the cellphone rings on our way to the border from Oak Flat, it is Mark Maracle, Mohawk. Speaking on the defense of the land, and the no-compromise position of the Mohawks in the north, Maracle said the struggle is the same for Native people everywhere.
"What they need to realize is that all of this land is their land."

[email protected]
copyright Brenda Norrell
.










Brenda Norrell has been a news reporter in Indian country for 29 years, serving as a writer for Navajo Times and a stringer for AP and USA Today during the 18 years she lived on the Navajo Nation. After being a longtime staff reporter for Indian Country Today, she was censored and terminated. She then created Censored News, focused on Indigenous Peoples and human rights, now in its fifth year.