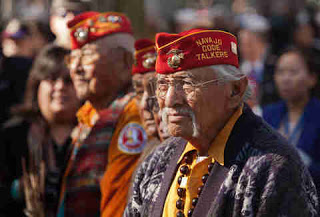 Schedule Below — Buses depart from Navajo Nation Saturday morning.
Dark forces intervened and halted plans for Navajo Veterans to charter a plane to Standing Rock. Navajo Veterans will come by bus, leaving Saturday morning, and invite others to join the caravan for a water protectors caravan.

Update from Chili Yazzie, Friday at 5 pm
Dine' Warriors for Standing Rock Update: Here it is folks finally, we ended up with only two buses. Both buses will come from ABQ, one will be at Gallup Train Station at 8:00AM to pick up riders and travel on to Shiprock Chapter House, the second bus will be at Window Rock Basha's at 7:00AM and at Chinle Basha's at 8:30AM and on to Shiprock. We want everyone to group here at Shiprock Chapter House and leave at 11:00AM at the latest. For people who want to get on the bus at other locations please call us 505.860.0742 and ask for Anthony.

By Chili Yazzie
Censored News

Dine' Warriors for Standing Rock Update: well, my dear peeps this will be the Chei (grandpa) of all major updates. This report will be a bit long so don't be in a hurry and don't make any conclusion until you've read this through. I'm gonna' give you the low-down. As of noon yesterday we were ready to fly first-class, by 3:00 that came crashing down. My contact from the Veterans Stand for Standing Rock group called and said the plane deal fell through. What happened is the plane charter company had initially quoted $50,000 for the plane and apparently after they found out where they were taking our Vets and for what purpose, the price got jacked up to $160,000.
For some moments my world unraveled then I started giving it some analysis. My thought is that some dark force put the screw to the plane company; perhaps there is a corporate relationship between the plane company and the dark forces pushing the pipeline. That may or may not be case but that is fine, they can have their damn plane. I figure these dark forces don't want Dine' Warriors in Standing Rock, well good!, that makes me feel good and even more empowered. They're dumb if they think that's gonna' keep us outta there, we will regroup, we've been through much worse, we are resilient. You also have to think, why should we be flying first class when the relatives are living in bitter cold up there. And maybe they don't want chizzie Rez types on their plane, hey that's ok, ha ha, Mr. corporate big dog.
Shortly after the devastating phone call I got another call from Ari with the National Nurses United and after talking with her awhile it became apparent that they were the ones who were paying for the plane. The problem with the Veterans Stand for Standing Rock funds is they are tied up in a GoFundMe account, cash they couldn't access to pay for the plane upfront (GoFundMe cash can't be accessed until 5-7 days after the account is set up). That's the main reason we didn't set up an account here, our trip would be over before we could get at the cash. Anyways, Ari says they have $50,000 for the Dine' Warriors for Standing Rock effort, she asked 'what do we do with it'. We worked it out to have the funds transferred to a local 501c3 who will channel the funds for us to pay for buses and whatever else we need for the trip.
So we are regrouping and we will lease 3 buses instead of 2. Thinking it through, the buses are a better way for us to get there; we travel on our own terms, no unnecessary restrictions and we can pack mutton and blue bird flour. We will take as many Veterans as we can and open up the rest of the seats to non-Vets. It's a long ride, but we can handle it, after all, some Skin some years ago called the old Greyhound bus lines, the Indian Airlines. This is also a call-out to all Water Protectors to join up with their vehicles and make it a real caravan. I'm sure the funds from the benevolent Nurses can be used to help with petro for vehicles, Ari did say we can use the funds however we need as long as it is to support Standing Rock. I say we are blessed because we are true to our Earth Mother.
We will leave Saturday morning, the beauty of the buses is we can have one run to Window Rock, Chinle and Mexican Water and another can run from Albuquerque to Gallup to Shiprock to pick up people. I will post a new update at noon today with the schedule, pickup stops, travel routes, etc. The caravan will get to Denver by supper time, ideally to be received by family in the area to provide food and a place to rest for a couple hours. Denver area relatives, can you pull that together. We will continue into the night up 85 and then east on 94. Anyone who can help accommodate the caravan along the way and advise on road conditions, please inbox Redawn George. We will roll into Cannonball Sunday afternoon to rest up at the Cannonball Community Center. We will be ready for some strong days of prayer, camaraderie and Solidarity with our Standing Rock family.
Brenda Norrell has been a news reporter in Indian country for 29 years, serving as a writer for Navajo Times and a stringer for AP and USA Today during the 18 years she lived on the Navajo Nation. After being a longtime staff reporter for Indian Country Today, she was censored and terminated. She then created Censored News, focused on Indigenous Peoples and human rights, now in its fifth year.
Source:
http://bsnorrell.blogspot.com/2016/12/navajo-veterans-prevented-from.html