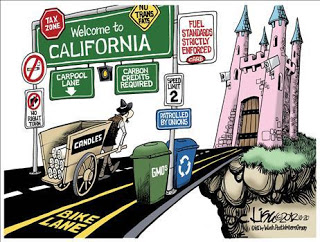 By Independent Correspondent Marvin J. Finklewitz, Jr.
Today a female pro-Trump rally participant touched off a near riot in
Southridge when she used her nose to reach across the street and break
the hand of a peaceful anti-Trump protester. "It's the most extraordinary thing I've ever seen" said British visitor Nigel Ditheringham. The unnamed suspect was detained and arrested on suspicion of assault with a deadly weapon due to her being rumored to be a master of an obscure martial art called Hanataka-do.
Senators Ted Cruz and Marco Rubio met in the college town of San Crucero de los Mojados to have a convivial lunch at "The Cuban Sandwich" near the university. However, as they passed in front of the "El Pocho Loco Authentic Cali Cuisine" restaurant, a number of feather festooned Aztec Dancers burst out the door of the establishment. Shouting "We are indigenous!", they overpowered and bound the two Senators, bent them backwards over a couple of trashcans and ritually sacrificed them with
obsidian blades, cutting their hearts out and throwing the bodies down the hill across the street in a makeshift re-enactment of the ancient custom of mud bottomed Tenochtitlan, which has been buried under Mexico City for 500 years.
A table of Cal State Chancellors, pounding down Mongolian Mothers in the front outside dining area of the "Ethnic Zone" gastropub, observed this with all the wonderment of an anthropologist discovering a previously unknown tribe in the Amazon jungle of Brazil. They applauded and toasted
"The strength of cultural diversity within the Latino Community" when suddenly, beating their drums anew, the Aztec Dancers pounced on the Chancellors and summarily dispatched them in like manner.
California State Senate Grand Poobah Kevin de Leon and California Lieutenant Governor Gavin Newsom held a joint press conference in which they announced the latest middle-of-the-night gut and amend legislation, which changed the "Provide California Water Act" from funding construction of desalination plants near large coastal cities to provide water in time of drought by reclaiming funds from the bullet train project to declaring a new state holiday – Transgender Schnauzer Day.
All state offices will be closed on that day of observance.
Their press prop was a dog placed on a table with Newsom having a hand on it's shoulders and de Leon resting his palm on the root of the tail. The dog itself had male reproductive gear that would shame any four legged participant in the Mule Day festival at Bishop, California.
Facebook tycoon Mark Zuckerburg unveiled a plan to provide the jobless in California with a living wage by erasing the national borders and rolling out a red carpet path for foreigners to come to California, then denounced the richest 1% as oppressors of the American population. In
other news, Zuckerburg bought up all the housing around his own domicile, evicted the whole neighborhood, returned most of it to natural habitat – reserving some for a large Japanese Zen garden, then built a double wall perimeter around it and hired a security firm to patrol it with armed guards and attack dogs in order to have privacy. In the meantime, Zuckerburg marketed and sold data mined information of everyone who uses Facebook while using basement wage foreign labor to
tend his grounds and manage his servers.
Zuckerburg is among those who sent $27.00 each to Bernie Sanders.
Satire by Allan McNew
– Political Pistachio Conservative News and Commentary
Source:
http://politicalpistachio.blogspot.com/2016/04/chaos-in-california-when-parody-and.html