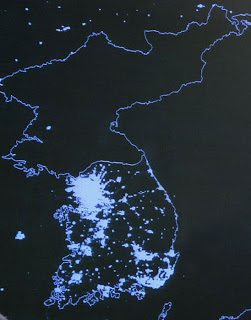 By Douglas V. Gibbs
Author, Speaker, Instructor, Radio Host
A friend of mine told me about a trip she made to North Korea. She was invited in as the only American at the time for a medical treatment she and a British doctor could administer to help with symptoms resulting from malnutrition. Only a few persons were chosen to receive the treatment that essentially removed cataracts and helped with vision. After the bandages came off, she told me, the patients ran around in a large circle praising their fearless leader for the miracle, giving no consideration that such miracles actually came from the outside, and from non-communist sources.
"The country is a dreary place," she said. "Even the sky and trees are gloomy. Nobody smiles."
Meanwhile, a short jaunt south takes you to South Korea, where it is vibrant, and the country is enjoying a roaring economy.
"At the border," she said, "where we entered the country, we noticed how different the security was. The soldiers in South Korea face the north to watch for anyone who may try to enter the south. The soldiers in North Korea face each other, and place each other's hands on the other when the door is opened, to ensure nobody tries to defect."
While the people starve in North Korea, and the landscape becomes even more bleak, Kim Jong-un lives well, is overweight, and has his eye on sending nuclear missiles into Japan, and ultimately into the United States.
The Trump administration is playing hard ball with North Korea, threatening to broaden sanctions which will cut the communist country off from the global financial system. The North Korean leadership has simply responded by saying that the sanctions will encourage Pyongyang to accelerate its nuclear and missile programs.
This includes developing a "pre-emptive first strike capability" and an inter-continental ballistic missile (ICBM), said Choe Myong Nam, deputy ambassador at the North Korean mission to the United Nations in Geneva.
"I think this is stemming from the visit by the Secretary of State (Rex Tillerson) to Japan, South Korea and China…We of course are not afraid of any act like that," Choe told Reuters.
"Even prohibition of the international transactions system, the global financial system, this kind of thing is part of their system that will not frighten us or make any difference."
He called existing sanctions "heinous and inhumane".
He also denounced joint annual military exercises currently being carried out by the United States and South Korea on the divided peninsula and criticized remarks by Tillerson during his talks with regional allies last week. The joint annual military exercises with South Korea are nothing new. When I was in the military during the mid-1980s, we called the exercises "Team Spirit."
Referring to Tillerson's remarks, Choe said, "All he was talking about is for the United States to take military actions on DPRK," using the acronym for the Democratic People's Republic of Korea.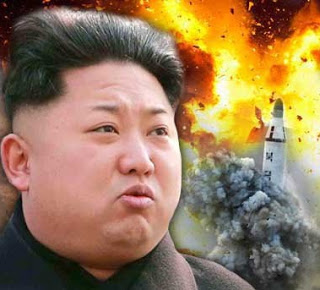 North Korea rejects claims by Washington and Seoul that the military drills are defensive. They involve strategic nuclear bombers and a nuclear submarine, Columbus, that recently entered South Korean ports, he said.
"In the light of such huge military forces involved in the joint military exercises, we have no other choice but to continue with our full acceleration of the nuclear programs and missile programs. It is because of these hostile activities on the part of the United States and South Korea."
"We strengthen our national defense capability as well as pre-emptive strike capabilities with nuclear forces as a centerpiece," Choe said.
Asked to comment on Choe's remarks, a U.S. State Department spokeswoman, Anna Richey-Allen, called on North Korea "to refrain from provocative actions and inflammatory rhetoric…and to make the strategic choice to fulfill its international obligations and commitments and return to serious talks."
Once again, North Korea acts like the military exercises with South Korea are something new, and the United States and South Korea have been having these annual exercises for many decades.
"I can tell you for sure that the inter-continental ballistic rockets of the DPRK will be launched at any time and at any place as decided by our Supreme Leadership," Choe said, recalling leader Kim Jong Un's pledge in a New Year's address.
Analysts say North Korea has likely mastered the technology to power the different stages of an ICBM and may show it off soon, but is likely still a long way from being able to hit the mainland United States.
"The United States has been talking about launching pre-emptive strikes at North Korea," Choe said. "And we have been prepared to deter, to counter-attack such attacks on the part of the United States. We would utilize every possible means in our hands and the inter-continental ballistic rocket is one of them."
Here in the United States I don't recall any of our leaders ever even breathing words regarding committing a first strike against North Korea. I wonder if, like the Democrats, the North Koreans have gotten to the point where they believe their own propaganda?
When it came to the rubber meeting the road, embarrassment is all that North Korea encountered. U.K.'s The Sun brandished the following headline:
According to InfoWars
, President Obama had already been sabotaging North Korea's attempts, and had been engaged in a cyberwar with the communist country.
According to the NYT, three years ago Obama ordered Pentagon officials to step up their cyber-strikes against North Korea's missile program in order to sabotage missile test launches in their opening seconds. That may explain why shortly after various North Korean launches, a large number of the country's military rockets began to explode, veer off course, disintegrate in midair and plunge into the sea.
Some experts believe the interference by the U.S. may not be the cause of the failures, arguing that manufacturing errors, disgruntled insiders and sheer incompetence can also send missiles awry.
While something is causing the failures, what these experts are saying is that it may not necessarily be U.S. cyberspies causing North Korea's missile launch troubles.
When it comes to engaging in cyberwar, "It's like an operational domain: Sea, land, air, space, and cyber," Charlie Stadtlander, chief spokesperson for US Army Cyber Command, told Tech Insider. "It's a place where our presence exists. Cyber is a normal part of military operations and needs to be considered as such."
That said, U.S. Cyber Command and its army of soldiers may not be able to prevent every threat posed by Kim Jong Un's communist regime.
North Korea, despite their inefficiencies, or the ease of our cyberspying against them (it's likely either one, or the other), remains a viable threat. In just the last few weeks the North has launched a successful ballistic missile test in the direction of their archenemy Japan and outright declared that if even a single bullet is fired it would respond with a nuclear attack against the United States.
The Trump administration has not adopted Obama's policy of "strategic patience," and instead has responded by preparing special operations teams to decapitate North Korean leadership in the event the conflict escalates.
Secretary of State Rex Tillerson has not been shy about Trump's intentions, either, indicating there's a real chance that the North Korean cold war goes hot in the very near future.
– Political Pistachio Conservative News and Commentary
Source:
http://politicalpistachio.blogspot.com/2017/03/north-korea-dreams-of-nuking-america.html