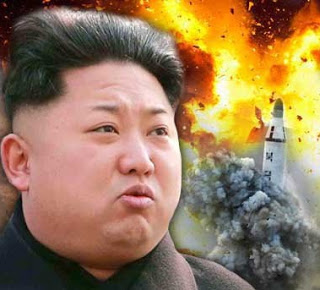 By Douglas V. Gibbs
Of the four missiles being reported as fired on Monday, three of them came down provocatively close to Japan. In response, President Trump issued a reaffirmation of his administration's "ironclad commitment" to Japan and South Korea.
North Korea's march toward having a nuclear-tipped missile that could reach the U.S. mainland is among the pressing national security priorities President Donald Trump faces.
He has vowed it "won't happen"
but has yet to articulate a strategy to stop it. U.S. ambassador to the U.N., Nikki Haley, said on Twitter that the world "won't allow" North Korea to continue on its "destructive path".
Under U.N. resolutions, North Korea is barred from any use of ballistic missile technology, not that that would do anything to deter the communist leader.
North Korean leader Kim Jong Un praised his artillery unit who carried out the missile tests, "Feasting his eyes on the trails of ballistic rockets." A series of photographs
published by the North's Rodong Sinmun newspaper showed Kim
watching the missiles rise into the air and another of him smiling gleefully, clapping with other officials.
The threatening gesture by North Korea comes shortly before U.S. Secretary of State Rex Tillerson is expected to make a trip to the region.
Choi Kang, an analyst at the Seoul-based Asan Institute for Policy Studies, said the launch was a warning to Tokyo. "North Korea is demonstrating that its target is not just limited to the Korean peninsula anymore but can extend to Japan at anytime and even the U.S.," he said.
White House spokesman Sean Spicer said Monday the administration was taking steps to "enhance our ability to defend against North Korea's ballistic missiles".
The U.S. military has begun deploying the THAAD anti-ballistic missile defense system to South Korea, with its first elements arriving on Monday, to protect against threats from the North. The THAAD deployment has reportedly infuriated China. Mainland Communist China remains to be North Korea's key diplomatic ally in the region. In response to North Korea's aggressive behavior, however, last month Beijing announced a suspension of all coal imports from the North until the end of the year.
An
administration official told The Associated Press
Monday that tougher sanctions, military action and resumption of long-stalled negotiations with North Korea are all under consideration as part of a policy review to provide options for President Trump within weeks. The official, who demanded anonymity to discuss the private deliberations, did not anticipate an immediate U.S. response to the North's test-firing of the four banned ballistic missiles.
Pentagon officials, however, suggest
there may have been more launches than just the four, but there was no ICBM launch attempt.
North Korea typically reacts during annual military drills between the U.S., South Korea and Japan. The drills are nothing new. As a Navy Veteran, I have a letter opener from the 1986 drills we called "Team Spirit." Pyongyang, however, claims that the drills are an invasion rehearsal, despite the fact that the American Government and Seoul claims the exercises are routine.
Source:
http://politicalpistachio.blogspot.com/2017/03/north-korea-iran-test-trump.html