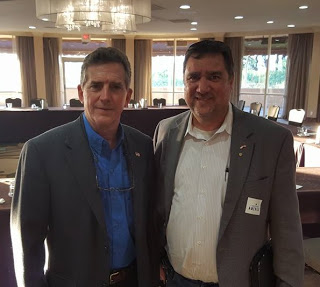 By Douglas V. Gibbs
November 20, 2015 I got the chance to meet Senator Jim DeMint, who is now the president of the Heritage Foundation, at a Heritage Foundation Sentinel event in San Diego titled "Reclaim America." I had him as a guest on my radio show a few years ago, as well, before I had joined the Heritage Foundation Sentinel program. (note: the program is now on KMET 1490-AM) I am a sentinel for the Heritage Foundation, and my involvement with the program has been up and down based on my schedule. I am attempting to ensure I kick it back into high gear. When I can, I will be sharing with you information of meetings or conferences.
Today, I participated in a conference call which was headed by my local Heritage Foundation regional coordinator, Matt Lauer. The topic was repealing Obamacare.
The basic message was that while the repeal of Obamacare is in the works, and the reality is that the path forward is more complicated than many realize. Two weeks ago a draft bill was leaked. The newest version of that bill is different. We do not know all of the details in the language of this latest animal, yet, so at this point, we can only speculate and go off of the little bit of information we can gather off of our representatives at this time. The full fiscal impact of repealing Obamacare is being investigated. It is important to analyze all of the components of the existing law, and the proposed repeal package while working to reduce federal spending, and to make sure that with any reform bills regarding healthcare, to make sure we are reducing government influence on health care as much as possible. As a constitutionalist, I would like to add that any and all influence on the healthcare industry is outside all express authorities to the federal government granted by the U.S. Constitution.
The timeline to repeal is a significant hurdle. Any further delays will push us into the congressional recess, and the April 28 deadline of Obamacare funding. Time, to be honest, is running out. If both of the Houses of Congress are efficient with studying the bill, amending the bill, and approving the bill, the margin of time between the time we have, and what we use, is very small. Be aware the media will be pushing their own agenda in terms of any reporting on this bill in the hopes of delaying, and ultimately stopping, any effort to repeal the Affordable Care Act.
The media and Democrats are throwing as many distractions at us as they can, and unfortunately, our Congressional Critters, and new President, are prone to chase the bait, and worry about allegations about Russia, Ivanka, wiretapping, or anything else they can muster to toss around. We need to not be distracted. We are in the homestretch of trying to get Obamacare repealed, and we need to keep pressure on Congress to make sure they are attentive to the process, and sprint down the homestretch.
The closer we come to the deadline, the more difficult it will be to use reconciliation to approve it.
If we have a really bad bill, it will increase Democrat opposition, and their ability to attack the proposal. Their aim is to halt the process, and if they are able to succeed in delaying the process at all, it is possible that they could cause us to lose this opportunity to get the job done.
With all of the complexities being presented, and the problems the Democrats claim a "repeal and replace" strategy will cause, it is best we fully repeal Obamacare, and then let Congress later propose reform bills.
The deadline isn't only associated with budgeting, or battling the Democrats. If the Republicans don't accomplish the repeal by the April session recess, the backlash at townhalls by voters who support repealing Obamacare will get worse, and the failure will be seen as a broken promise. The Republicans are out of
excuses, and do need to get this done. But, the language needs to be right, or else it could derail the entire process.
Any reform legislation that accompanies the repeal of Obamacare can also be a dangerous road to journey down. We need to make sure any replacement bill does not have in it the same language that caused Obamacare to fail, or is outside constitutional authorities. This is why it is best to simply repeal the entire law, and then work on any reform bills, like opening up the ability to sell across State lines, after the battle regarding getting the ACA repealed is complete.
According to Matt Lauer of the Heritage Foundation, there are a number of action items we need to be practicing. These are things we can do to turn up the heat and make sure Congress does not drop the ball when it comes to the repeal of Obamacare.
Conservatives need to be focused, and on message, regarding what is going on on Capitol Hill.
Things to do as an activist to make this happen:
1. Call members of Congress.
2. Write letters to the editor of local newspapers, and in those letters include countering arguments against those our opposition may use in their argument against the repeal of Obamacare.
3. Use social media, and tweet members of Congress directly that you want full repeal.
4. Townhalls. We need great turnouts to counter the left.
For a list of locations of townhalls throughout the country, The Heritage Foundation has established a website with a list of them: heritageaction.com/townhall for locations. We have two in San Diego coming up next week.
In regards to townhalls, we must do more than merely appear at them. Let's be smart about this, and realize that we are in a political war that the opposition is determined to win. Just because we currently posses both Houses of Congress, and a man in the White House who says he's our ally, this is no time to kick our feet up and relax.
1. Get there early, two to three hours early, because leftists get there early as well so as to dominate a particular area of the room and dominate the microphone or media coverage areas.
2. Bring signs to be used both outside and inside – have a repeal Obamacare rally outside before the townhall begins. Homemade signs with black marker are best, because they project an image that this is grassroot, and not manufactured. Keep the signs simple and to the point.
3. Show up in large numbers. We want the media to say that more people who support repealing Obamacare are showing up.
4. Be civil. Leftists fail to succeed with violent tactics because they are a turn-off to the average voter.
5. Think about how the media might cover the event, and use strategies to counter that.
6. Have small notebook signs in case larger signs are not allowed inside. These are signs about the size of a page from a notebook that you can fold and keep in your pocket.
7. Try to figure out ahead of time where the media will be staged, and have signs and shirts and stickers strategically placed for their cameras to see.
8. Spread out throughout the venue so that our people cover the entire space. We don't want the crowd to edit your movement so that the media can pick a certain area and only film a section against Congress and make it look like the whole room was against repealing Obamacare by making sure nobody from the pro-repeal camp is on camera.
9. Ask questions, get a spot close to microphones when you enter if you plan to be one of those folks who will be asking questions. Often, the opposition will crowd the microphone area so that they can jump in line immediately when it forms and dominate the questions.
10. Have a plan. Scout out the venue, know where everything is, how it is laid out, and plan accordingly.
11.Bring as many people with you as possible.
One of my fellow sentinel participants in today's conference call asked if the Heritage Foundation could recommend any talking points we could use to encourage representatives. The leaders of the meeting said that the members of Congress are feeling the heat regarding repealing Obamacare, so let them know you've got their back, you are there to support them and spread the word when they do the right thing. Make them feel it is politically profitable to do the right thing.
With our letters to the editor, do the same thing, thank them for being principled leaders. Encourage a member when they stick their neck out, and that they are appreciated when they seek conservative reform.
Ignore the argument regarding how complex full repeal can be. We need to reduce the complexity by simply pushing for full repeal. The complexity is a narrative being produced by the left and media. It is incumbent upon us to remind our representatives to live up to their promise to repeal Obamacare. If they don't, voters will remember.
The "replace" idea, if it somehow comes into being, needs to be a constitutionally supported patient-centered free-market healthcare industry with no federal influence. Repeal gets us to a starting point, but a "replace" bill that involves any federal intrusion into healthcare is not constitutional. Government's influence should be minimal, and eventually completely eliminated. Once Obamacare is repealed, it would be better if we later add the bills we believe are needed, such as removing the federal regulation that disallows insurance companies from selling across State-lines.
I will be presenting this information also at tonight's 6:30 pm Unite I.E. Meeting at The Water Wheel Saloon and Restaurant, 980 Sixth St., Norco, California, and tomorrow morning at the Tuesday Morning Banning-Beaumont-Cherry Valley Tea Party meeting at the Farm's House Restaurant, 6261 Joshua Palmer Way, Banning, CA at 8:00 am.
– Political Pistachio Conservative News and Commentary
Source:
http://politicalpistachio.blogspot.com/2017/03/obamacare-separate-repeal-from-replace.html