Via John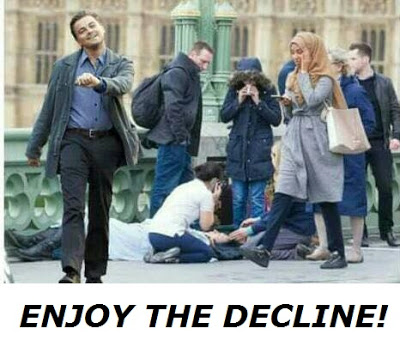 Before you accuse me of being cold, heartless, evil, or a psychopath, understand the point of this post is one akin to the Serenity Prayer. A very important philosophical epiphany many people never realize, but should as it is vital to their psychological well being and mental health. It is one of accepting reality and not getting worked up in the world of theory. And the London attacks, like previous and any future terrorist attacks, are/will continue to make my point until the point in time something is actually done about Islamic terror. And I strongly suggest you set aside emotions, politics, and even your own sense of self-survival to clearly see and hear the point I'm trying to make.
First, "What is it this time?"
Be it the Nice attack in France.
The bombing in Germany's market square.
The Boston marathon bombing.
The Cologne sexual assault party.
The Orlando gay night club shooting.
Or
The hotel bombing in Mumbai.
It's very apparent that nothing new is going to happen. The media will immediately rush to say it wasn't confirmed that it was a Muslim who did this. Then, when it's discovered it was, they will rush out to say Muslims fear a backlash in their communities before the bodies get cold. There will be furor on the internet on the right demanding we "do something about this." And people on the left will rush to say it's racism to point out the attacks came from Muslims.
But in the end NOTHING different will happen.
NOTHING.
Source:
http://freenorthcarolina.blogspot.com/2017/03/why-i-just-dont-care-about-london-attack.html