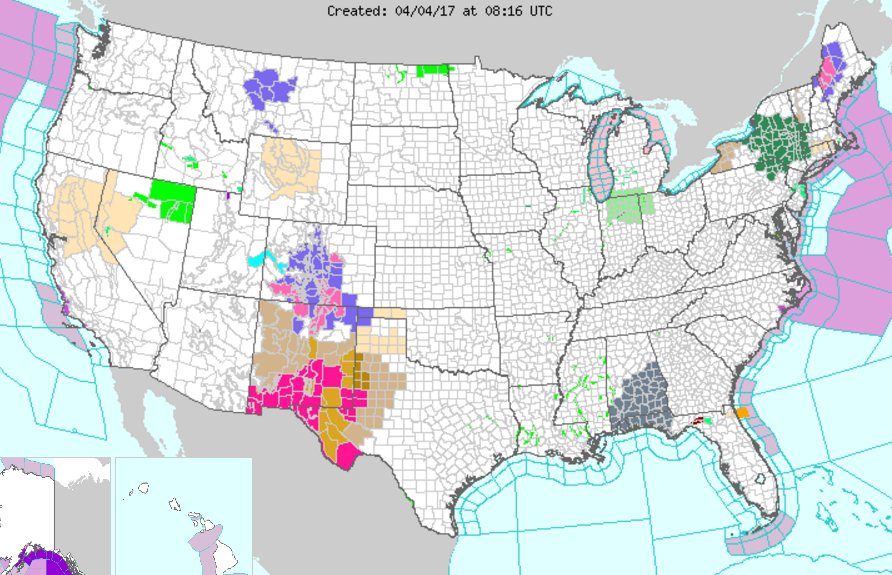 NATIONAL OVERVIEW
…Threats of severe weather and flash flooding will impact portions of the Central and Southern Plains, and along the central Gulf Coast today and tonight…
…Expect snow to occur through the Rockies and portions of the Western Plains today, tapering off throughout the day and into the overnight…
…Snow, possibly mixed with rain and ice, will impact the far Northeast over the next several days…
There are two main systems which will impact the weather across much of the continental U.S. over the next few days. The first is an area of low pressure that will progress across the Great Lakes today, reaching the Northeast by tonight, then shifting eastward off the Atlantic Coast by Wednesday. This will drag a cold front eastward along much of the Atlantic Seaboard today, but will also curve to the southwest and become a warm front along the Gulf Coast. The second system of concern will be located in the Southwest this morning, moving across the Southern Plains today as it continues to deepen. An associated cold front will traverse the Southern Plains today, the Lower and Mid Mississippi Valley overnight, and then across much of the eastern U.S. Wednesday into Wednesday night as the surface low shifts northeast.
Concerning the first system… The associated cold front will quickly shift eastward off the central-Atlantic Seaboard today, with no weather concerns expected for much of the central Atlantic coastline after this morning. Meanwhile, farther north, closer to the low pressure center, flow off of the Atlantic Coast will be alive and well, pulling moisture well into the Great Lakes Region. Rain, heavy at times, and chances for thunderstorms can be expected from the Great Lakes, northern Mid Atlantic, and the Northeast throughout today. Given colder temperatures across the far Northeast, precipitation will change to a mixture of rain, ice, and snow. This wintry precipitation will linger over the next few days. Flood watches are in effect for portions of the Northeast, including much of New York. Winter Weather Advisories and Winter Storm warnings are also in effect farther north, mainly across portions of Maine. Meanwhile, the warm front along the Gulf Coast, associated with the same system, will allow for shower and thunderstorm chances along the Gulf Coast throughout the day today.
Attention then turns to the second system traversing the southern Plains. Moisture located on the backside of the center of low pressure will result in continued snow for much of the Rockies and into the western Plains through the first part of today. As the low shifts to the east today, snow will taper off, though may linger across the highest terrain in the central Rockies into the overnight. Winter Weather Advisories and Winter Storm warnings are in effect for much of Colorado and southward into Northern Arizona. Meanwhile, just to the east, the pull of warm moist air off of the Gulf of Mexico ahead of the low pressure system, will allow for scattered showers and thunderstorms across the central and southern Plains. These showers and thunderstorms will intensify throughout the afternoon/evening, and even into the overnight, as the system gains strength and begins to interact with the warm unstable airmass in place across the East-Central U.S. Showers and thunderstorms will move into the Mississippi Valley Region overnight, and then fill in across much of the eastern U.S. Wednesday into Thursday. The Storm Prediction Center has placed an Enhanced Risk for severe weather across portions of Northeast Oklahoma, Southeastern Kansas, and far southwestern Missouri for the strong storm potential this afternoon, with a Slight Risk in place from western Oklahoma northeastward into Central Missouri. Another Enhanced Risk of severe weather exists for portions of Southeastern Mississippi and Southwestern Alabama for late tonight/early Wednesday morning as the cold front continues eastward. A Slight Risk also in place across portions of the Gulf States for this time as well. Please refer to the Storm Prediction Website for more information concerning severe storm potential (www.spc.ncep.noaa.gov). The Weather Prediction Center has also outlined portions of eastern Kansas in a Slight Risk for excessive rainfall (exceeding flash flood guidance) for today, with a Marginal Risk stretching from southwestern Kansas, across much of Missouri, and into west-central Illinois.
LOCAL OUTLOOK
Weak high pressure will cross our area through tonight. A strong cold front approaches on Wednesday preceded by another round of showers and thunderstorms with the potential for some of the to become strong or severe. Expect much below normal temperatures at the end of the week with snow showers in the North Carolina mountains.
Weather Almanac for April 4th (1872-2016)
Record weather events for this date in Macon County
Highest Temperature 85°F at the Coweeta Experimental Station in 1963
Lowest Temperature 15°F in Highlands in 1936
Greatest Rainfall 3.367 inches in Highlands in 1957
Greatest Snowfall 9.5 inches in Franklin in 1987
THREE DAY OUTLOOK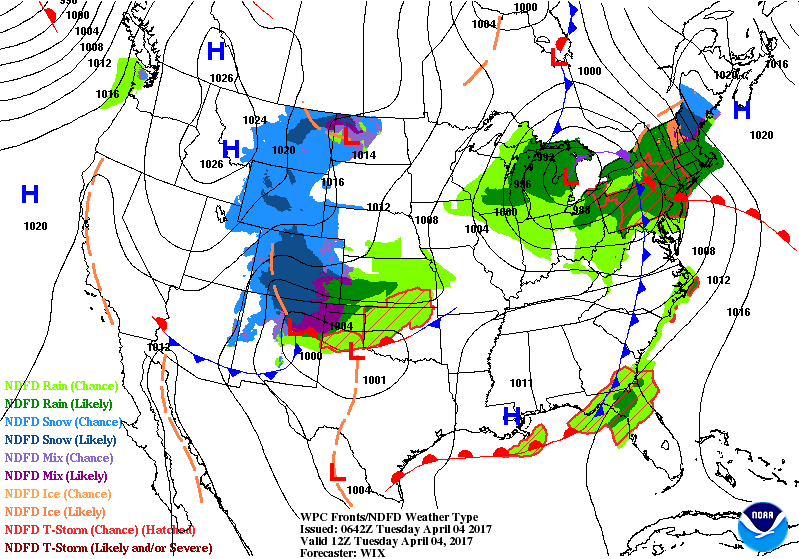 TODAY
Mostly sunny with highs near the mid 70s and winds out of the northwest 5 to 10 mph.
TONIGHT
Mostly clear with lows near 50 and winds out of the northwest calming before midnight.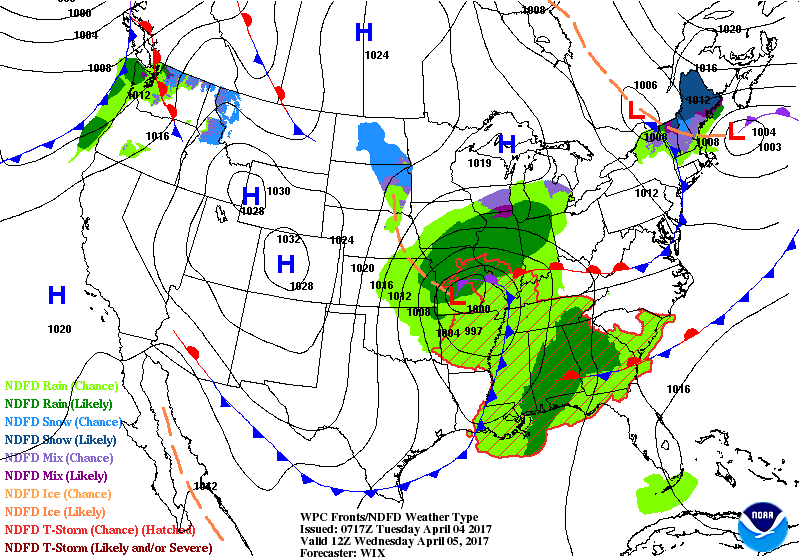 WEDNESDAY (Severe Thunderstorms Possible)
Mostly cloudy with highs in the low 70s and light winds out of the south. Rain, mainly after 11 am, with rainfall amounts between a half an inch and three quarters of an inch expected.
WEDNESDAY NIGHT
Cloudy with lows near the lower 40s. Winds out of the south shifting to come of the west northwest after midnight. 80% chance of rain.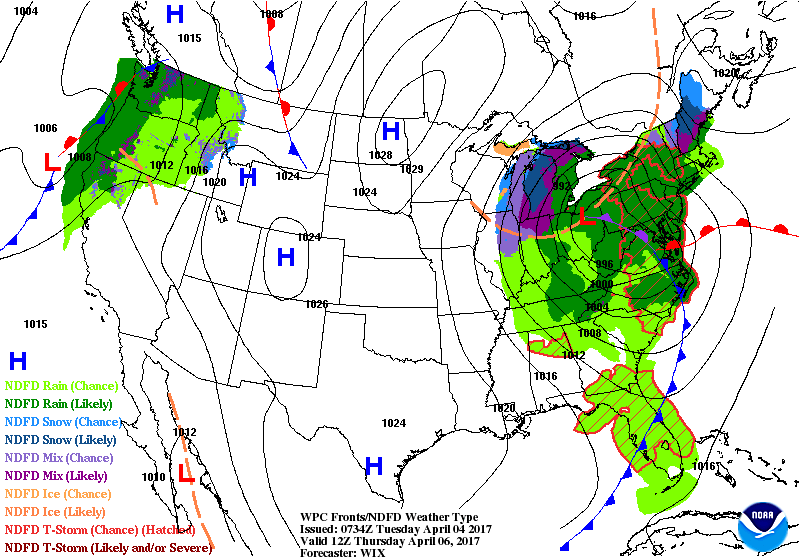 THURSDAY
Mostly cloudy with highs near 50. Brrr.
THURSDAY NIGHT
Mostly cloudy with lows near freezing. Rain is expected to end by 3 am.
HAZARDS
Hazardous weather is not expected today.
Since we appear to be in an active weather period, please be weather aware and familiar with the advice offered on Macon Media's Severe Weather Preparedness Page at http://thunderpigblog.blogspot.com/p/breaking-news-hub.html
The National Weather Service expects that severe thunderstorms will arrive in the region Wednesday (tomorrow) afternoon with the main concerns being damaging winds, large hail and torrential rainfall. Localized flash flooding is possible in locations that are hit by multiple storms.
A copy of the Hazardous Weather Outlook that has been issued by the National Weather Service is posted below:
…WEDNESDAY…Severe weather possible. Another strong upper level system and associated warm and cold front will affect the region Wednesday afternoon and Wednesday night. Damaging winds, large hail, and tornadoes could occur with any of these thunderstorms.
As always, you can check to see what advisories, watches and warnings are in effect for Macon County by visiting http://is.gd/MACONWARN
MACON CALENDAR
If you have an event you wish to be added to this calendar, please send the information, along with a flyer in pdf format or a high quality photo, to [email protected]
There is no charge for civic, educational or non profit groups.
BUILDING A RECOVERY COMMUNITY
APRIL 6th at 6 pm in the Drake Education Center at 210 Phillips Street
Donald McDonald will be the main speaker.
For more information, contact Kay 706-970-9987 or Perry 828-200-3000
2016 FIRE SIZE PRESENTATION
The United States Forest Service will be making a presentation will cover the organization of suppression resources, cooperative efforts, suppression repair activities and future Forest Service restoration activities at Tartan Hall on April 6th.
More information is on the blog at http://thunderpigblog.blogspot.com/2017/03/2016-fire-size-presentation-scheduled.html
SYRINGE EXCHANGE PROGRAM
On January 1, 2017, the Syringe Exchange Program of Franklin began operating a comprehensive harm reduction program to address the opioid epidemic that is effecting western NC. Opioid overdose reversal kits including naloxone are available free of charge. If you have any questions about our services or if you know someone interested in volunteering, please contact Stephanie Almeida at 828-475-1920.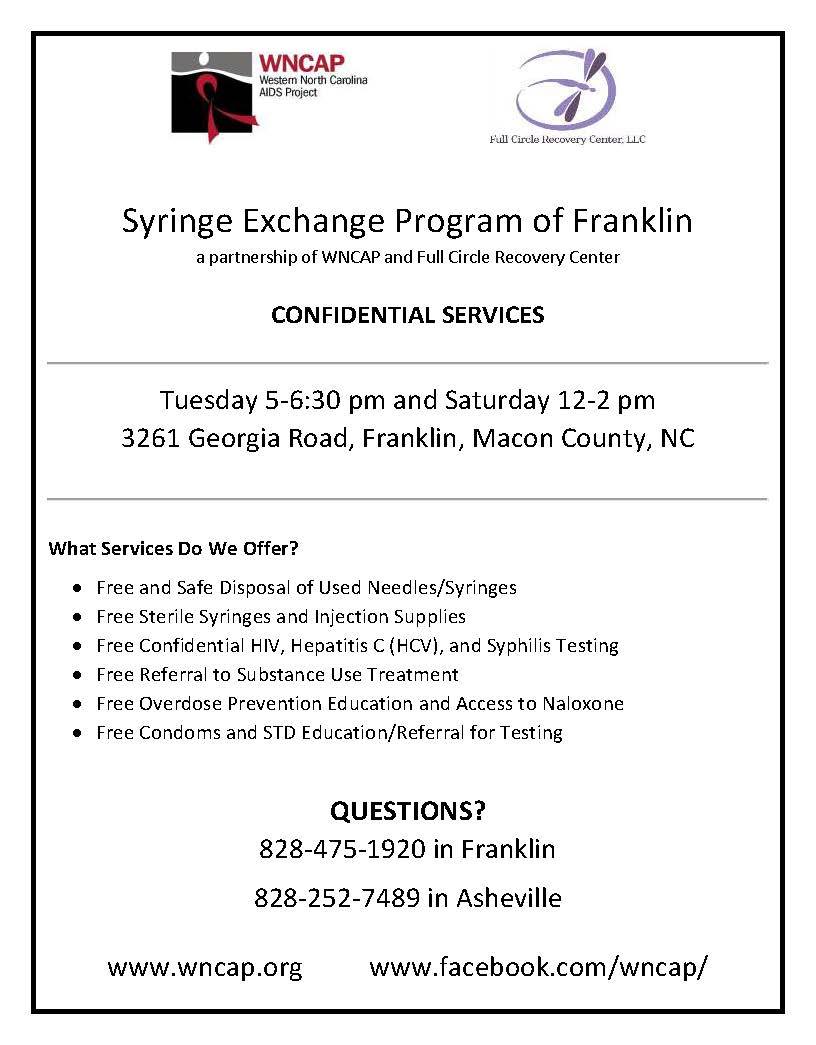 CROWD FUNDING OR DAY SPONSORSHIP OPPORTUNITIES
If you receive value from what Macon Media provides to the community, please consider becoming a supporter and contribute at least a dollar a month.
If you have a business or event you are interested in sponsorship opportunities or underwriting coverage, send an email to edit[email protected] for more information. Serious inquiries only.
Thank You to the people who have been sending in donations and those businesses who are underwriting coverage of news and events. You have kept Macon Media online. You have made it possible for Macon Media to begin purchasing state of the art equipment and begin work on building a real website with features not employed by any local news outlets.
You can find out more information on how to do that and some of what I plan to accomplish if I reach certain levels of funding at https://www.patreon.com/MaconMedia
Published at 4:45 am on April 4, 2017
#WNCscan #MaconWx #MaconSafety
Source:
http://thunderpigblog.blogspot.com/2017/04/wx20170404.html