Cullasaja Fire Department tackled and defeated another loose fire in the area of the Cullasaja Gorge, this time near Cardinal Ridge. US-64 was briefly shut down so firefighters could place fire apparatus in the roadway during firefighting operations. Traffic was diverted through Buck Creek Road.

Please, if you have material you wish to burn outdoors, please put it off for a few more weeks.

LOCAL OUTLOOK

A weak cold front will pass through the region today, producing scattered showers and isolated thunderstorms. High pressure behind the front will keep most of the area dry through the end of the week, however isolated diurnal showers are possible through Saturday. Another weak cold front slowly moves through the region early next week with another round of scattered showers and thunderstorms expected.

Weather Almanac for April 12th (1872-2016)

Record weather events for this date in Macon County

Highest Temperature 87°F at the Coweeta Experimental Station in 2001
Lowest Temperature 22°F at the Coweeta Experimental Station in 1973
Greatest Rainfall 2.73 inches in Highlands in 1997
Greatest Snowfall there has been no measurable snowfall on this date since reccords started being kept in 1872.

THREE DAY OUTLOOK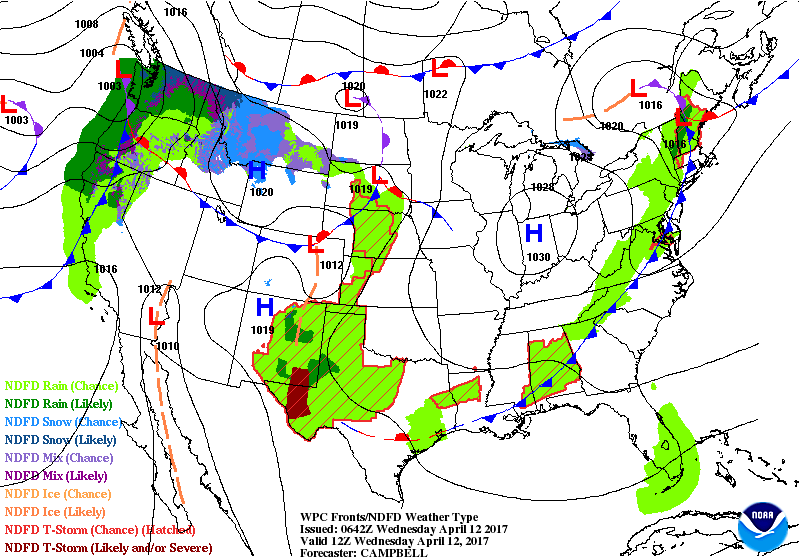 TODAY (Increased fire danger, outdoor burning is not recommended)
Cloudy with decreasing clouds. Highs near the mid 70s. Calm winds until this afternoon, when winds will be out out the north. There will be a slight chance (30%) of rain in the afternoon, mainly between 2 pm and midnight, with some thunder possible in the afternoon hours. Rainfall amounts of less than a tenth of an inch are expected, except higher amounts may be possible in thunderstorms. This is not enough rain to alleviate our current dry conditions.
TONIGHT
Partly cloudy with lows near 50 and calm winds. Slight chance (30%) of rain, mainly before midnight. Rainfall amounts of less than a tenth of an inch is expected. Higher amounts may be possible in locations that see a thunderstorm.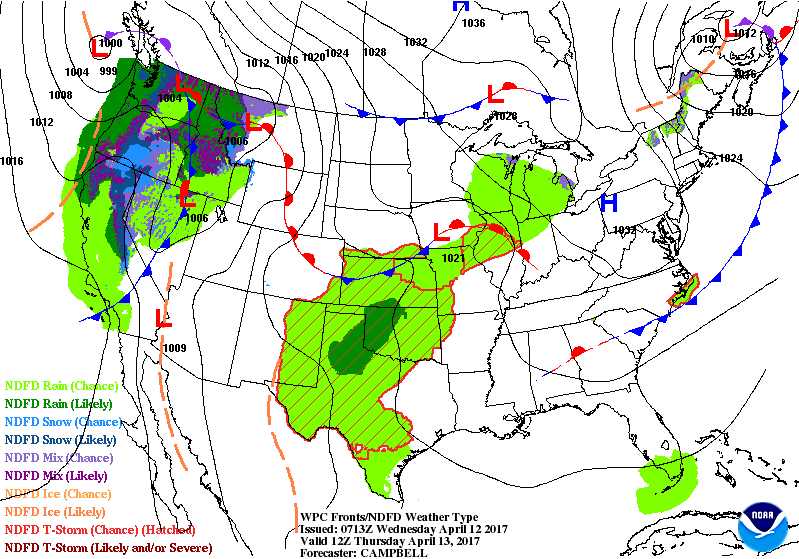 THURSDAY
Mostly sunny with highs in the mid 70s and calm winds in the morning rising to come out of the southeast in the afternoon.
THURSDAY NIGHT
Mostly cloudy with lows near 50 and rain chances ending before midnight. Calm winds.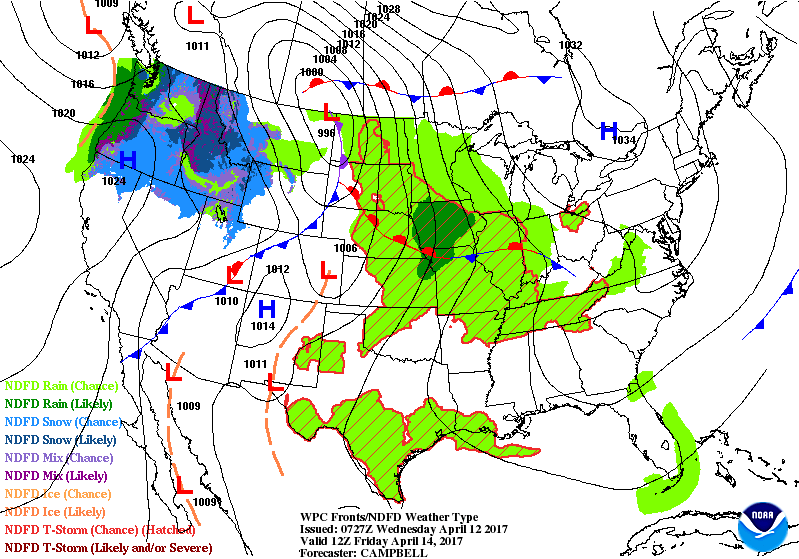 FRIDAY
Partly sunny with highs in the mid 70s and a 20% chance of rain after 1 pm. Calm winds.
FRIDAY NIGHT
Mostly cloudy with lows near the lower 50s.
HAZARDS
No hazardous weather is expected. There is still an increased fire danger Due to Macon County still being in a Severe Drought. Outdoor burning is not recommended. The rain that is in the forecast for Wednesday won't even touch our situation. We will need several inches of rain over the course of weeks to recover.
As always, you can check to see what advisories, watches and warnings are in effect for Macon County by visiting http://is.gd/MACONWARN
MACON CALENDAR
If you have an event you wish to be added to this calendar, please send the information, along with a flyer in pdf format or a high quality photo, to [email protected]
There is no charge for civic, educational or non profit groups.
THIS MORNING!
Bird walk along the Greenway. Meet at Big Bear Shelter parking area at 8:00 am.
APRIL 21 & 22
Franklin High School FFA Benefit Rodeo
Macon County Fairgrounds – 1436 Georgia Rd
Tickets available at the gate
$12 Adults
$6 Kids ages 5-10
Under 5 Free
Gates open at 6PM each night
Event starts at 8PM each night
Concessions available on site
Get there early for the best seating!
Saddle Bronc Riding
Bareback Riding
Calf Roping
Steer Wrestling
Ladies Breakaway Roping
Team Roping
Ladies Barrel Racing
Bull Riding
For more information, please visit the Facebook event page at https://www.facebook.com/events/1248793605202655/
SYRINGE EXCHANGE PROGRAM
On January 1, 2017, the Syringe Exchange Program of Franklin began operating a comprehensive harm reduction program to address the opioid epidemic that is effecting western NC. Opioid overdose reversal kits including naloxone are available free of charge. If you have any questions about our services or if you know someone interested in volunteering, please contact Stephanie Almeida at 828-475-1920.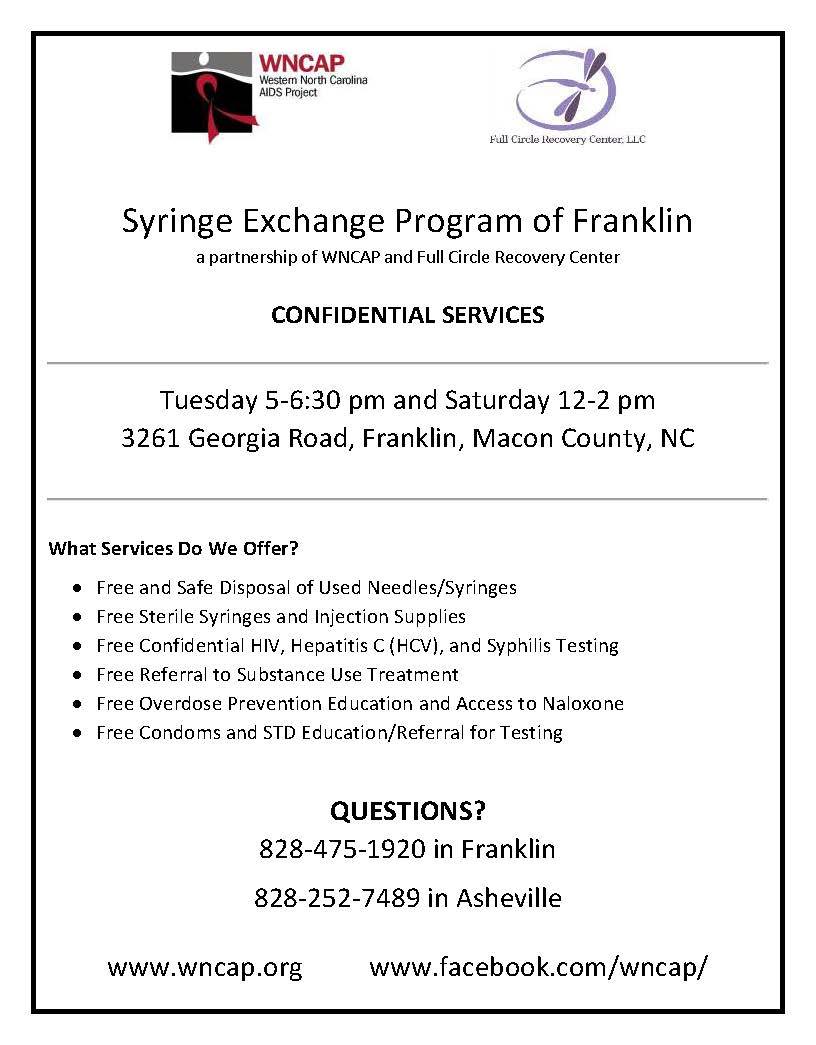 Astronomy
Twilight Begins: 6:39 am
Sunrise: 7:05 am
Sunset 8:04 pm
Twilight Ends: 8:30 pm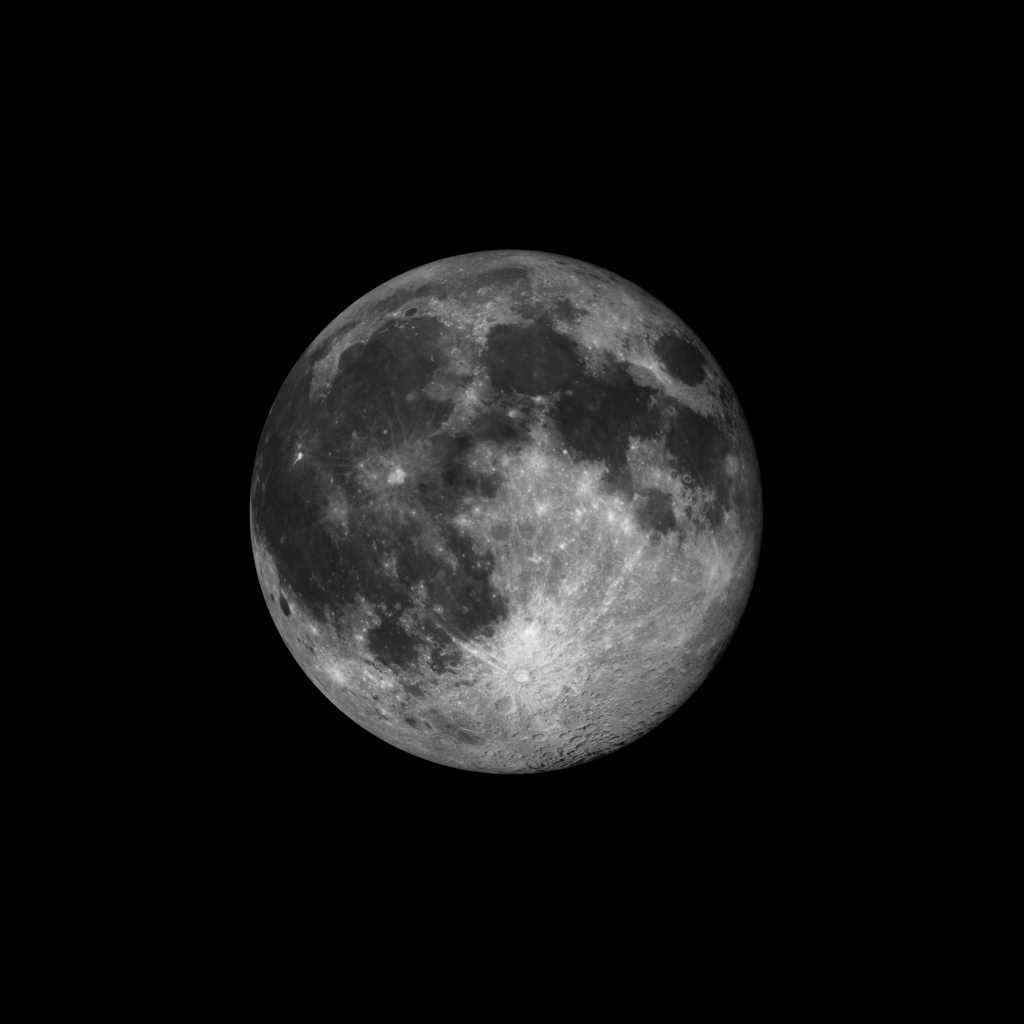 Moon Phase: Waning Gibbous with 98% of the Moon's visible disk illuminated.
Moonset 8:07 am
Moonrise 9:31 pm
Evening Events and Planets
Chart shows sky at 10:30 pm tonight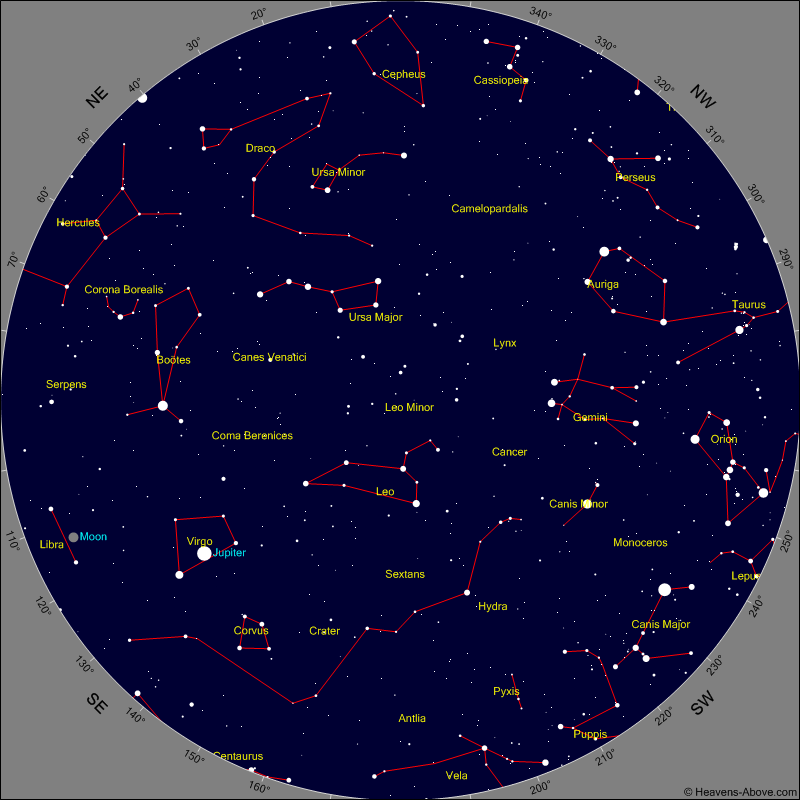 Morning Events and Planets
Chart shows sky at 4 am tomorrow morning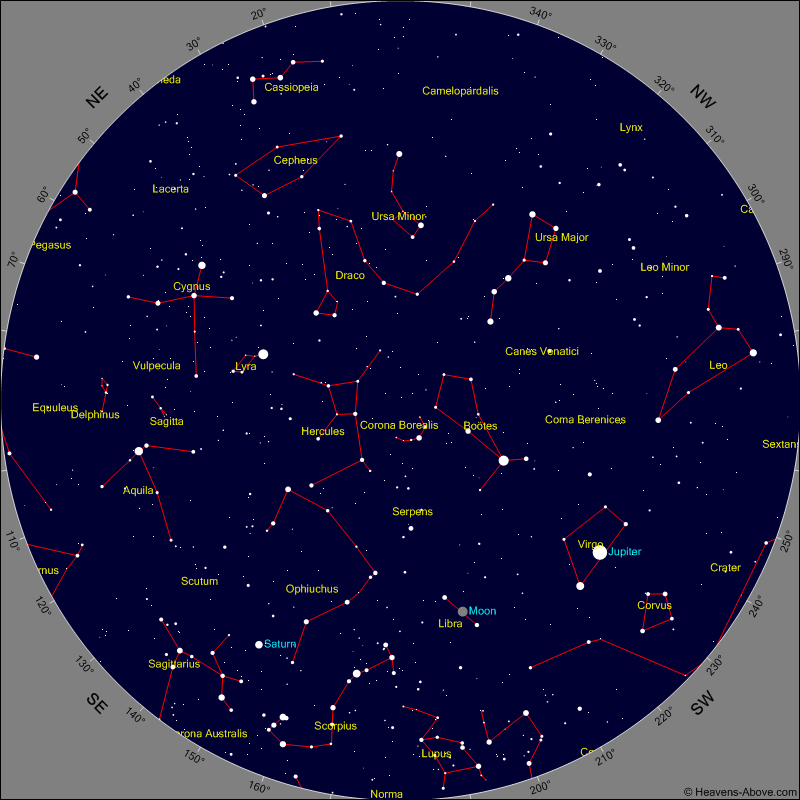 PLANET POSITION SUMMARY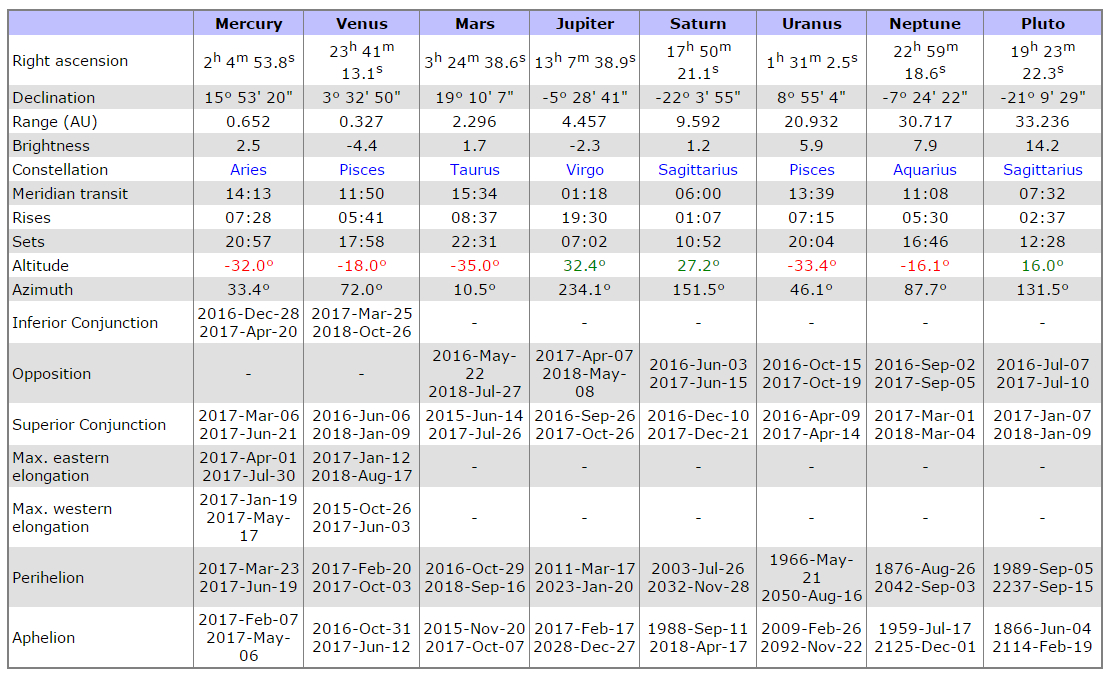 Sky Guides for this week
Sky and Telescope Magazine
Astronomy Magazine
Earth Sky has an article on the eclipses of 2017. [LINK]
Heavens Above has an Android App that will assist you in observing the sky and even has a satellite tracker that will let you know when the International Space Station and dozens of other satellites are overhead. [LINK]
Stellarium is also an app that will assist you in observing the sky. It is available in both Android [LINK] and iOS versions. [LINK]
CROWD FUNDING OR DAY SPONSORSHIP OPPORTUNITIES
If you receive value from what Macon Media provides to the community, please consider becoming a supporter and contribute at least a dollar a month.
If you have a business or event you are interested in sponsorship opportunities or underwriting coverage, send an email to edit[email protected] for more information. Serious inquiries only.
Thank You to the people who have been sending in donations and those businesses who are underwriting coverage of news and events. You have kept Macon Media online. You have made it possible for Macon Media to begin purchasing state of the art equipment and begin work on building a real website with features not employed by any local news outlets.
You can find out more information on how to do that and some of what I plan to accomplish if I reach certain levels of funding at https://www.patreon.com/MaconMedia
Published at 4:28 am on April 12, 2017
#WNCscan #MaconWx #MaconSafety
Data and information sources: Sources (except where otherwise credited): heavens-above.com, National Centers for Environmental Prediction, The National Weather Service, National Oceanic Atmospheric Administration, Penn State University Electronic Wall Map, The State Climate Office of North Carolina, Storm Prediction Center, U.S. Naval Observatory, and the Weather Prediction Center.