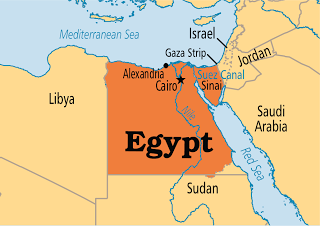 By Douglas V. Gibbs
Author, Speaker, Instructor, Radio Host
One week before Easter, on Palm Sunday, Islamic terrorists attacked Christians in Egypt. The ISIS suicide bombers detonated outside an Egyptian church near Cairo, killing more than 45, and wounding about 100. The intent had been to get inside the church, but the terrorist was stopped prior to entry and was asked to go through a metal detector, first. The explosion ripped through the church as he entered the metal detector.
This attack follows another attack in Egypt, where the target was the leader of the ancient Coptic church, Pope Tawadros II. In that attack, Tawadros escaped unharmed. In that attack at least 27 people were killed, and 78 wounded.
Another attack, in the coast city of Alexandria, the historic seat of Christendom in Egypt, followed a few hours later, killing at least 16, and wounding 41.
ISIS has claimed responsibility for the attacks. The bombings are occurring mere weeks before Pope Francis is due to visit Egypt.
Egypt is currently under a "state of emergency" according to President Sisi.
Approximately ten per cent of the Egyptian population are Christian and have been targeted several times by ISIS terrorists
President Donald Trump tweeted that he is "so sad to hear of the terrorist attack" against the U.S. ally but added that he has "great confidence" that Egyptian President Abdel-Fattah el-Sissi, "will handle the situation properly."
The two leaders recently met at the White House on April 3.
The bombings confirms the fears of some that ISIS, who has been battling security forces in the Sinai Peninsula, are shifting their focus to civilians.
Coptic Christians are about 10 percent of Egypt's population of 90 million, making the Coptic Orthodox church the largest Christian denomination in the Muslim-majority country.
The Copts trace their history to the dawn of Christianity, when Egypt was integrated into the Roman Empire, and later into the Byzantine empire.
The word 'Copt' comes from the same root as the word for 'Egyptian' in ancient Greek.
The community's decline started with the Arab invasions of the 7th century and the progressive Islamisation of the country, which today is largely Sunni Muslim.
Several churches and monasteries in Egypt are built on sites Copts believe were visited by the Joseph, Mary and Jesus.
Israeli security officials have asked Israeli tourists in the neighboring Sinai peninsula in Egypt to return home immediately.
– Political Pistachio Conservative News and Commentary
Source:
http://politicalpistachio.blogspot.com/2017/04/egypt-palm-sunday-massacre.html