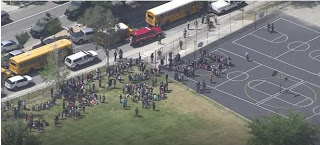 By Douglas V. Gibbs
Author, Speaker, Instructor, Radio Host
December 2, 2015, Muslim terrorists killed 14 people and seriously wounded 22, in San Bernardino, California in an event that could have also resulted (as planned by the terrorists) a bombing at the Inland Regional Center, as well. So, since then, folks in the San Bernardino area have been on edge. The realization that Islamic terrorism could strike their little corner of California had become a reality. Now, while not related to terrorism, the horrifying reality of fatal violence has struck the city again.
This time, the incident occurred at an elementary school.
Two adults were found dead in a classroom and two students are hospitalized
after a shooter walked on to the North Park Elementary School campus in San Bernardino and opened fire in what the
police chief characterized as a suspected murder-suicide
.
The gunman was among those who were possibly down, according to the chief. One of the victims was a teacher.
Students were evacuated from North Park Elementary School in San Bernardino after the situation played itself out. The two injured students were flown by MediVac helicopter to a local trauma center.
In California, school campuses are like prisons. Even in peaceful Murrieta, a locked gate stands between you and your child until the school bell rings. Therefore, the staff, and police, are not sure how the suspect in San Bernardino gained access into the school. I suspect security, as tight as it already is, will become tighter.
Elementary schools, however, are different animals, and do not have uniformed police officers or campus security, unlike the area's middle and high schools.
The aforementioned terrorist attack in 2015 led schools, especially in San Bernardino, to re-examined their security measures, and according to officials, all district principals have had lockdown training and know "exactly what to do" if there's an active shooter report, she said.
California State University San Bernardino is not far from the elementary school. After the shooting at the elementary school, students at the college were asked to shelter in place.
– Political Pistachio Conservative News and Commentary
Source:
http://politicalpistachio.blogspot.com/2017/04/murder-suicide-in-san-bernardino.html