With apologies to Charles Dickens and his immortal A Christmas Carol.
Click directly on the graphic to enlarge it: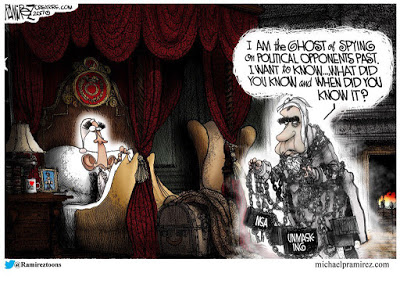 From Susan Rice's White House Unmasking: A Watergate-style Scandal by Andrew C. McCarthy (National Review on April 4, 2017):


Her interest was not in national security but to advance the political interests of the Democratic party.

The thing to bear in mind is that the White House does not do investigations. Not criminal investigations, not intelligence investigations.

Remember that.

Why is that so important in the context of explosive revelations that Susan Rice, President Obama's national-security adviser, confidant, and chief dissembler, called for the "unmasking" of Trump campaign and transition officials whose identities and communications were captured in the collection of U.S. intelligence on foreign targets?

Because we've been told for weeks that any unmasking of people in Trump's circle that may have occurred had two innocent explanations: (1) the FBI's investigation of Russian meddling in the election and (2) the need to know, for purposes of understanding the communications of foreign intelligence targets, the identities of Americans incidentally intercepted or mentioned. The unmasking, Obama apologists insist, had nothing to do with targeting Trump or his people.

That won't wash….
Read the rest HERE.
As expected, many Democrats and the mainstream media are saying, in effect, "Nothing to see here. Move right along."
On the other hand, we have this, which aired on MSNBC on April 4, 2017:
Infidel Bloggers Alliance
informs
us:
There was another video from this morning, of Scarborough calling out the "paper of record", the New York Times, for ignoring the story.

Here, you can see that MSNBC has asked Youtube to block this video.

Plenty of other videos exist of Scarborough talking about many other subjects. But this one MSNBC pulled from Youtube on "copyright grounds."
Orwell's Ministry of Truth?
Source:
http://alwaysonwatch3.blogspot.com/2017/04/the-ghost-of-white-houses-past.html