Story Views


Now:
Last Hour:
Last 24 Hours:
Total:
wallowing in Wagner and loving it
Wednesday, April 5, 2017 0:44
% of readers think this story is Fact. Add your two cents.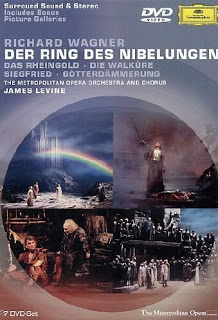 The danger of political blogging is that you can end up focusing just a bit too much on negative stuff. So today I'm going to blog about something that makes me happy. Opera.
I've loved opera for years. When I was young I was lucky enough to be able to see productions of the Australian Opera fairly regularly. This was especially fortunate because in those days the Australian Opera productions were extremely traditional in nature. If there's one thing I despise it's people who want to "update" opera by staging productions in anachronistic modern settings and forcing the performers into ludicrous modern costumes.
These days I can't get to the opera so I have to get my fix by means of DVDs. This obviously doesn't compare to the sensory feat of attending a live performance but it has its compensations.
My tastes in opera are mostly reasonably eclectic but I do have a particular passion for Wagner. I love his approach to opera. It's grandiose and bombastic and excessive but I happen to like grandiose and bombastic and excessive. Of course if you're going to take that approach you need to have the talent and the vision to carry it off, which Wagner had.
Over the course of the past week I've been watching the Ring cycle. It's the Metropolitan Opera's 1990 production. The Met in those days specialised in productions that were quite traditional in feel. In this case they demonstrated that a traditional staging could be imaginative and visually stunning, and effective.
The Ring has a certain resonance today since our civilisation seems to have well and truly entered the Twilight of the Gods stage. The sense of impending doom and inescapable tragedy do cut a bit close to the bone. But I wasn't going to talk about politics.
Anyway I've been having a great time immersing myself in Wagner. I know he's not everyone's cup of tea but for me it's been bliss.
Source:
http://anotherpoliticallyincorrectblog.blogspot.com/2017/04/wallowing-in-wagner-and-loving-it.html