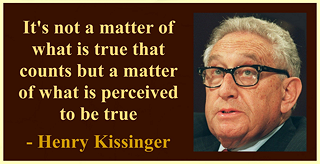 "Manipulation-Craft, or How They Get Us to Agree"
"Manipulation takes many forms, and aims at us from multiple levels. Emotions, inattention, preoccupation, distraction, lack of information, misinformation, and levels of trust all aid in the success of manipulation-craft bewitchment. The systems and techniques, utilized to manipulate and deceive, are known and tried. They are natural systems experienced in society and the psychological functions of reality. When used with the intent to beguile they become manipulation-crafts. Below are a few examples of techniques and mechanisms you face. Knowing them and recognizing the process is key to your understanding and freewill.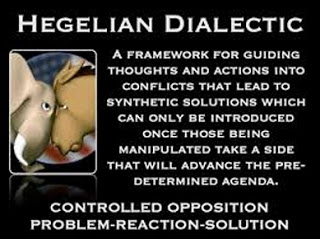 Hegelian Dialectic:
For every idea or (Thesis) there would be an opposite idea or (Antithesis). The resulting conflict between the two leads to a combination of the two or (Synthesis). The Synthesis then becomes the new Thesis and the cycle continues.
This process can be observed with any meeting of the minds throughout time. However, if both parts of the equation are under the direction of the same architect, the resulting synthesis is a structure of intended design. Utilizing the Hegelian Dialectic as manipulation-craft is detrimental to a free society. It makes the political and democratic processes inept.
Comment: H.D. is a methodology devised for guiding thoughts and actions, the purpose to bring people to an ultimate conclusion by being 1) the creator of the problem (i.e.: societal chaos), and 2) also being the one able to implement the necessary solution (i.e.: gun control). In other words, it cons people into believing the state can create a perfect world by pitting two alleged opposing forces against each other, "reluctantly" advancing the predetermined agenda (a disarmed society) "according to the people's will." You accept what you once wouldn't (rights restriction).
Global Warming deception: 200 years of human activity has ruined our 6 billion-year-old planet. Only global cooperation will solve it. By the time the diehards, authoritarian followers and sheeple have their chilly awakening, a global government is locked in place. Who cares about the weather.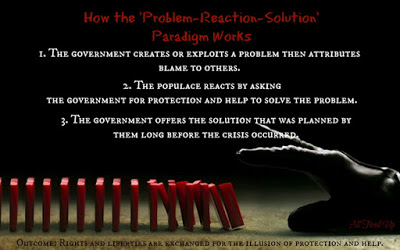 Click image for larger size.
Problem Reaction Solution:
This manipulation technique avoids opposition to the goal of the manipulators. It manipulates the targeted individual(s) into wanting the manipulator to do what the manipulator had planned to do, but could not have done without the support of the targeted person(s).
For example, you create a problem, that can not be traced back to you. This problem causes your intended reaction from the targeted individual(s). Use of appropriate media and other influences can aid greatly in shaping the desired reaction of the targeted subject(s). The manipulated reaction of the targeted victim(s) then causes the victim(s) to demand a solution to the problem you created.
The leaders of country "A" want to go to war with country "B". However the people of country "A" do not support this action. Country "A" initiates events that appear to be acts of war taken by country "B". The indignation from the people of country "A" demand that their leaders take action. The leaders of country "A", with the support of their people, attack country "B".
Comment: In this case there is no "testing the waters." There is a specifically calculated event (i.e.: false flag) or a fortuitous natural or social disaster that becomes larger-than-life in the media, festering out of control, consuming public attention (repetitive message with subjective/suggested implications). It creates a designed reaction (fear/panic) that culminates in a lasting change in the mindset of society. A solution appears and is accepted. The Blackberry Riots in the UK was a case-in-point. The riots followed the death of Mark Duggan who was shot by the police at a traffic stop. Mobile devices are now what the public remembers as the cause of disturbance thanks to media refocusing techniques. The solution implemented was the monitoring of chat logs, GPS coordinates and private information for "suspicious activities."
Linchpin Theory:
Linchpin Theory argues that overt social, political, economic, and technological complexity causes destructive events. It neglects acknowledging those facilitating the events. It is a perception that social, political, economic, and technological tides are unguided and chaotic, that all is random, and disaster is a product of chance triggered by an over-complicated system. It disguises order, with chaos masking the intended manipulation of the destructive event. The current financial crisis here in America and around the world, as well as the steady devaluing of the US dollar and other sovereign currencies make a good example.
Comment: A not-so hypothetical scenario: Almost every major economy on the globe has been brought to the verge of collapse. It is inevitable that one or more of these explosive tension points will erupt and cause a financial chain reaction around the planet. The linchpin and the chain reaction will become the focus, while the instigators will fade into oblivion. It will be called a random act of fate, a mathematical inevitability in an overly complex system. The solution: end national sovereignty, dissolve borders, centralize nation states under a single economic and political body. (Eggs in one basket. How is this working out for the EU these days?)
FYI: Lynchpin theory (subversive design) also works extremely well for globalist interests utilizing war as a change-agent to alter the life, thinking, culture and trajectory of an entire people. Lynchpin example is the Pearl Harbor bombing event to entice the U.S. into WWII.
Propaganda:
Propaganda is a form of communication that is aimed towards influencing the attitude of a community toward some cause or position by presenting only one side of an argument. Propaganda is usually repeated and dispersed over a wide variety of media in order to create the chosen result in audience attitudes. As opposed to impartially providing information, propaganda, in its most basic sense, presents information primarily to influence an audience. Propaganda often presents facts selectively, thus possibly lying by omission to encourage a particular synthesis, or uses loaded messages to produce an emotional rather than rational response to the information presented. The desired result is a change of the attitude toward the subject in the target audience to further a political, religious or commercial agenda. Propaganda can be used as a form of ideological or commercial warfare.
Doublespeak:
Doublespeak utilizes language to deliberately disguise, distort, or reverse the meaning of words. Doublespeak may take the form of euphemisms meant to make the truth sound more palatable, i.e. "We are fighting for peace" said by Shimon Peres former Prime Minister of Israel or House Minority Leader Nancy Pelosi's infamous quote, "It's not a tax increase, it's eliminating a tax decrease that was there." Doublespeak may also refer to intentional ambiguity in language or to actual inversions of meaning, i.e. from George Orwell's 1984 "War is peace, freedom is slavery, and ignorance is strength." In such cases, doublespeak disguises the nature of the truth. Doublespeak is most closely associated with political language.
The Impression of a Choice:
Manipulation can cloak itself in the guise of freewill. A skilled salesmen, hoping to get a meeting, asks their prospective client if they would like to meet tomorrow morning or tomorrow afternoon. Thereby limiting, to an extent, the option for the client to say no. On a larger scale we witness this throughout society. Coke or Pepsi, McDonald's or Burger King, Republican or Democrat. We can avoid this type of manipulation-craft when we acknowledge other options.
The Kübler-Ross Model:
Denial, Anger, Depression, Bargaining, Acceptance. Also known as the five stages of denial or grief. This psychological process can be experience in many ways, including the realization of orchestrated deception and unthinkable breaches of trust. These steps are natural and understanding them helps greatly to facilitate a healthy state of mind. However understanding how they can be used against you is also important. By prolonging or maintaining a stage of the Kübler-Ross Model, you are kept from reaching fruition. Each stage allows unique opportunities for manipulation.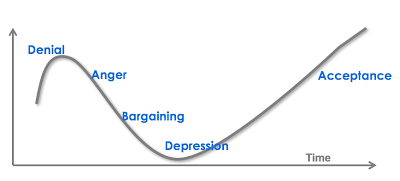 Comment:
Truth: There is no Social Security. There is no Trust Fund. We have debt.
Denial: Social Security is alive and well. One day I will have a nice retirement.
Anger: Recriminations, blame the Rich, the Poor, the Government, someone else.
Depression: We are as poor as we actually are and have been lying to ourselves for decades. Doomed!
Bargaining: Should have done more borrowing, less lending, spending, if only…
Acceptance: No one is going to save us. Next plan?
The Association Fallacy:
Association fallacy is an inductive informal fallacy of hasty generalization, or red herring, which asserts that qualities of one thing are inherently qualities of another merely by an irrelevant association. The two types are sometimes referred to as guilt by association and honor by association, and can be based on an appeal to the emotions, and lack of knowledge by the target of the manipulation. Utilizing this Manipulation-Craft the practitioner can associate the good with bad, making the good appear guilty by association. Likewise, the bad can be made to look righteous if this is the practitioner's intent.
Comment: Former White House Chief of Staff, Rahm Emanuel, stated: "You never let a serious crisis go to waste. And what I mean by that it's an opportunity to do things you think you could not do before." Read as: new legislation and regulation translating to less freedom, prosperity and privacy – enabled by the "problem." The systems and techniques to manipulate and deceive are all around us everywhere you look. From selling breakfast cereal – to government cover-ups – to how we raise our kids – to what is written in our history books, we are bombarded with covert and subliminal messaging aimed at manipulating our thoughts and responses, patterns and behaviors. It is invading. It is persistent. It keeps on coming. It is no great wonder that anything resembling truth and reality is so hard to recognize."
Source:
http://coyoteprime-runningcauseicantfly.blogspot.com/2017/03/manipulation-craft-or-how-they-get-us.html