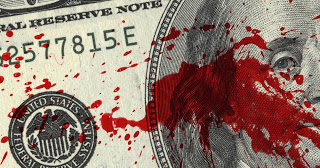 "Eight Years of Bull End Today"
By David Stockman
"I do not buy the notion that history repeats or even rhymes. Instead, I am far more partial to the aphorism attributed to Nixon era economist and philosopher, Herb Stein, who said that any trend which is unsustainable tends to stop.
What is stopping, more or less today, is the 30-year aberration of financial policy that began during the October 1987 stock market meltdown. During the ensuing panic is when the lapsed goldbug, Alan Greenspan, discovered the printing press in the basement of the Eccles Building. Thereafter he deployed it aggressively to defeat free market capitalism. What basically happened was that the laws of economics were suspended until further notice. But the trend that is now coming to its appointed stop.
That notice is now being given by both the fiscal and monetary branches of the state. That is to say, the Fed is not merely raising rates belatedly by 25 basis points today; it's also signalling that the insane run of balance sheet expansion is over and done.
Likewise, at the end of business today, the public debt limit freezes in at the cusp of $20 trillion. The fact that the Fed's printing press is on idle and the fiscal procedures of the Imperial City are approaching paralysis and chaos means that the era of free fiscal lunches is coming to a close, as well.
It's not going to be easy to get a majority to raise the debt ceiling by anything near what the market is expecting today. Among other things that means that Donald Trump can't be the second coming of Ronald Reagan- even as he advocates a worse brew of tax cutting, defense spending and domestic largesse than the Gipper even remotely imagined.
Today's circumstances compare in no way to where we were in 1981 when my old boss Ronald Reagan took office. I had the role of budget director at that time.
We're in a fiscal trap much deeper than 1981 or even 2000 or 2008. By fiscal trap I mean $20 trillion of debt. We've got 15 trillion more in the pipeline for the next 10 years if you look at it honestly and soberly, adding to the national debt based on policy that's built in today. That's before one dime of stimulus, infrastructure spending, tax cuts, or anything else Trump is talking about.
Therefore, to look at Trump as the second coming of Ronald Reagan, that there's going to be a huge tax cut, that the economy is going to take off within a short period of time is fantasy. None of that will happen. We're not going to get a huge fiscal stimulus.
We're going to get a fiscal bloodbath that will basically shut the system down, create a massive breakdown of confidence in the markets, and therefore, the bond bubble, the stock bubble, and everything else. It will all come tumbling down in 2017.
I believe the Fed is out of dry powder to reinflate the bubble this time around. And no bail out will be coming when this bubble collapses. Everyone is putting great hope that the baton will be handed off to the fiscal authorities. But it won't happen. Reagan and Greenspan sowed the wind; the hapless and clueless Donald Trump will be soon be reaping the whirlwind.
Now, I don't want to be misunderstood. I am happy Trump won. I voted for him. I was hoping for a miracle. Things had to change. The country rebuked the Wall Street and the Washington establishment that has gotten us into this mess. I think Trump will continue to be a huge disruptive force that will at least stop the machine. But what he's inheriting isn't manageable at all.
When bubbles take off, they can go to extreme heights, but finally they collapse on their own weight even if the central bank is trying to keep them airborne. When they do, the plunge is often violent, severe, and rapid. I think it is the opportunity of a lifetime to understand this thing is going down. This bubble is utterly artificial and unsustainable.
The Fed is looking to raise at least twice more this year and possibly more. But I believe the Fed is completely misreading the economy. Its manipulated stats show full employment and a return of "healthy" inflation. But real growth has stalled and the majority of the new jobs are not breadwinner jobs but lower paying gigs.
The Fed is basically walking into a trap and leading us straight for a recession. The ensuing recession will leave Wall Street high and dry. This time it will be home alone- abandoned by a central bank that is out of dry powder and that has lost its capacity to bang on the Easy Button time after time, as it has done since Greenspan launched the era of Bubble Finance in the late 1980s.
This week will also bring harsh proof that the stimulus baton is not going to be handed off to fiscal policy. In fact, the debt ceiling crisis that I have been warning about now looks to be arriving even sooner than expected. For reasons that are nearly unfathomable, the Trump White House has remained oblivious to the fact that the fiscal planking is collapsing all about it.
As of March 10, the U.S. Treasury was down to just $30 billion of cash- compared to the $382 billion hoard Trump inherited on January 20. That means it has burned through $350 billion of cash in just 50 days- or $7 billion per day counting weekends and Valentines Day! Indeed, it puts you in mind of how Earnest Hemingway's character famously described his route to bankruptcy. That is, it came slowly at first, and then all of a sudden.
The sweeping Trump tax cuts and Fiscal Stimulus is dead as far as the eye can see and Washington will now be overtaken by a debt ceiling crisis that will not go away. There is no pathway to a majority- especially after the Obama Lite fiasco- to raise by trillions the $19.9 trillion ceiling that will be frozen-in at the close of business today.
So now comes the Fiscal Bloodbath and the day of monetary and fiscal reckoning. Also, now comes the very last time to get out of the casino before the grim reaper of financial necessity finally sets out upon his appointed rounds. The 30-year trend is ending this week."
Source:
http://coyoteprime-runningcauseicantfly.blogspot.com/2017/03/the-economy-david-stockman-eight-years.html