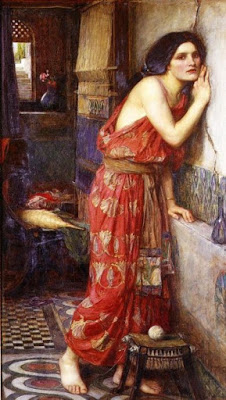 "Wooing The World"
by Chet Raymo
"…Thisby knows
so little of the world as yet:
the bit she can see through the
chink in the wall
has made her heart beat
faster in its cage…"
"A few lines from a poem of Linda Gregerson. Never mind the context; the image is arresting. Beautiful Thisbe is confined by her parents' to her high-walled house in Babylon, with only a crack in the wall through which to communicate with her forbidden lover. And, of course- as so many parents discover- the restriction makes her passion all the more intense.
We look out at the universe through a metaphorical chink in the wall. We are prisoners of our limited sensory apparatus, our finite brains. Slowly we have widened the chink- just think of the Hubble photographs compared to what Ovid, say, knew of the world. But the wider chink has only made us more aware of the limits of our knowing, heightened our curiosity, excited our passion- made our hearts beat faster in their cages.
We put our lips to the chink, we whisper prayers, not knowing to whom or what we pray, imagining a lover whose remembered image grows ever more indistinct even as our passion grows.
If it were possible, would we want to have the walls down, to have full access to what the physicist Stephen Hawking whimsically called "the mind of God"- a full and complete knowledge of everything that is? Not me. Woo prolonged is woo sustained. Remember what happened to Thisbe and Pyramus, and for that matter to Eve and Adam when they ate of the Tree of Knowledge. The ancient myths tell a great truth: the tease is more exciting than the consummation."
- http://
blog.sciencemusings.com
/
Source:
http://coyoteprime-runningcauseicantfly.blogspot.com/2017/04/chet-raymo-wooing-world.html