by Scott Creighton
The weekend prior to the Syrian air force attack on their base at Khan Sheikhoun, Tahrir al-Sham (formerly known as al Nusra and before that, al Qaeda) captured a large number of Syrians from the neighboring town of Khattab to the south and brought them back to their base where they were being held captive presumably when the attack took place.
"The jihadist rebels of Hay'at Tahrir Al-Sham and Jaysh Al-'Izza kidnapped the inhabitants of Khattab in northern Hama before fleeing the village this past weekend, a family member of the kidnapped told Al-Masdar News on Tuesday… "But the jihadists then took them all to Khan Sheikhoun," he concluded." AMN
Khan Sheikhoun has been under under control of Tahir al-Sham for a long time.
"… in 2014 fell to Jabhat al-Nusra.[12] Deutsche Welle reported: "Idlib province, where Khan Sheikhun is located, is mostly controlled by the Tahrir al-Sham alliance, which is dominated by the Fateh al-Sham Front, formerly known as the al-Qaeda affiliated al-Nusra Front."[13]
Last week there was major fighting between these al-Qaeda terrorists (called "moderates" by the U.S.) and the Syrian Arab Army (SAA) in this area during which the terrorists suffered major losses in terms of personnel, material and ground.
"The Syrian Arab Army (SAA) struck back against the jihadist rebels of Hay'at Tahrir Al-Sham on Wednesday, seizing several points in the northern Hama countryside.

Led by their Tiger Forces and 11th Tank Division, the Syrian Arab Army recaptured three crucial points inside the northern countryside of Hama, forcing the jihadist rebels to have to retreat in order to reinforce their positions." AMN March 30th, 2017
The SAA was driving Tahrir al-Sham out of Hama. They had just pushed them out of Homs in a historic victory and retaken the city. The "moderate" terrorists (al Qaeda) were allowed to leave the city in buses, transported to other terrorist strongholds. Straight up M5 from Homs is Hama of which Khattab is a neighboring village. Straight up from there, is al-Sham's stronghold where they took their hostages and where the "chemical weapons attack" supposedly took place.
The airfield President Trump targeted with his strike the other night was the one where the SAA's air force was launching their sorties against the al-Qaeda linked terrorist in the Hama countryside. There are confirmed reports from both MSM outlets here in the states as well as from Ria Novostri that the Syrian air force has launched several air craft from that base since the cruise missile attack so it is still at least partially operational.
The battle for Hama and Khan Sheikhun is still raging. The "moderate" terrorists are at a disadvantage with air power from both the Russians and the Syrians raining down bombs on them relentlessly while Tahrir al-Sham chooses to continue to pick softer targets like civilians in the area.
"From its side, HTS targeted civilians in Fou'a and Kafraya with more than 30 projectiles on April 6. Local forces defending the villages responded with a counter-battery hitting militant positions near Ta'um and Sawwaghiya.

The Russian and Syrian air forces and SAA artillery units continue targeting HTS-led forces in the northern Hama countryside preluding the expected offensive operations in both Ma'ardes and Helfaya. On April 7, government forces will likely make another push to regain some of these areas from HTS militants." South Front, April 7th
The very terrorists President Trump and the breathless MSM in this country have been screeching about being hit with "chemical weapons" over the past 4 days are currently back to their old tricks… killing civilians in an effort to depopulate the countryside so they can retake it for themselves. And Trump's airstrike "for the babies" wasn't about gassed babies at all… it was a desperation move to try to stop the Syrian air force from wiping out the CIA's "moderate" al Qaeda terrorists.
But how did it start? Why did they take those hostages back to their base at Khan Sheikhun? What did they plan to do with them? And how did they end up being "victims" of a Sarin gas attack?
The terrorists clearly needed assistance. They needed the Syrian and Russian planes taken out of the equation and if they could convince a gullible world via an unquestioning media that Bashar al-Assad, for no apparent reason (he was winning handily in the area and the Trump administration had just said they were not going to force regime change) attacked civilians in this area with a chemical weapon like Sarin gas, then the moral red-line could be used to justify the U.S. military attacking SAA air fields in an act of "humanitarian intervention"
But the problem was, Assad had given up the Sarin long ago. So they needed something to happen with Sarin gas and they needed us to forget who actually still had the chemical weapon in Syria.
"And Western public opinion conveniently forgot that before Barack Obama's theoretically trespassed red line on chemical weapons, a secret US intelligence report had made it clear that Jabhat al-Nusra, a.k.a. al-Qaeda in Syria, had mastered the sarin gas-making cycle and was capable of producing it in quantity." Pepe Escobar
al Nusra, al Qaeda…a.k.a. Tahrir al-Sham, had Sarin gas. They had it themselves and in fact, the Russians said before all the reports came out that they targeted that specific location because they knew they had it there.
"The Russian Defense Ministry said on its Facebook page that a Syrian airstrike hit "workshops, which produced chemical warfare munitions" CNN

There is a bit of dishonesty coming from folks who cite Bellingcat when he claims that there is no way the victims of the Sarin gas could possibly have been due to a strike on a storage facility because Sarin is stored in two parts and if it were hit in storage, it wouldn't really be Sarin gas at that point.
This is totally dishonest mainly because it assumes the materials weren't already put together for use. There is obviously no reason to assume the Sarin gas had not been prepared especially when one considers the fact that the Syrians and the Russians targeted that facility because they knew it was being used for the manufacture of chemical weapons.
But it also ignores a more sinister possibility: the victims, those Syrian civilians kidnapped from Khattab, had been gassed by al Qaeda terrorists in that bunker before the Syrian airstrike.
Look at these photographs: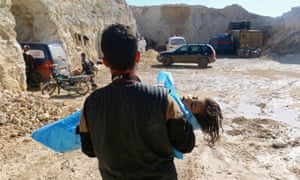 What you are looking at is a bunker outside of town. A site where excavation has taken place and al Qaeda has cut a number of caves in the rock wall to serve as their base. Notice the flat beds. Also notice how in one photo there is a dark van pulled up into the cave and in the other, a flat bed truck has been backed into it. The motorcycle indicates it's the same cave. Why would they move that flat bed and then bring the van in?
Now look at this photo. It is what has been described as the location of the single "chemical weapon" strike that caused all of this.
This is clearly not in the same location as the images of all the victims in parking area of that bunker. What's more, this is supposedly a trained expert collecting evidence of Sarin gas from that one location where it was supposedly used… wearing flip flops and using latex gloves and a stupid surgical mask for protection.
Sarin will pass through latex easily and a surgical mask is no protection from Sarin. Look it up.
The site of the strike on the ground is well away from the bunker. In order to fix the narrative of this glaring issue, they are now claiming the Tahrir Al-Sham was an "underground" hospital. That, they hope, will explain why the bomb hit miles away from where these scenes were filmed.
Keeping in mind the serious problems the CIA's "moderate" terrorists were facing over the last couple of weeks in Hama and Homs, I would like to posit a theory for your consideration.
Knowing that they were in trouble and doomed to lose this foothold in Syria, Tahrir Al-Sham decided they absolutely had to have direct military support from their sugar daddies in America.
They knew there would be Syrian air force strikes on them in the area in the near future so they took hostages from neighboring Khattab, kept them locked in that cave in the photo, and planned to gas them with Sarin as a Syrian airstrike took place nearby.
They could then transport the bodies via all those flatbed trucks to that location, spray some Sarin around on the ground in the area, and film the whole thing with their assets, the White Helmets who just happened to be there at the ready when the bombs fell.
The Russians see activity at the site via a satellite or a drone and they instruct the Syrians to strike the location.
In this theory, the "moderate" terrorists never intended for their base to be the location of this event but once the attack took place, they saw it as an opportunity, the one they had been waiting for.
The flat bed trucks weren't needed. They simply dragged the bodies out of the cave and laid them on the ground for dramatic effect.
The children and adult men who were alive were brought it for dramatic effect.
The White Helmets filmed their little show. They got that al Qaeda "doctor" to do his little scene at the "hospital" and the MSM took it from there.
Russian journalists went to the air field where Trump attacked the other night and found no traces of Sarin gas. In fact, remarkably, the MSM is reporting that the Pentagon deliberately avoided hitting the bunkers that supposedly had the Sarin because they were afraid civilians would be hurt. Why would they leave the gas in usable condition if the whole point was to keep Syria from using chemical weapons? It makes no sense.
It also makes no sense because the Pentagon is doing nothing to stop our al Qaeda "moderates" from bombing the civilians in Hama today. Not a damn thing.
The relative evidence of this event as well as the surviving victims were later attacked a second time in the hospital that some of them were transported to. The Pentagon and many war-mongering MSM pundits claim this was the doing of Russia though they say the plane that did it was "unmarked"
Last time I heard about an "unmarked" plane it was attacking the USS Liberty.
Evidence of the event was destroyed. Surviving witnesses, perhaps even kidnapped hostages, were killed. The perpetrator is yet unknown.
It is my belief that our "moderate" al Qaeda terrorists in Khan Sheikhoun, Tahrir al-Sham, knew their hold on that part of Syria was coming to an end if something didn't happen quickly on the ground to stop the Syria air force from pounding them into dust. They were pushed out of Homs and were quickly being driven out of the Hama countryside. Their stronghold at Khan Sheikhoun was certainly next to fall.
They also knew through their handlers at the CIA and the Pentagon that Trump's hands were tied and short a "New Pearl Harbor type event" he would never go back on his promise to his voters that he wasn't in the nation building business.
So they looked back in history, saw the red-line fiasco as a potential game changer and kidnapped a bunch of future Sarin gas victims on their way back to their base.
Folks writing about this event sometimes get caught up in monolithic thinking about whether or not the victims were real or if it was all staged. They neglect to consider the possibility that it doesn't have to be an either or equation.
Based on what I know right now, it seems Tahrir al-Sham, al Qaeda, manufactured Sarin in their bunker (we know they have had the capacity to do that for years) and used it on those kidnapped victims so they would have a body count killed by Sarin gas that they could then use to help President Trump justify attacking the air field the Syrians were using to pound them out of existence.
Knowing the international community would demand an independent investigation, they bombed the hospital to destroy the evidence. This is not the first time coalition forces have destroyed a hospital to cover up a war crime, now is it?
That is what I believe happened at this point based on the evidence at hand.
—
Please help keep AE up and running if you can. I could REALLY use the help right now

Thank you all so much
(For my mailing address, please email me at [email protected])
Source:
https://willyloman.wordpress.com/2017/04/08/in-desperation-move-tahrir-al-sham-al-qaeda-kidnapped-civilians-from-khattab-days-before-syrian-strike-on-their-base-for-what-purpose/