The dates have been set for one of the premier annual events in Great Smoky Mountains National Park. The 27th annual Wilderness Wildlife Week, a five-day event that focuses on the Great Smoky Mountains and the outdoors in general, will take place May 9 through May 13, 2017. Many of this year's programs, all of which are free, will be held at the LeConte Center, the City of Pigeon Forge's new state-of-the-art events center.
Throughout the event's history people have traveled from as far away as Australia, Canada, China, England and New Zealand to take part in the eight-day extravaganza of honoring and celebrating the great outdoors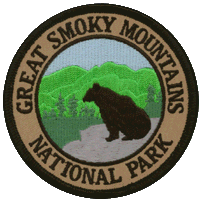 On tap this year are several hundred workshops, lectures, panel discussions, mini-concerts, hikes and excursions into America's most visited national park.
While the vast majority of Wilderness Wildlife Week programs are indoors, there are dozens of hikes and excursions on this year's calendar. Round trip transportation to the trailheads will be provided for each hike.
Many of the programs are brand new for 2017, and the lineup is different each day. Multiple hiking presentations will be included on this year's agenda.
Wilderness Wildlife Week has been named 10 times as a Southeast Tourism Society Top 20 Event.
Details on Wilderness Wildlife Week, including the program schedule and hike information can be found by clicking here.
If you're considering a visit to the Great Smoky Mountains during Wilderness Wildlife Week, or anytime this spring, please help support HikingintheSmokys.com by supporting the sponsors on our Accommodations page.
Jeff
HikingintheSmokys.com
HikinginGlacier.com
RockyMountainHikingTrails.com
TetonHikingTrails.com The Smoky Mountain Hiker is the author of the Smoky Mountain Hiking Blog and the online trail guide, HikingintheSmokys.com
http://hikinginthesmokys.blogspot.com/
http://www.hikinginthesmokys.com/
Source:
http://hikinginthesmokys.blogspot.com/2017/04/wilderness-wildlife-week-2017.html