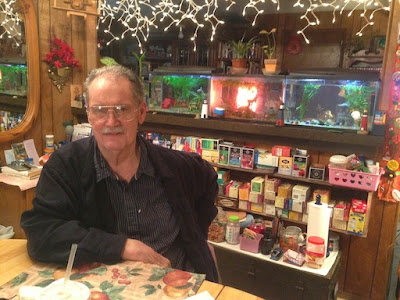 Ray Crowe 2013 via Loren Coleman
On Tuesday September 29, 2015, veteran bigfoot researcher Ray Crowe passed away in his sleep at the Timberview Care Center in Albany, Oregon. The following was posted by Loren Coleman on cryptozoonews.com:

Charles Raymond "Ray" Crowe was born December 30, 1937 in Portland, Oregon. He was founder of the Western Bigfoot Society, a well-known butterfly collector, and a fan favorite among socializing Bigfooters.

Ray was born and raised in Oregon, serving as a weatherman for the U.S. Air Force and the U.S. Weather Bureau, as well as working in a variety of other trades. These included as a dye laboratory assistant and computer gauging technician with radioactive equipment background. He once said he took "pertinent courses at Portland State College, Multnomah College, Western Business College, and Clackamas Community College." For years, he ran an antique and used bookstore in Portland, Oregon.

Ray was an active amateur scientist. He formerly was the President of the Geological Society of the Oregon, the Chair of the Oregon and Washington Ice Age Floods Committee, and was always active in the Oregon Archeological Society and the Tualatin Valley Gem Club. His butterfly collection was one of the largest in the West, and he contributed his collection to museums late in his life. He wrote several published articles on butterflies.

Recent years had been rough for Ray. On April 22, 2012, Ray suffered a stroke which paralyzed his left side, which also resulted in a collapse artery in his neck. He was moved back to the V.A. Hospital and given blood thinners. On April 25th, the V.A. Hospital determined that they were not going to treat Ray further and they transferred him to a respite/hospice facility to await death. But he cheated death, survived, and lived life as best he could during the years since 2012.

Ray was a Bigfoot researcher/archivist from Hillsboro, Oregon. His initial interest in the Bigfoot mystery occurred after he went with a group of Bigfoot hunters from nearby Vancouver, Washington (a rather militant group, according to Ray), who dropped Ray off on an isolated road near the forest. Ray found a set of tracks he could not explain, and he decided then and there to start a group dedicated to Sasquatch research.
Our condolences go out to Ray's family and friends.
For the entire article by Loren Coleman, click here.
Thanks http://bigfootevidence.blogspot.com/
Check out more contributions by Jeffery Pritchett ranging from UFO to Bigfoot to Paranormal to Prophecy