A weird giant humanoid-shaped figure appeared in the clouds above the Mukuba shopping centre in Kitwe, Zambia last week.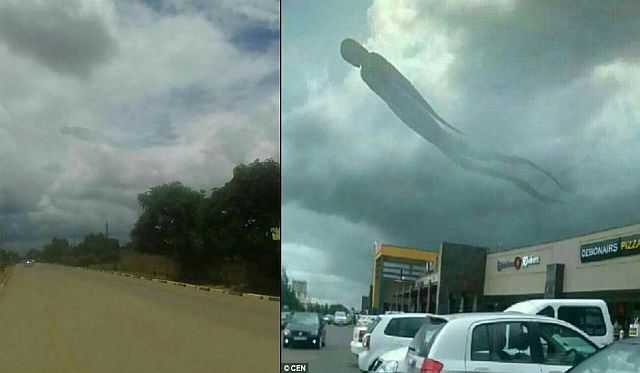 Images of the humanoid figure captured from different locations and angles.
The mysterious black-shaped apparition with its large humanoid head, torso and long tail is thought to have been more than 100 meters long.
Terrified locals who witnessed the creepy figure ran away as they thought it was a manifestation of God while others started worshipping the entity, according to dailymail and thesun.
Is this figure something from another world or other dimensions?
It is believed that some beings are composed of a misty, airy, or subtle material which is equivalent to the dense black shape which is clearly different in comparison with the clouds.
Thanks http://ufosightingshotspot.blogspot.com/
Check out more contributions by Jeffery Pritchett ranging from UFO to Bigfoot to Paranormal to Prophecy
~~~~~
Most people who use social media have figured out that Facebook and Google are in cahoots with the government. For those who are well aware of the issues, it's high time you switched over to Seen.life. It is a website that is similar to Facebook but without all the censorship.
Firearm friendly, you may buy sell or trade anything allowed by site TOS rules.