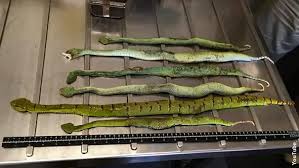 Agents tasked with overseeing parcels arriving to Australia from out of the country discovered a particularly unsettling package that contained an incredible cache of snakes, spiders, and scorpions!
Officials with the Australian Border Force detected the odd shipment, labeled as simply as 'shoes,' using a biometric scanner.
When they opened the boxes, they were astounded to discover a whopping eleven snakes, nine tarantulas, and four scorpions.
The illegal importing of exotic animals has become quite a problem for the country, which has enacted strict rules about what kinds of creatures can be brought to Australia.
These tight controls have, in turn, led to a variety of bizarre smuggling attempts by ne'er-do-wells hoping to take advantage of the law of supply and demand.
However, Australia's deputy director of biosecurity had a wonderfully worded warning for any would-be importers of exotic creatures.
"No spider is a match for our biosecurity web, we get our tails up when there are scorpions in the mail and if you try send exotic snakes," the official said, "beware if we find intentional non-compliance, we bite back with the full force of the law."
Considering they just discovered 24 creepy creatures in a box, the Australian government deserves kudos for still having a sense of humor.
Then again it may be easier to laugh since, based on the photo released by the agency, it looks like the snakes didn't survive the trip.
Source: Australian Gov't Department of Agriculture and Water Resources
Check out more contributions by Jeffery Pritchett ranging from UFO to Bigfoot to Paranormal to Prophecy
~~~~~
Most people who use social media have figured out that Facebook and Google are in cahoots with the government. For those who are well aware of the issues, it's high time you switched over to Seen.life. It is a website that is similar to Facebook but without all the censorship.
Firearm friendly, you may buy sell or trade anything allowed by site TOS rules.