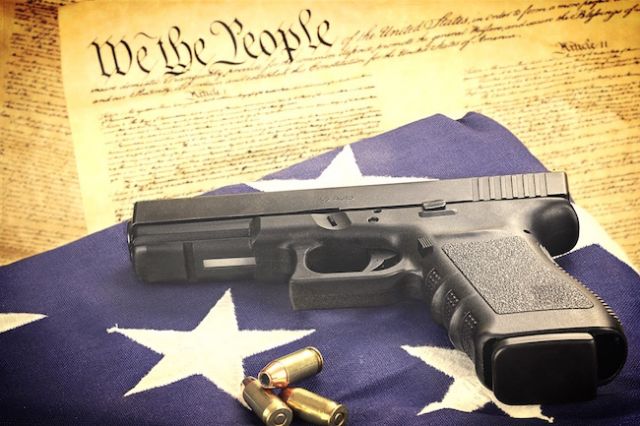 TIME TO WAKE THE HELL UP!
EVER TAKEN DEPRESSION MEDICATION? NO GUNS!
VETERANS WITH PTSD? NO GUNS!
YOUR CHILDREN TELL THE PEDIATRICIAN YOU HAVE GUNS: GONE!
WARNING: YOU ARE GOING TO HAVE TO READ THIS TO GET A CLUE!
THIS ARTICLE IS NOT WRITTEN BY SOME RIGHT-WING WACKO. MICHAEL CONNELLY IS AS RESPECTED AS THEY COME! IF YOU DON'T KNOW WHO MICHAEL CONNELLY IS, HE'S A CONSTITUTIONAL ATTORNEY (A REAL ONE, NOT THE OBAMA VARIETY), AND A UNITED STATES ARMY VETERAN. ON HIS WEBSITE HE WRITES:
"I am a U.S. Army veteran, a Constitutional attorney, Executive Director of the United States Justice Foundation, and a published author, freelance writer, and teacher. I am the author of four books, "RIDERS IN THE SKY: THE GHOSTS AND LEGENDS OF PHILMONT SCOUT RANCH," "THE MORTARMEN," a story about my father's unit in WW II; my novel, "AMAYEHLI: A STORY OF AMERICA," and the newly released "AMERICA'S LIVELIEST GHOSTS." In addition, I have an affordable, pocket size booklet on the Constitution called "Our Constitution" that is receiving great reviews. You can read more about these books by going to the pages on each book on this website." You may also want to check out his radio talk show that airs every Wednesday at 4:00 Eastern.
HERE IS THE WEBSITE CONTAINING THE LINK TO THE RADIO SHOW:
In 2013, Michael Connelly was even nice enough to save Congress the laborious effort of drafting Articles of Impeachment themselves when he wrote and distributed to Congress: U.S. CONGRESS RESOLUTION IMPEACHING BARACK HUSSEIN OBAMA, PRESIDENT OF THE UNITED STATES, FOR HIGH CRIMES AND MISDEMEANORS. – AUGUST 20, 2013. We all know the backbone the GOP showed on that one. For anyone who wants to start whining about how Obama have NEVER going to be impeached because of the Dingy Harry led Senate, try reading, I SUGGEST AN IMPEACHMENT HEARING WOULD HAVE BEEN A WIN/WIN WHETHER OBAMA WAS CONVICTED IN OR NOT. Try reading THAT ONE for an eye popper. WARNING: REQUIRES THOUGHT! For everyone else who was SCREAMING for Obama's Impeachment, yet didn't have the FIRST CLUE the way Impeachment works, I wrote the piece: WHY HASN'T OBAMA BEEN IMPEACHED YET?
THE TIME HAS COME:
STOP SHARING PICTURES & EDUCATE YOURSELF…
OR PREPARE FOR AN EARLY CURTAIN CALL!
PLAIN AND SIMPLE!
First, I am going to show you the first half of the Michael Connelly article. For anyone out there with so much as a THREAD of intelligence, continue reading after… not because I am a genius, but because I HAVE been very busy collecting PROOF dating back YEARS that this is not a game. For those who have already dismissed this article based on their supreme ability to gain knowledge through headline reading, and have probably even decided to show off their finely honed skills by posting an IDIOTIC COMMENT right below this post too, maybe YOU can get through to them. You might save their life.
Those of us that HAVE BEEN EDUCATING OURSELVES all this time have news for EVERY IMBECILE who has done ZERO research, and is busy mumbling under their breath, "They'll have to take my guns from my cold dead fingers…," don't you worry, THERE ARE ACTIVE COMMANDERS IN OUR MILITARY JUST WAITING TO PRY THEM FROM YOUR COLD DEAD FINGERS. You'd be best to remember Obama has done a STALIN LIKE PURGE OF THE MILITARY, AND FIRED OVER 300 OF THE MILITARY'S TOP OFFICERS HE HAD CONFLICTS WITH INCLUDING ADMIRALS AND GENERALS! SEE THE LIST HERE!
You think there is a law prohibiting our military from operating on American soil? WRONG! And you wonder why I keep telling people KNOWLEDGE is not in PICTURES! Not only is POSSE COMITATUS GONE under Obama (which prevented the military from acting on American Soil for over 200 YEARS), the NEW ARMY MANUAL AUTHORIZES LETHAL FORCE AGAINST EVEN PEACEFUL PROTESTORS, IF THEY ARE PROTESTING GOVERNMENT.
THIS IS NOT A GAME! THIS IS NOT A "THEORY!"
THIS IS PASSED LAW!
(by Michael Connelly, Constitutional Attorney) — It is official. 2015 is the year that progressives will make an all-out push to quash the Second Amendment and disarm the American people. I have been reporting on my blog for the last several years about the ground work that has been laid including the escalating efforts to disarm our veterans, the issuing of illegal Executive Orders by Obama to limit gun rights, the movement to get individual states to pass and enforce unconstitutional limits on gun ownership, and the signing of the UN Small Arms treaty.
Now they are ready to make their move and I predict it will consist of a number of assaults on the American people. In fact, some of them ARE ALREADY IN THE WORKS:
The DOJ is floating the claim that the UN SMALL ARMS TREATY IS NOW THE LAW OF THE LAND despite the fact that it has NEVER BEEN SUBMITTED TO THE U.S. SENATE FOR RATIFICATION BY 2/3 VOTE as REQUIRED by the U. S. Constitution. This means that Obama plans to enforce the provisions of the treaty without ratification and despite the fact that in 1957 the Supreme Court ruled that no treaty, even if signed by the President and ratified by the Senate can override the protection of individual rights guaranteed to Americans in the Constitution.
DO YOU THINK THE FACT IT IS NOT CONSTITUTIONAL WILL STOP OBAMA?
LISTEN TO JOHN "RAMBO" KERRY TELL SOME LIES…
[Audio/Video below cannot be seen in Newsletter - have to go to Blog]
Freedom Outpost writes: Kerry begins his lies with:
"This treaty will not diminish anyone's freedom. In fact, the treaty recognizes the freedom of both individuals and states to obtain, possess, and use arms for legitimate purposes. Make no mistake, we would never think about supporting a treaty that is inconsistent with the rights of Americans … to be able to exercise their guaranteed rights under our constitution."
Obama's enforcement of the UN treaty will include prohibiting the importation of firearms or replacement parts from other countries into the U.S, and providing a list to the UN of all American gun owners, importers, and exporters. In order to legally facilitate this, Congress would have to repeal the ban on funding of a national gun registration. However, I believe Obama plans on doing this by another illegal and unconstitutional Executive Order.
TO CONTINUE THE ESCALATION OF DISARMING U.S. VETERANS, THE PRIVATE MEDICAL RECORDS of veterans are being TURNED OVER ILLEGALLY TO THE FBI so that they can be put on the NICS list of people who CANNOT LEGALLY PURCHASE FIREARMS because of mental illness. However, mental illness of these veterans is based on minor PTSD, suffering from minor depression, or even letting their spouses pay the family bills. There is no adjudication of mental illness to the point of being a danger to themselves or others as required by law.
Veterans are also being required to tell the VA if they own firearms, how they feel about the federal government and/or the Obama administration and in some cases forced to submit to a STRIP SEARCH to determine if they have any "RADICAL TATTOOS." No definition of what constitutes a radical tattoo is provided. [HINT: AMERICAN FLAGS ARE LIKELY THE MOST EXTREME FORM OF RADICAL]
DON'T FORGET THE HOME RAIDS AUTHORIZED BY OBAMACARE! THEY WILL SURELY BE TARGETING VETERANS AS WELL!
Obama has by an illegal and UNCONSTITUTIONAL AMENDMENT TO THE AFFORDABLE CARE ACT overriding the prohibition on DOCTORS TO QUESTION THEIR PATIENTS ABOUT GUN OWNERSHIP. Obama has CALLED ON PEDIATRICIANS TO ASK YOUNG CHILDREN IF THEIR PARENTS have a gun in their home. Just recently I have also learned that seniors newly enrolling in Medicare are being required, when they go to a doctor for a routine physical, to take a test to determine if they are showing signs of Alzheimer's disease. The questions include repeating a sequence of numbers and letters and other memory type questions and then there is the question about whether they own a firearm. Obviously, this information is then sent to the Federal government.
Obama has also issued an Executive order that is being enforced by new HHS regulations that virtually set aside the HIPP law that protects the privacy of medical records. Under these new regulations, if your records contain anything indicating you have EVER BEEN DEPRESSED, HAD PTSD, OR TAKEN CERTAIN MEDICATIONS YOUR RECORDS WILL BE TURNED OVER THE THE FBI and you will be put on the NICS list. THIS WILL APPLY TO EVERYONE. NOT JUST VETERANS.
Obama also has the Bureau of Alcohol, Tobacco, and Firearms changing the definition of mental illness to provide that anyone can be declared mentally ill to the point of being a danger to themselves or others for any reason without an adjudication of any kind, and therefore can be prohibited from owning firearms. This is already happening in states like New York that have adopted similar laws and regulations. A citizen of New York has been declared mentally ill and had his guns seized because he was seeking treatment for insomnia.
In the meantime, we have a Republican Senator casting the deciding vote to confirm Obama's appointment of a Surgeon General who believes that gun ownership constitutes a health threat. We have the EPA moving to control the manufacture of ammunition because it claims that the use of lead in ammo produces a threat to the environment.
The Department of Justice will continue its campaign to force banks to deny loans and even bank accounts to firearms dealers and will continue to harass them in other ways to force them out of business.
Remember, those were all in MICHAEL CONNELLY's words, a WIDELY RESPECTED Constitutional Attorney. The links are all from stories I reported on in some cases YEARS AGO, but every said, "IT WILL NEVER HAPPEN." Wrong! Do you think it's just COINCIDENCE ERIC HOLDER'S NEW GESTAPO FOR TARGETING "DOMESTIC TERRORISTS" (AKA The Tea Party) is being formed NOW? QUESTION TO THE "From my cold dead finger crowd…" Do any of you have family? You DO realize they will come in numbers, right? You plan on letting your kids get shot at too? They will be coming in numbers alright, armed with 12 BILLION HOLLOW POINT BULLETS! SO SAVE THE MACHO STUFF. We NEED brains right now. WE HAVE TO GET OBAMA OUT OF OFFICE, AND PRONTO! Pray for Trey!
LEARN HOW FEDERAL AGENCIES ARE ALL NOW FULLY ARMED!
PLEASE, READ THE FOLLOWING TWO ARTICLES. I WOULD NOT STEER YOU WRONG!
From my post titled: IT IS HAPPENING HERE: PERMANENT GUN CONFISCATION:
Numerous passages in President Obama's 23 executive orders concerning mental health and gun control issued in the wake of the Sandy Hook shooting sound eerily similar to what happened to Montgomery in New York State, with the White House effectively tapping doctors to amass data on gun owners during patient visits:
– "Improve incentives for states to share information with the background check system."
– "Direct the Attorney General to review categories of individuals prohibited from having a gun"
– "Clarify the Affordable Care Act does not prohibit doctors asking their patients about guns in their homes."
– "Release a letter to health officials clarifying scope of mental health services that Medicaid plans cover."
– "Commit to finalizing mental health parity regulations."
– "Release a letter to health care providers clarifying that no federal law prohibits them from reporting threats of violence to law enforcement authorities."
– "Address unnecessary legal barriers, particularly relating to the Health Insurance Portability and Accountability Act, that may prevent states from making information available to the background check system."
STAY INFORMED!